Military eviction orders for 10 dunums of agricultural land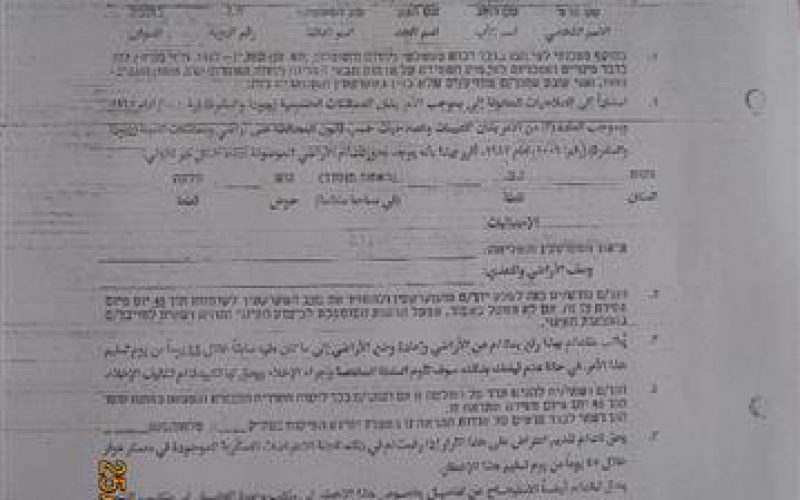 Violation: Military eviction orders for 10 dunums of agricultural land
Location: Abu Ali village- Husan- Bethlehem governorate
Perpetrators: The Israeli occupation army
Victims: Heirs of Nimer Darwish and a citizen named Ibrahim Shoosha
"I could not concentrate or even continue what I was doing. I felt fatigued and down. If this land is taken, the whole area will soon be taken afterwards because the location of my land is strategic." With these words, Ibrahim Shoosha told an LRC observer about his reaction when he received the eviction order.
On 13/02/2013, Shoosha went to his land as usual and when he got there, he was surprised to find an eviction order placed under a stone.
The piece of land Ibrahim and his brothers own has been recently planted with olive trees aged 2 years. The land is mountainous in nature.
In 2006, colonists uprooted the trees in the land of Nimer Darwish's heirs. The Israeli occupation denied the heirs access to their agricultural land thus rendering it arid. The Israeli occupation follows such policy so that they can claim that they take over arid lands whose owners do not take care of.
One military order holding the number of (2207) does not mention the coordinates of the 4-dunum land of Darwish's heirs but asks them to evict it and the other military order holding the number of (1/13- 2206) regarding Shoosha's land which according to the coordinates attached asks to evict 6.600 (6 dunums and 600 m2). The two orders are issued by the Civil Administration of Judea and Samra- Central Inspection Unit and they order the landowners of the two targeted lands to " leave land and return it to its previous status within 45 starting from the day of receiving the order. If you do not comply, the specialized authorities will carry out the order and have the right to make you pay the costs of the eviction."
The legitimate landowners assigned lawyers to follow up the case and defend their rights. The people of Husan village expressed their upset and concern about the continuous attacks on their lands carried out by colonists and the Israeli occupation army .

Picture 1: Shoosha's targeted land