Damaging 64 olive trees in Qusra/ Nablus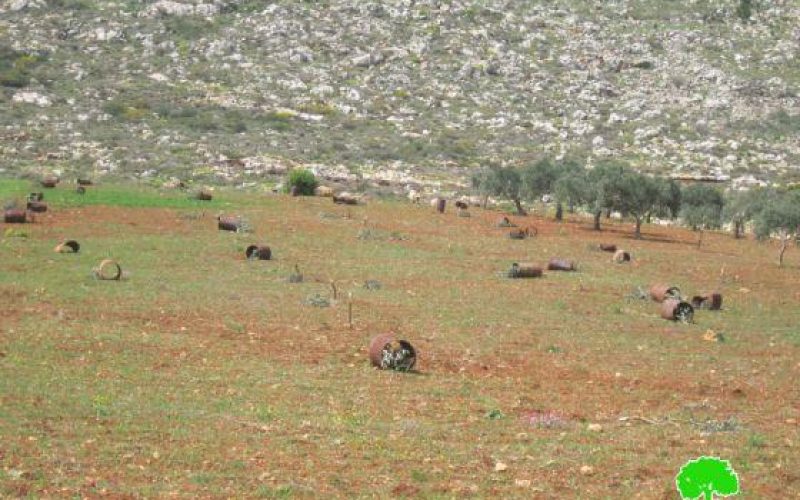 Violation: Cutting down & damaging 64 olive trees in Qusra
Date: 23/02/2013
Perpetrators: colonists of Adi Ad
Victims: 6 families consisting of 42 members
Details:
On 23/03/2013, a group of colonists damaged 64 olive trees, 6 years old, in Qusra village.
The region the colonists attacked is known as the Whole Sector and Al- W'ar, south east of Qusra where the colonists used sharp tools to harm the trees.
The table gives information about the owners of the attacked lands:
1

7

13

4

2

9

5

4

3

8

9

4

4

5

22

4

5

7

7

1

6

6

8

1

42

64
*Resource: Field Research- Monitoring Israeli Violations Team- Land Research Centre
The head of Qusra town council, Abdul- Azim Awda told an LRC observer that, " There is a ferocious campaign targeting the Palestinian farmers and lands in Qusra. This is done so by attacking olive trees which symbolize the Palestinian existence." A
wda added, " And though we complain against colonists, nothing is done especially that the state of occupation encourages and protects them."
Attacking houses and damaging contents:
Colonists were not satisfied in uprooting trees, they also attacked houses of residents in Al-Wa'r and smashed windows. Abdul-Hamid Hasan's house windows were smashed while Jabali Abu-Raida's house windows and doors were shattered.
Previous attacks during the current year:
According to the town council, the number of trees attacked so far is around 516 olive and almond trees. During the past 10 years, the region witnessed attacks by colonists living nearby. During the reign of previous Prime Minister Ariel Sharon, freedom was given to colonists to steal land and install outposts. The result was destroying vast areas of land, uprooting trees.