Colonists of Adi Ad Ravage Trees in Turmus'ayya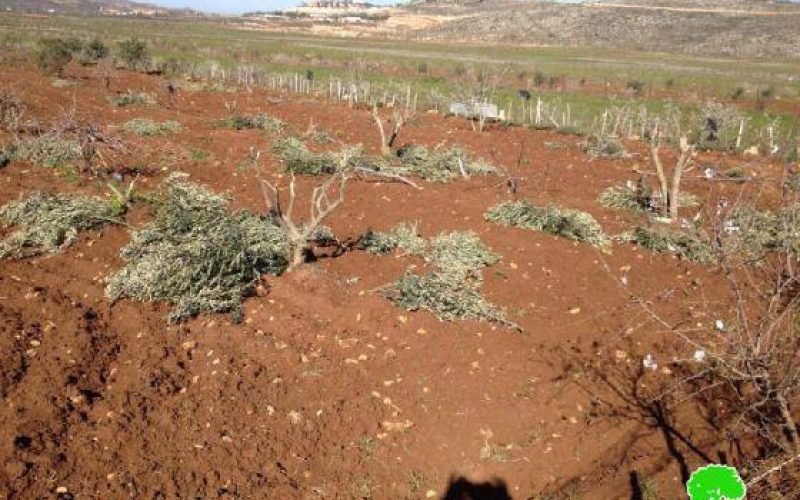 Violation: ravaging 30 trees, 20 olives and 10 prunes.
Date: February 18, 2013.
Location: beit al Hur, northern side of Turmus'ayya, Ramallah.
Perpetrators: colonists of Adi Ad.
Victim: Abdullah Salah.
Details:
On February 18, 2013, Israeli colonists of Adi Ad broke into al Hur area, to the north of Turmus'ayya where they ravaged 20 olive and 10 prunes trees. The trees were property of Abdullah salah, a Palestinian farmer of Turmus'Ayya. Adi Ad colony has been the starting point of numerous attacks carried out against Palestinian farms and farmers in recent years. On June 1, 2012, colonists cut down 60 olive trees in the same area.
Adi Ad was established in 2001 after calls from the Israeli PM at that time, Ariel Sharon, for taking over mountain summits; colonists took over huge areas of Jalud and al Mughayyir to establish the colony.
Turmus'ayya – an overview
It is located 23 km to the north east of Ramallah city; it is 660 meters above sea level and is only 500 meters away from Nablus-Ramallah main road.
Its total area is 17600 inhabited by around 4200 people by the end of 2010. Most of the inhabitants depend on merchandize and free lancing in their income; agriculture is a side income generator. The Israeli Occupation Authorities confiscated 4000 dunums in the eastern part of the village; lands mostly planted with trees.
Shilo colony was established in the confiscated lands in 1978 which reached 1600 dunums in area. The colonialists did not stop there; land confiscations continued unabated and were used later for the establishment of Adi Ad colony.