The Israeli Occupation Army confiscated 23 goats in Al Bqe'a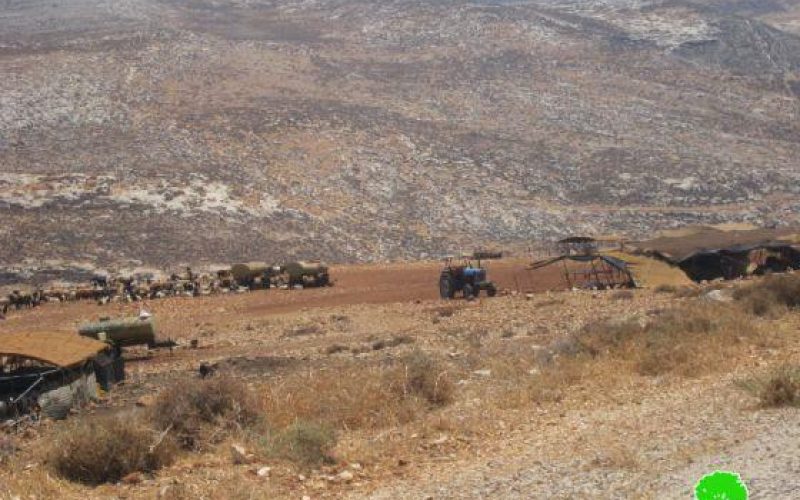 Violation: capturing 23 goats.
Date: January 7, 2013.
Victims: Palestinian shephards.
Location: Al Bqe'a.
Details:
The Israelis have adopted several policies to turn the lives of Bedouin residing in the Jordan Valley into a living hell; these people have been deprived of water and services, they have been deprived of their right to residence as well.
On January 7, 2013, the Israeli Occupation Army confiscated 23 goats, property of Raed S'efan (14 goats) and Rahil Ka'abna (9 goats). Rahil said: 'the Israelis insist that we pay an amount of 2000 ILS in penalties before releasing the goats'. Usually, Israeli troops break into Bedouin dwellings and confiscate cattle claiming that they reside in a closed military zone; however, the real purpose is adding more pressure on the people in order to force them to leave.
Mohammad al Mallah, Legal advisor of Tubas Governorate, said: 'the Israelis tend to damage the economy of the people to urge them to leave the area. Many of the cattle die in detention or sometimes lost'.
He also said that the owners are forced to pay huge penalties for releasing the goats (penalties ranging from 50 to 100 $ and 40 dollars for each day the goat is detained). It is obvious that the Jordan Valley area has been subject to several Israeli measures including confiscation of property and natural resources, movement restrictions, and demolitions in order to urge the people to leave to facilitate colonial expansions.
According to the Palestinian Ministry of Agriculture, 25 % of the animal product is produced in the Jordan Valley area, consequently damaging the economy in the area will affect the whole Palestinian economy.