In Less than 24 Hours, the Israeli Occupation Army demolishes more structures in Al Maleh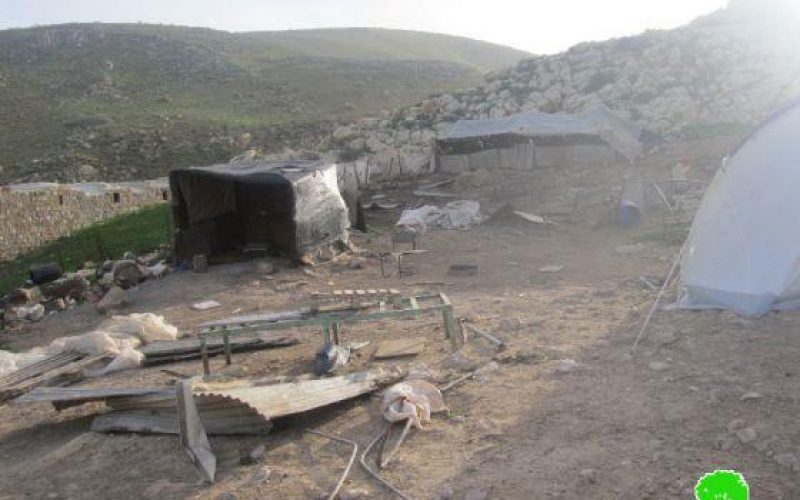 Violation: the Israeli Occupation Army demolishes more structures in Al Maleh.
Date: January 19, 2013.
Victims: 12 Palestinian families.
Location: Al Mayta and al Maleh – Tubas.
Details:
Qasem Daraghma, 60, was sorrowful while trying to salvage any of his belongings from the rubble of his house that was destroyed by the claws of Israeli dozers. 24 hours later, the Israeli Occupation Army returned to the site and demolished what remained.
At the early morning hours on January 19, 2013, 4 Israeli dozers and numerous troops broke into the Bedouin communities in Al Mayta and Hamamat al Maleh. The soldiers imposed curfew and blocked Al Tayaseer checkpoint which is the only way into the area.
The Israeli Occupation Army embarked on a large scale demolition campaign that hit 12 tents; the recent demolitions targeted the tents that were provided by the ICRC for the families. The soldiers did not even give the residents the chance to clear the contents of their residents that were buried under the rubble.
The demolition campaign resulted in the destruction of 12 residential tents in addition to 7 tents that were used as barns; 81 people including 32 children were left homeless. The Israeli Occupation has converted more than 70% of the total area of Wadi al Maleh into military zones and mine fields ripping the nomads gathering apart.
Numerous casualties have been recorded during the past 5 years; casualties occurring due to random shootings and mines. The most recent of victims was a child who lst his life due to stepping on a mine.
LRC sees that the recent demolitions reflect the Israeli racist mentality and their willingness to take over what is left of Al Maleh area. LRC insists that such attacks are an outrageous breach of the Geneva Fourth Convention which calls for the protection of civilians at times of war.