Eviction of Families in Wadi al Maleh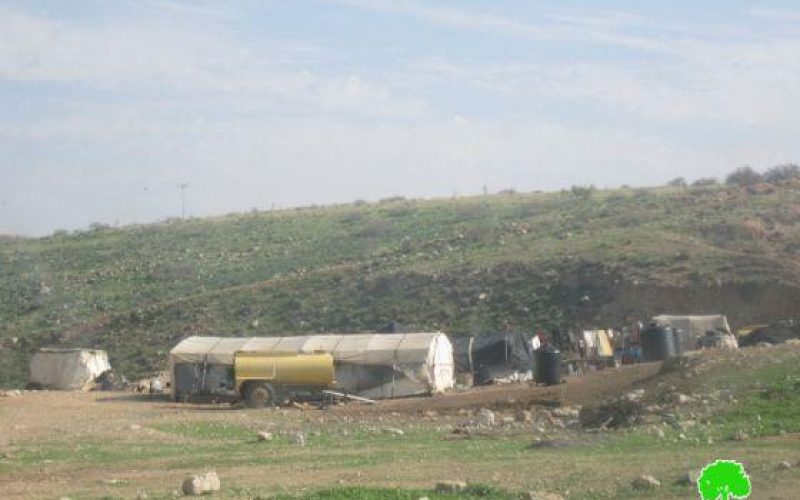 Violation: eviction orders for 12 families in Wadi al Maleh, Tubas.
Date: January 21, 2013.
Perpetrators: the Israeli Occupation Army.
The Israeli Occupation Authorities have embarked on a large campaign to ethnically cleanse the Jordan Valley area since the beginning of 2013. In the early morning hours on January 21, 2013, the Israeli Occupation Army broke into the Bedouin dwellings in Al Mayta and Wadi al Maleh in the northern Jordan Valley and ordered 12 families to evacuate the area claimed to be a 'closed military zone'.
The orders come alongside the demolition campaign which hit the area in the previous 24 hours and resulted in the demolition of over 40 structures.
Mohammad al Mallah, Tubas Governorate legal advisor, said: 'mass displacement of the Bedouin is being carried out; it is obvious that there is an Israeli plan to change the area by covering it with colonies and military bases in addition to announcing it as closed military zones. The Israelis are using inhuman measures to decrease the number of Palestinians in the area while breaching the Geneva Fourth Convention in the process'. 'the Israeli military trainings which has been carried out for over four months are one of the methods for driving the Palestinians away as they have been displaced several times because of these trainings'. He added.
The recent evictions targeted 12 Palestinian families, 81 people including 31 children. Aref Daraghma, head of Al Maleh Village Council, remarked: 'the situation in al Maleh has reached alarming levels; life has become unbearable thanks to the Israeli attacks against sources of income. The residences feel unsafe due to the Israeli threats and measures.'
He added that all the Israeli organizations are conspiring for the eviction of the peoplein order to facilitate colonial expansion.