Erupting the Segregation Wall Section in Jayyus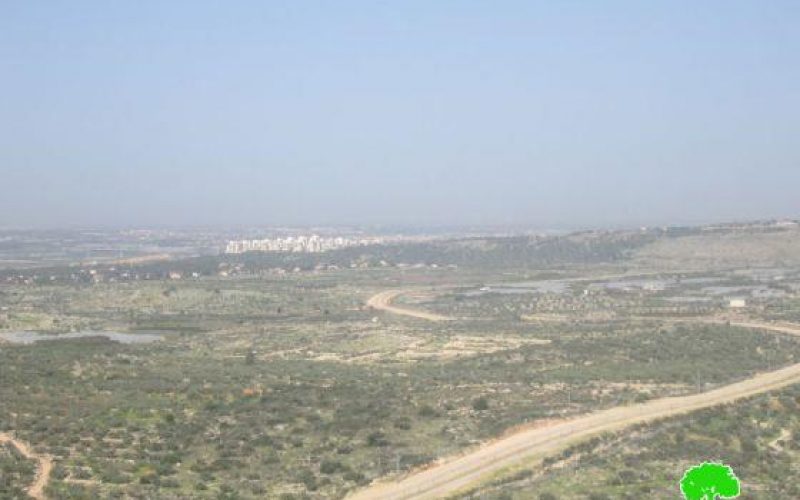 Violation: a new section of the Wall in Jayyus.
Date: January 20, 2013.
Perpetrators: the Israeli Occupation Army.
Victims: villagers of Jayyus.
Details:
Israeli dozers commenced a large bulldozing campaign that hot large areas of agricultural lands in Jayyus with the purpose of laying foundation for a new section of the segregation wall. This is done after the approval of the latest adjustment on the wall's route which leaves Jayyus on the eastern side of the wall.
The modification will result in the destruction of no less than 420 dunums of agricultural lands located in parcels 2 and 4 of the village. It will also result in leaving 2600 dunums out of 8900 which were confiscated on the eastern side of the wall. This move comes as a result of military order T/19/08 which was rejected by the Palestinians because of the large area of confiscated lands. After several court sessions and negotiations, one of the three possible plans was approved in September 2009.
The latest modification serves Israeli colonization:
Picture c2-c4
It is obvious that the new plan will give the people of Jayyus back 2600 dunums out 8900 dunums which were confiscated for the construction of the wall. The remaining 6300 dunums edge the colony of Zufim. It is worthy to mention that the Supreme Court decision is final, irrevocable, and irrefutable.
Colonists are eager to put facts on the ground:
Meanwhile, the colonists are trying to put unchangeable facts on the ground by placing a number of mobile homes in Qabalan area to the west of Jayyus knowing that the area is part of the 2600 dunums which are supposed to be returned to the Palestinians.
The segregation wall around Jayyus:
The construction of the wall reduced the village area to 3300 dunums; 600 dunums were destroyed for the purpose of construction and 8900 dunums including 6 cisterns were isolated behind the wall.
The isolated lands hold 120 of greenhouses and 50000 citrus and 4000 olive trees. The wall section around Jayyus is 6 km longs; it cuts all the agricultural roads in the area. Agricultural lands behind the wall are accessible via gates 943 and 979 which are fully controlled by the Israeli Occupation Army.