Colonists Set a Car Ablaze Khallit al Shabak in Beit Ummar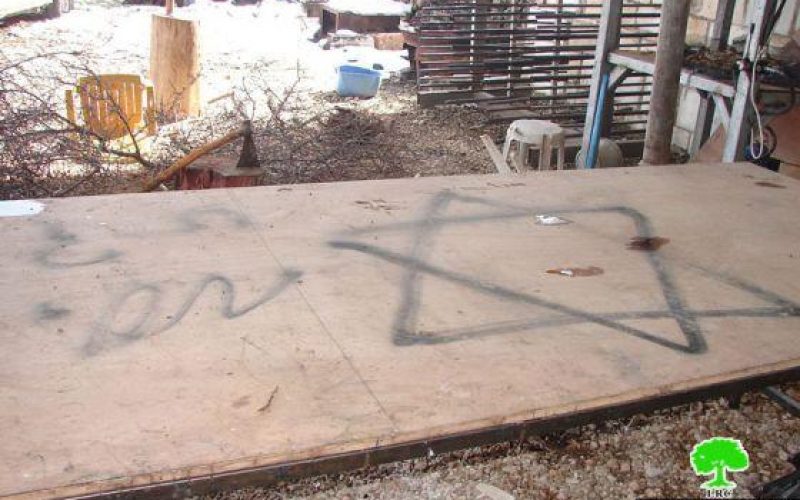 Violation: setting a car ablaze.
Date: January 1, 2013.
Location: Khallit al Shabak in Beit Ummar – Hebron.
Perpetrators: Israeli colonists.
Victim: Suhail Bregeith.
Details:
On January 1, 2013, a group of Israeli colonists broke into Khallit al Shabak area in Beit Ummar and set a car alight; they also wrote a number of racist slogans on the walls. Suhail Bregeith, the owner, said: 'at around 1:00 am, I was awakened by a sound of an explosion; I looked out of the window to see flames consuming my car and the tractor. I rushed out and cried for help in order to put the fire down. The car had already been destroyed so we tried to save the tractor'.
Picture 1-3: torched car
Picture 4-6: racist slogans
He also said that he found offensive and racist slogans written on number of the walls in the village. The victim informed the Palestinian Coordination Office and Police as well as Beit Ummar Municipality. He also called an Israeli officer, Alias Shadi, who sent an Israeli Police patrol to investigate the matter. The Police report said that unknown colonists set a car ablaze and wrote racist slogans. The victim said that he suffered a similar incident on November 9, 2011 when colonists set 3 cars alight but the Police investigation never came with any results. He accused the colonists of the nearby Ezyon colony.