Pumping Huge amount of Sewage towards 'Azzun High School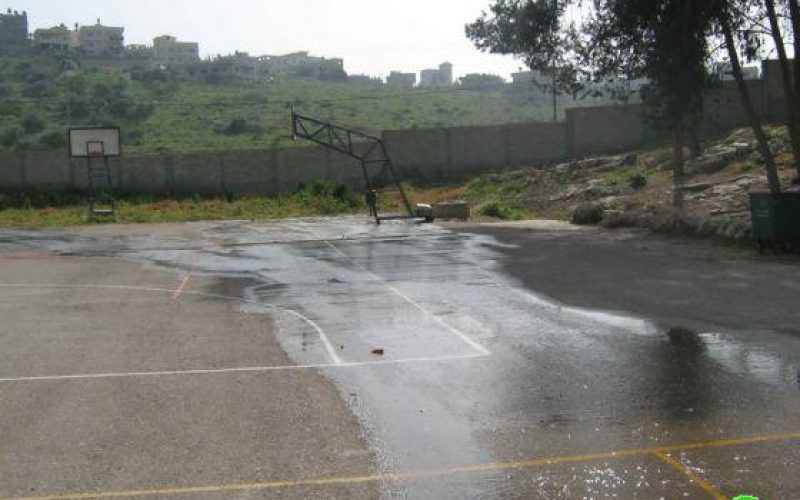 Violation: pumping sewage towards 'Azzun High School.
Date: June 2, 2012.
Perpetrators: Shiar Tikva colonists.
Victims: pupils of 'Azzun school.
Details:
On June 2, 2012, students heading to 'Azzun School were shocked to see the school building soaked with sewage and turned into a biohazard area. During the early morning hours, colonists of Shiar Tikva pumped sewage water towards the school in a scene that defies all the humanitarian laws, human dignity, and people's right to education.
Azmi Sidqi, 'Azzun Village Council head, said: ' this is not the first time this happens; the sewage storage tanks are located right above the school compound, when these tanks are filled the colonists pump the sewage towards the village school causing drastic damage to the whole area, especially the school. We informed the ICRC and the Palestinian Civil Coordination Office several time; they contacted the Israeli Occupation Authorities which promised on several occasions to resolve the situation but they never did. The Israeli Occupation Authorities seem to be stalling to add to the misery of the people of 'Azzun; we are left with two choices, either accept the humiliation or built another school somewhere afar '.
'Azzun High School was established in the 1980's it now offer schooling services to 240 male students grades fourth to twelfth (Tawjihi). It also holds 45 student of the nearby Amatin. Azzun school is adjacent to the Shiar Tikva colony rendering a hazardous environment for education. The students face day-to-day aggression of the colonists and Israeli Occupation Army patrols in the area.