Blocking Mnezel's Entrance south of Hebron city
The Israeli Occupation Authorities issued a stoop-work order for an agricultural structure owned by Mohammad Hrezat (60). Hrezat said: 'Israeli troops and officer of the Israeli Occupation Civil Administration broke into the area on January 4, 2012 and raided my residence and handed a stop-work order for my barn and a wooden shack built over it'. He said that he received a similar order on June 28, 2011.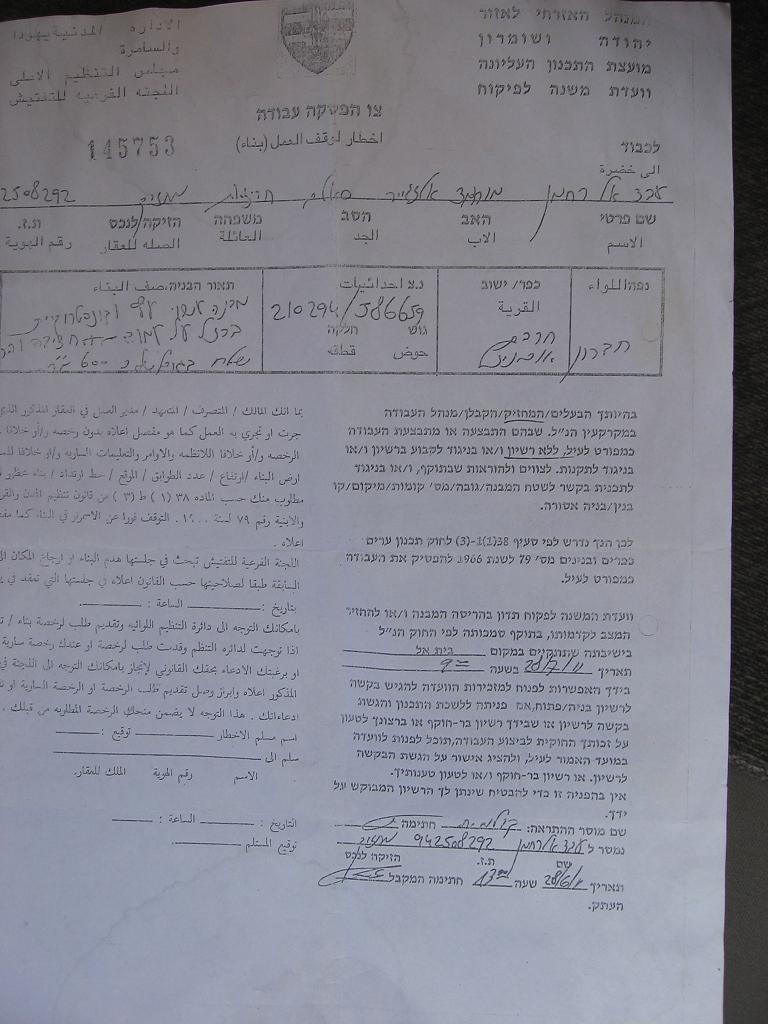 Picture 1: a photocopy of the order
Hrezat built the barn on a cave entrance and a shack above it in order to find shelter and stay close to his cattle. The 1.5 dunum owned by Hrezat are located on the eastern part of the village, close to the security fence of Beit Yatir colony.
Picture 2-3: endangered structures
He added: 'the Israeli Occupation Authorities tend to prevent any kind of Palestinian expansions and fight them in their income sources while I support a ten-member-family'. Coherently, the Israeli Occupation Forces blocked the unpaved road leading to the village.
Picture 4-5: Mnezel entrance
Eyewitnesses said that an Israeli dozer blocked the entrance with earth mounds, forcing the locals to use a time-consuming alternative. It must be known that the Israeli Occupation Authorities prohibited paving the road.
Prepared by
The Land Research Center
LRC