The Israeli Occupation Authorities confiscated a dozer and a mixer truck from Qindeel Concrete Factory in Rafat village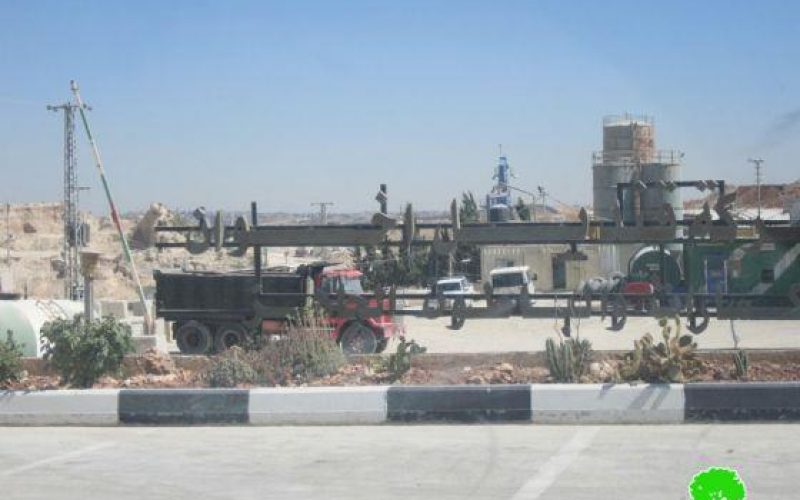 Violation: confiscating a dozer and a mixer truck.
Date: May 27, 2012.
Perpetrators: the Israeli Occupation Army.
Location: Qindeel Concrete Factory in Rafat village.
Preface:
Since the early days of occupation, the Israelis tended to take over the natural resources and turn the Palestinian population into slave-like workers who work for the development and empowerment of Israel. They also worked hard to destroy any signs of an independent Palestinian economy.
Details:
On May 27, 2012, Israeli troops surrounded Qindeel Concrete Factory in Rafat before confiscating a 'Caterpillar' dozer and a MAN concrete mixer.
Picture 1-4: Qindeel factory
Qindeel management did not receive any warnings which proves the Israeli 'theft' style in targeting the already crumbling Palestinian economy. Qindeel Factory was established in the 1950s over a huge area of Rafat lands; it provides over 170 Palestinians with jobs.
Nevertheless, the Israelis tried to devastate the company several times; an opening came with the beginning of the second intifada. The Israeli Occupation Civil Administration issued a stop-work order against the company for unlicensed construction in area classified 'C' according to Oslo. consequently, the company had to shrink its business and downsize to one third (56 workers only).
On the other hand, the Israelis confiscated hundreds of dunums of lands in the area. Majdi Qindeel, General manager, said: 'after ten years in the Israeli Courts, we managed to obtain a permission to re-operate the crusher; ever since, we have been trying to compensate for the 20 million dollars losses which we endured. The factory's productivity now is around 1200 m3/ day. However, this did not stop the raids and aggressions against the factory; the last was the confiscation of the dozer and the mixer which were confiscated on claims that they were parked in a closed military zone and so close to the segregation wall'.
It must be noted that a number of laws have been approved at the beginning of 2012 allowing the Israelis to basically steal Palestinian natural resources while Palestinians are faced with a great deal of complexities disallowing them from developing their lands.