The Israeli Occupation Army blocks the entrances of Beit Ummar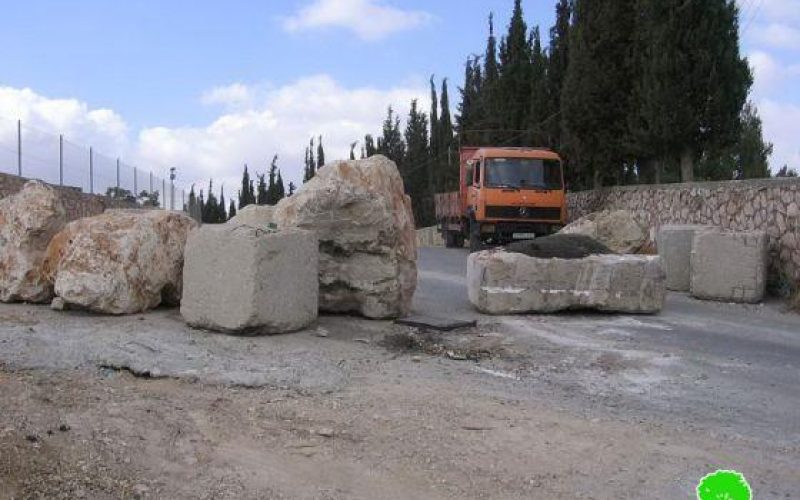 On May 20, 2012, the Israeli Occupation Army blocked two side entrances of Beit Ummar and placed a number of checkpoints at the entrances of Halhul and Sa'ir as well. They claimed that they are securing the path of the 'bicycle march' which was headed towards Jerusalem commemorating the so-called uniting Jerusalem day. Eyewitnesses said that the Israeli Occupation Army forces blocked both entrances of Halhul and another at the entrance of Sa'ir. They also used cement blocks at 2 of the side entrances of Beit Ummar to obstruct movement in and out.
The locals expressed their frustration because of the delay the Israeli measures caused to their daily lives. Iyad Za'aqiq, which suffered of the blockage of the entrance to his residence, said: 'the closure forced me and my neighbors to park our cars near the main road and walk to our houses; it also obstructed the school buses and delayed the arrival of students and teachers to the school at the end of the road'.
Waheeb Baradiyya, a taxi driver, said that he used to use the road near Beit Ummar market; he complained about the longer distance he had to talk as he was forced to go through Beit Ummar town to get to his destination, Surif. He said: 'before the blockage, the distance between the Jerusalem Hebron Road was 10 km; now I had to talk an alternative, 15-km-long route'.
Picture 3: blockage near the market
Prepared by

The Land Research Center
LRC