Forcing the Bkeirat's to demolish their residence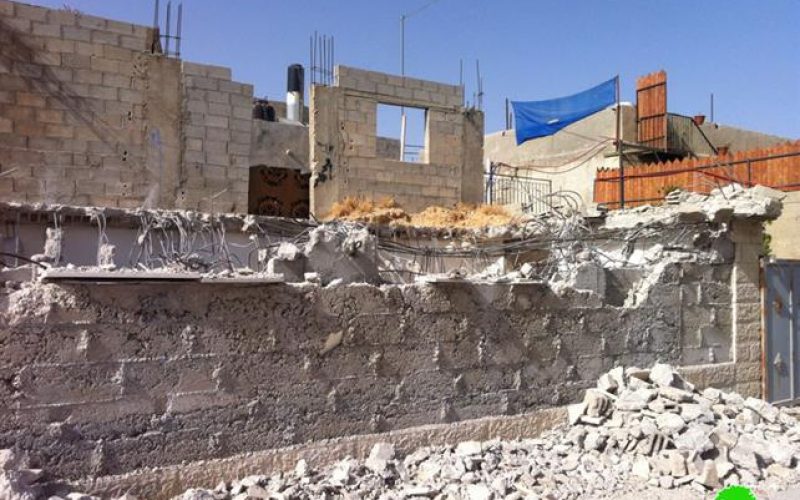 Violation: forcing a Palestinian to demolish his 168-m2-residence.
Location: Sur Baher – the Occupied City of Jerusalem.
Date: May 25, 2012.
Perpetrators: the Israeli Municipality in the Occupied City.
Victims: Walid Bkeirat family.
Details:
On May 25, 2012, Walid Bkeirat (29) was forced to demolish his two-storey, 84-m2 residence in Sur Baher. The first storey is inhabited by Walid and his wife while the second is still under construction. Walid attempts to obtain a construction permit failed due to the complexities imposed by the Municipality.
Bkeirat said: 'the 3-bedroom house was built in 1998. It is a two-storey house with each story having an area of 84 m2. The ground floor is inhabited by me and my wife while the second floor is still under construction.' I applied for a permit to avoid demolition; however, the Municipality kept stalling and kept demanding me to hire an engineer and a surveyor; things were getting more complex with time. 8 years later, we realized that all our efforts are futile.
On March 5, 2012, a hearing session took place in the Municipality Court; the judge said that my house was unlicensed and it is too close to the main road; she ordered me to demolish the house by myself or leave it to the Municipality which will cost me 70,000 ILS in demolition costs and further penalties of 150,000 ILS. I had to demolish the house because of difficult financial situation'.
Bkeirat loss is estimated to be around 200,000 ILS in addition to the lawyer, surveyor, and Court fees. Bkeirat is a worker but he cannot work constantly due to a chronic illness.
Adnan Bkeirat (Walid father) family live in very hard conditions; their 70-m2-house is not suitable for living and the roof requires immediate renovation. It is inhabited by two families, a total of 6 people including one child.
Prepared by
The Land Research Center
LRC