Deporting Four Palestinian Families of al Himma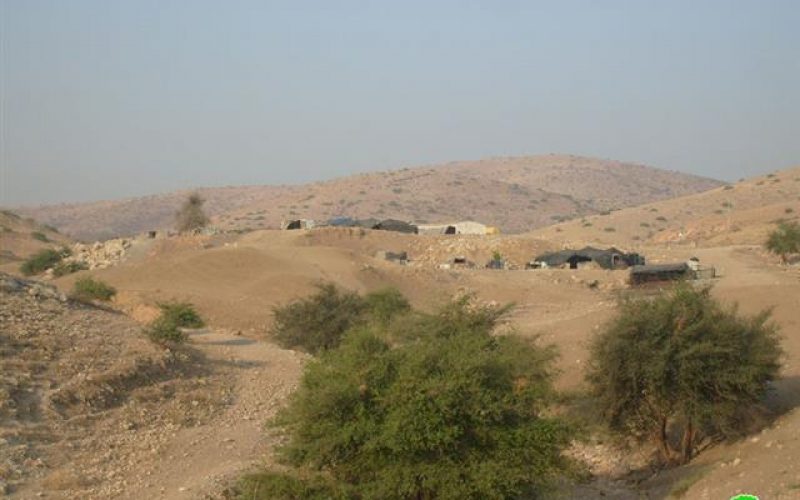 Violation: forcing four Palestinian Bedouin families to leave their dwellings.
Date: May 4, 2012.
Perpetrators: the Israeli Occupation Army.
Victims: four families of al Himma, 27 people including 16 children.
Details:
'We've been targeted by the Israelis no matter where we go; not a house or a plot was spared; why don't they just let us live in peace? Why don't they leave us alone? Isn't what they have already done enough?'
With these words, Ghaleb Ahmad (67) started his testimony on the suffering of his people; suffering imposed by the Israeli occupiers who captured their lands, demolished their residences, confiscated their property, and aim to replace them with Israeli colonists. On May 4, 2012, an Israeli force broke into al Himma in the Northern Jordan Valley area before they ordered the inhabitants to leave unless they want to face persecution and imprisonment.
The Israelis claimed that the inhabitants are residing illegally in a closed military zone. It must be noted that 4 families left the dwelling on that day because of fears of inevitable aggressions against their families, residences, and property knowing that al Himma had been a target for numerous aggressions in the last three years.
Table 1: deported families:
Victim

Family members

Children

Properties

Remarks

Shack

Residential tent

Ghaleb Ahmad

9

5

2

1

Two previous demolitions

Mahmoud Ayyub

5

2

1

1

Two previous demolitions

Husein abu Zaho

5

3

1

1

Previous demolition

Mohammad abu Zaho

8

6

1

1

Previous demolition

total

27

16

5

4
*source: Field Observations – Monitoring Israeli Human Rights Violations Team – LRC
Increased attacks in the Jordan Valley:
It must be noted that the Israeli Occupation Army had increased its aggressions on the Palestinians recently; movement have become more restricted with numerous road blocks and 'flying checkpoints'. In addition, soldiers have been chasing sheperds away from the reaching rangelands. The most recent aggression was the demolition campaign which took place in the previous month in Wadi al Maleh. These campaign serve the Israeli ethnic cleansing plans were they intend to replace the Palestinian inhabitants with Jewish immigrants coming from all around the world.
The Israelis wide range of violations of Palestinian rights ranges from announcing Palestinian lands as military zones or even worse, training grounds of its Army. In addition to demolishing Palestinian structures and taking over water resources.