Demolishing a Carwash and Two Warehouses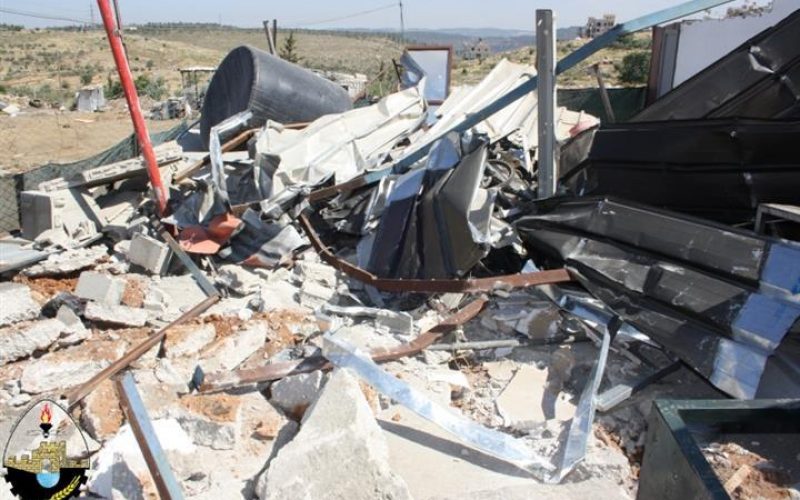 Violation: demolishing a carwash and two warehouses used for spare parts.
Location: Husan – Bethlehem.
Date: May 8, 2012.
Perpetrators: the so-called Organization and Construction Committee, aided by the Israeli Occupation Army.
Victims: Ashraf Izzat, Iyad Dana, Firas Shawasha.
Details:
At 4:00, on May 8, 2012, an Israeli force attacked three structures in Husan, the structures were the property of:
Ashraf Izzat:
The Israeli force demolished a warehouse which was used to store and sell spare parts without any prior warning. The also confiscated some tools and equipment. The business is a source of income for a 6-member-family (4 children); the warehouse was 200 m2 in area and built over a 3-dunum-plot. The owner received a stop-work order 4 months prior to demolition, though he had never received a demolition order; he responded by submitting an appeal via the Bethlehem Governorate and said that he had already embarked on issuing a construction permit. The warehouse construction cost around 4,000 ILS.
Iyad Dana:
The Israeli forces demolished a 200-m2 warehouse owned by Iyad Dana without any prior warnings. Dana used the warehouse to store cars spare parts and sell them. The demolished structure was 200 m2 in area; like hhis fellow country man, Dana received a stop-work order four months earlier. Dana is the sole supporter of a 9-member-family (7 children).
Firas Shawasha:
For the third time, the Israeli Occupation Army demolished a 300-m2 carwash on the pretext of unlicensed construction. It is a source of income for his 4-member family (2 children). An estimated loss of 35,000 ILS was recorded.
Picture 1-2: the remains of Dana's warehouse
Picture 3-5: Ashraf's warehouse ruins
Husan:
Husan is one of the villages to the West of Bethlehem; it is 7 km away and is edged with the Armistice line and Al Qabu (west) (Al Qabu is one of the Palestinian villages that was evicted in 1948), Nahhalin and Al Khadr (south), Al Khadr (east), and Battir (north). According to Husan Cultural Center, the village lost 5000 dunums to the Israeli colonization activities; leaving the residents with only 3000 dunums.
The village is rich with spring water, having more than 5 springs including Al Hawiyya, Al Sakhouna, Sabour, etc. Husan contains 3 mosques and a huge football field. According to the 2009 statistics, the village population has exceeded 8000 people.
Previous Aggressions:
Husan, like many other Palestinian villages, has been a target for several Israeli aggressions; in 2009, the Israeli Army threw a military order announcing the confiscation of 13.5 dunums for security reasons. According to the order, 'to build the prevention wall needed to prevent hostiles from passing through'. In 2010, the colonists deliberately soaked Al Harayeq area with sewage water. A group of Israeli colonists pumped huge amounts of sewage water into the 20-dunum-land planted with figs, grapes, prunes, and olives.