Colonists of Yizhar Set a Car Ablaze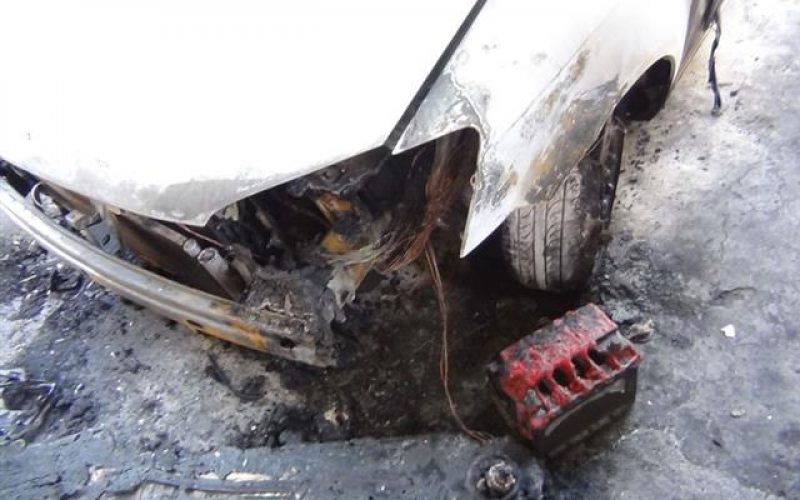 Violation: torching a Palestinian 2008 Hyundai Getz.
Location: 'Einabus – Nablus.
Date: May 17, 2012.
Victim: Zein Allan.
Perpetrators: colonists of Yizhar.
Details:
'Einabus is one of the most peaceful villages in Nablus area though colonists' brutality rocked its silence. On May 17, 2012, a group of colonists, assumed to be three, broke into the village, covered by the dark, and set a 2008 Hyundai Getz ablaze while parked on the edge of the road.
The care was completely destroyed. The flames awakened the locals who called the emergency services. Eyewitnesses saw three colonists fleeing the scene. It must be noted that such incidents have occurred quite often in 'Einabus and surrounding villages lately.
'Einabus:
It is considered one of the oldest villages in Palestine. it is located 12 km to the south of Nablus City. It is surrounded by several other Palestinian villages including Burin, Madama, Yasuf and Hiwwara. The village is known for the number of mountains and hills that surround it, the most famous one are Salman the Persian Mountain and 'Utared (Jupiter) Hill. The total area of the village is 4000 dunums including 260 dunums of built-up area.
The village population was 227 in 1922 which increased to reach 340. In 1967, 550 people lived in the village the number reached 1200 in 1987. The latest statistics show that the total population reached about 3000 people and it was recorded that 2000 people immigrated from the village.
The village lost more than 800 dunums of its lands to the Israeli colonization activities, represented in Yizhar colony. Yizhar has been the launching pad for hundreds of attacks against the surrounding Palestinian villages throughout the years.