Israeli bulldozers Leveled 20 Dunums in Salfit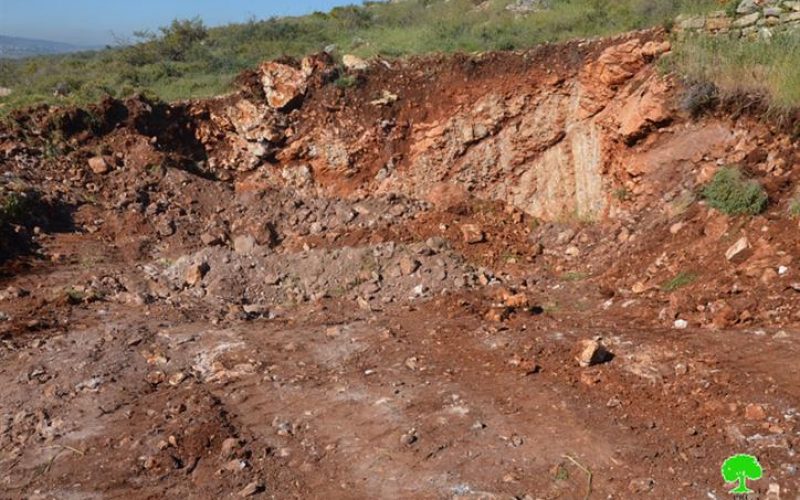 Violation: leveling 20 dunums planted with olive and prunes seedlings and 180-m-long retaining wall.
Location: Ad Dahr, western Salfit.
Perpetrators: the Israeli Occupation Army.
Victims: Sameer al Masri and Ahmad 'Alqam.
Date: April 16, 2012.
Details:
On April 16, 2012, Salfit was a target for a new wave of Israeli aggressions which hit the economy of Salfit and violated the locals' rights to education, medical care, and freedom of movement. Israeli troops accompanied by a dozer broke into Ad Dahr area and commenced the operation. They leveled the fields and uprooted seedlings and demolished retaining walls surrounding them.
It is worth mentioning that the lands were recently rehabilitated through 'Improving the livelihood in the Occupied Palestinian territory'; a program funded by the Netherlands government and implemented by a consortium of Palestinian NGOs headed by PARC.
Tale 1: leveled lands:
| | | | |
| --- | --- | --- | --- |
| Victim | Family members | Damage | picture |
| Sameer al Masri | 7 | Leveling ten dunums of lands, uprooting 140 olive trees and 110 pruned as well as | |
| Ahmad 'Alqam | 24 | Leveling ten dunums of lands, uprooting 140 olive trees and 110 pruned as well as | |
| total | 31 | | |
It must be noted that Ad Dahr area has been a target for Israeli colonization in past years as the Israeli tend to expand Ariel colony on this side. In addition, most of the area is classified as closed military zone.
Salfit:
Salfit is located in the north west of the West Bank. Its organizational plan consists of 3850 dunums and it is inhabited by around 10,000 people. Salfit's total area is around 27 dunums, 25 dunums planted with olives. The Israeli endless strive for colonization is the biggest threat imposed on the town.