The Israeli Occupation Forces Demolish structures in Fasayel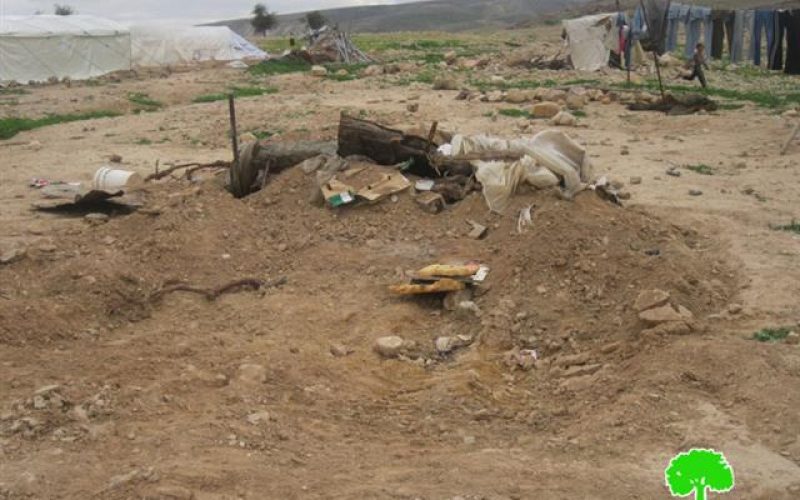 Violation: demolishing sheds.
Perpetrators: the Israeli Occupation Army.
Victims: 3 Bedouin families (29 people including 21 children).
Date: March 13, 2012.
Details:
For the third time in less than a year, a large scale demolition campaign was held in Fasayel, northern Jericho. On March 13, 2012, the Israeli Occupation Army demolished 5 residential shacks and two barns. The Israelis took advantage of the cold weather to impose more pressure on Palestinian lives and drive them towards leaving their lands. Table 1: demolitions in brief:
Victim

Family members

Children

Target structures

remarks

Residence

Shed

others

Abed al Rashayda

9

6

2

1

1 kitchen

Demolished for the third time

Husein al Rashyada

11

8

2

1

—

Demolished for the third time

Khader Mousa

9

7

1

—

—

Demolished for the third time

29

21

5

2

1
Fasayil is located 17 km to the north east of Jericho; according to the Israeli Organizational structures of 1981, the village built-up area should not exceed 122 dunums. According to the Village Council, the village is population is 1132 people. Most of the residents are Bedouins who came to the village searching for water and herding areas in addition to a minority of refugees. Most of the village lands are classified as 'state property' preventing the Palestinians from exploiting it in any possible way in addition to chasing them out and threatening their simple shelters.
Fasayel lacks the basic services of water and electricity and transporting water is quite costly, around 15 ILS (4 USD) per m3. On the other hand, Israeli colonies in the area are expanding rapidly; the village is surrounded by several colonies, Bitsayel and Yavit besides edging the by-pass road '90' (north), Tumer, Netiv Hagedud, and Gilgal (south).