Demolishing a Number of Structures in Tana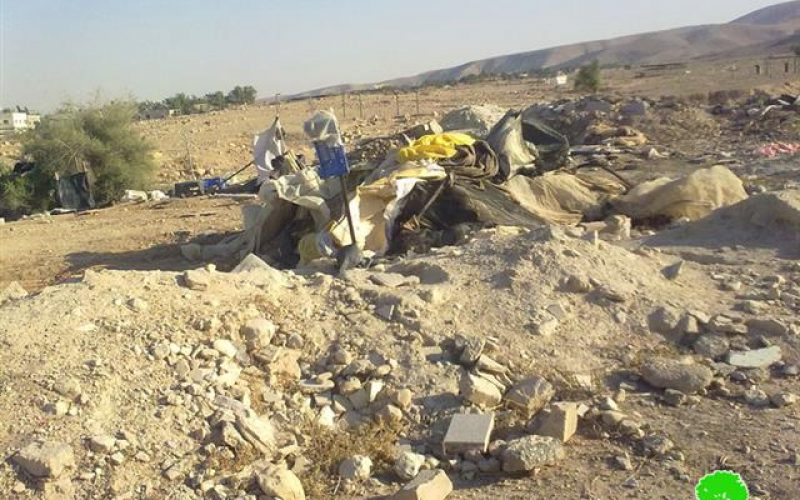 Violation: demolishing a number of residential and agricultural structures in Tana.
Perpetrators: the Israeli Occupation Army.
Victims: 5 families, 35 people including 19 children.
Date: March 13, 2012.
Details:
On March 13, 2012, the Israeli Occupation Army launched a demolition campaign, the second in 2012, against Tana on the pretext of construction in a military zone. Mr. Atef Hanani, Beit Furik Governor, said in a statement: 'obviously, the Palestinian presence in Tana is targeted despite having no effect on the so-called Israeli State. Nevertheless, the Israelis take every chance to compromise the Palestinian presence in the area. Targeting farmers in this time of the year will drastically affect the economy of the families when knowing that it is the goat's mating season'.
Table 1: victims:
Victim

Location

Family members

Children

Damage

remarks

Residence

Shed

others

Atef Hanani

Al Ju'wana

7

5

1

2

stove

Suffered Previous demolitions

Shaher abu Het

Al Ju'wana

5

3

1

1

—

Suffered Previous demolitions

As'ad Hanani

Al Ju'wana

8

4

—

1

—

Suffered Previous demolitions

Mohammad Nasasra

Tana

11

5

1

2

stove

Suffered Previous demolitions

Muhi ad Din Nasasra

Tana

4

2

1

—

—

Suffered Previous demolitions

35

19

4

6

2
Picture 1-3
Most of Tana's families are immigrants from Beit Furik; the migrated seeking farming and herding which are considered the only source of income for these families. They moved to an area rich of water springs with fertile lands.
It is worth pointing out that the residents of Khirbet Tana have been suffering from the Israeli occupation forces since the late 1960s as these forces have tried since then to evict them from their lands; The area of Khirbet Tana is about 12,000 dunums and is located about 1 kilometer away from the colony of Makhoura. It is inhabited by around 200 people although the number varies with seasons.
More than 10,000 dunums have been confiscated from the town of Beit Furik (where the residents of Tana originated from) for the benefit of this colony which was established in 1969.
It must be noted that Tana suffered the first campaign in July, 2005. On January 26, 2009, the Israeli Supreme Court ordered the demolition of all the village's structures and evicting the residents, and order that was carried out on January 10, 2010.
Again, it was demolished for a third time on December 9, 2010, a fourth on February 9, 2011, a fifth in September, 2011, a sixth in February, 2012, and a seventh in March, 2012, obviously it won't be the last.