Suseya Colonists Attacks Palestinians While Farming Their Lands in Yatta town – Hebron Governorate.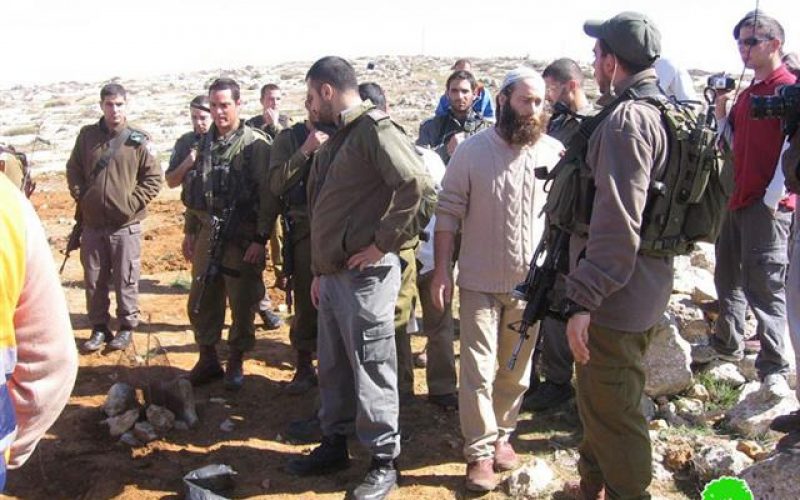 A group of Suseya colonists attacked Palestinian farmers from Khirbet Susiya while they were present in their lands located in the vicinity of the colony. The colonists attacked the Palestinians under the watchful eyes of the Israeli soldiers who stood idle as the attack took place.
The attack was witnessed by the Land Research Center (LRC)'s field researcher on the morning of Saturday February 11, 2012, when a group of Susiya residents tried to safeguard their lands by planting almond trees in it. As such, they brought the bushes into Susiya and then tried to bring them to their lands using donkeys. Upon arriving at their land, seven Suseya colonists attacked the Palestinians in the presence of a large number of Israeli occupation soldiers and policemen.
Pics of the attack on Palestinian farmers.
As Palestinians were heading to their land, the colonists attacked them and tried to prevent the donkeys from moving forward. They have also attacked two of the workers transporting the bushes while cussing them off. One of the donkeys was taken away by one colonist while another colonist dumped all of the bushes carried by another donkey. A group of other colonists chased off after the Palestinians who insisted on reaching their lands despite all of the attempts of the colonists and the occupation soldiers.
The Palestinians of Susiya managed finally to plant a number of trees despite the screams and threats of the colonists of carrying out further attacks. The Palestinians have expressed concern that such attacks might take place as similar actions were taken by the colonists in the past; Umm Mohammad Al Nawaja, one of the residents of Susiya, expressed her concern that the colonists would uproot the newly-planted trees "as of tonight".
It is worth pointing out that the targeted lands are under the threat of being confiscated. It is located 500 meters to the west of the colony of Suseya and is owned by the families of Shreiteh and Al Nawaja. The area of the targeted lands is 40 dunums. Colonists chased off Palestinians herders last year from the said land as the colonists have continued to plant it with grape vines since then.