Stop Work Orders Against Solar Panels in the Khirbets of Hreibat Al Nabi and Wadi Juheish South Yatta – Hebron Governorate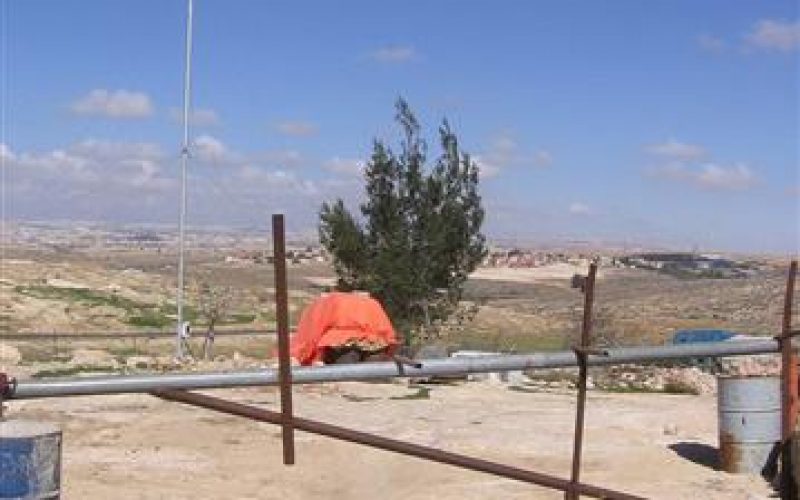 Israeli occupation forces have continued its policy of targeting electricity-generating projects in the southern areas of the town of Yatta in Hebron Governorate; these forces have targeted the solar panels in the village of Imneizel late last year. Now, they have come again to threaten similar systems in the Khirbets of Hreibat Al Nabi and Wadi Juheish located in close proximity to Imneizel. The targeted systems consist of a wind turbine coupled with a number of solar panels used together to generate enough electrical power to provide only light to the beneficiary structures and shelters.
Pic.1+2: The electricity system in Hreibat Al Nabi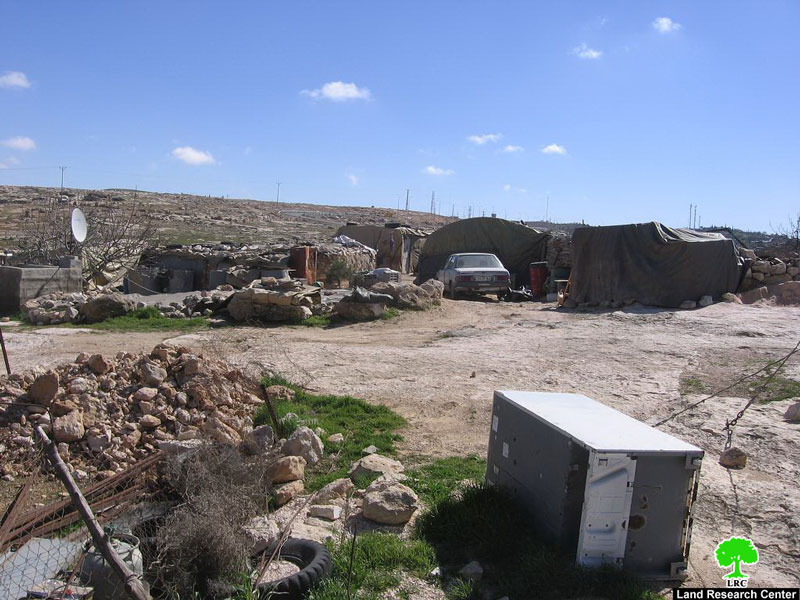 Pic.3: A general view of Hreibat Al Nabi.
Mr. Imad Rasheed, a resident of Hreibat Al Nabi, expressed the following to the Land Research Center (LRC)'s field researcher: Israeli occupation forces delivered to me on Thursday February 2, 2012, a Stop Work Order calling for the work to stop on the electricity generation project and that I have to remove it. The Order indicated that I have to appear in court in Beit El on February 20, 2012. A similar Order was given to the residents of Khirbet Wadi Juheish. The two systems were financed by the German Government.
He, also, indicated that the occupation forces have increased their vicious tactics against the residents of the southern parts of Yatta in an attempt to make life difficult for them that they would "voluntarily" leave their lands which would make it an easy prey for the continuous Israeli colonial expansion. He added that in the case the systems are demolished, "the residents would go back to the dark ages."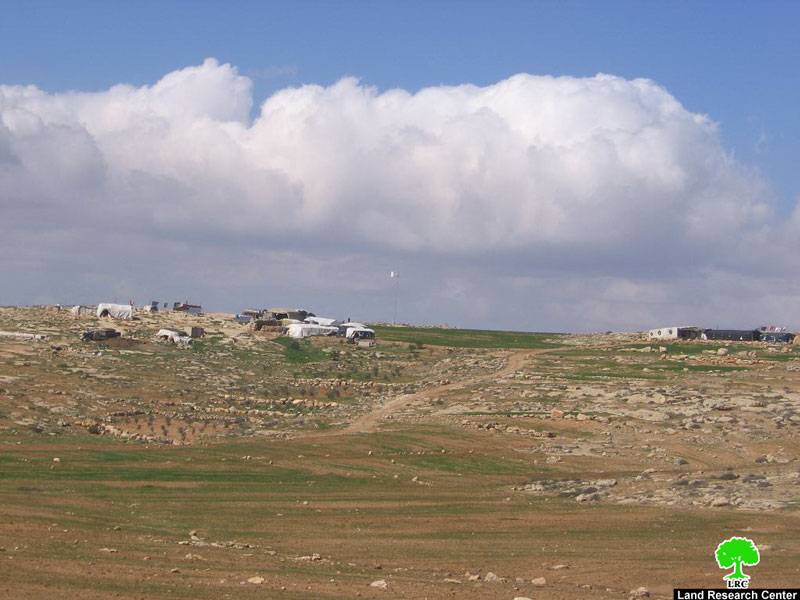 Pic.4: Wadi Juheish
The electricity system serves 8 families (85 persons) in Hreibat Al Nabi and 12 families (110 persons) in Wadi Juheish using the energies of wind and sunrays. The produced energy is about 1 Kw/hr which is enough only to have some light, operate the TV and charge the mobile phones.
In terms of location, Khirbet Hreibat Al Nabi is located in close proximity to the colony of Beit Yattir at a distance of 300 meters from the checkpoint leading to it. Its residents work in farming and herding while living in tents and caves. As for Wadi Juheish, it is located on the western side of by-pass Road 60. Its residents live in tens that have received earlier demolition orders by the occupation forces. They work also in herding and farming. The only road leading to the Khirbet is blocked by the stones and earthmounds placed by the occupation forces.