Israeli Colonists Write Offensive and Racist slogans on a Palestinian House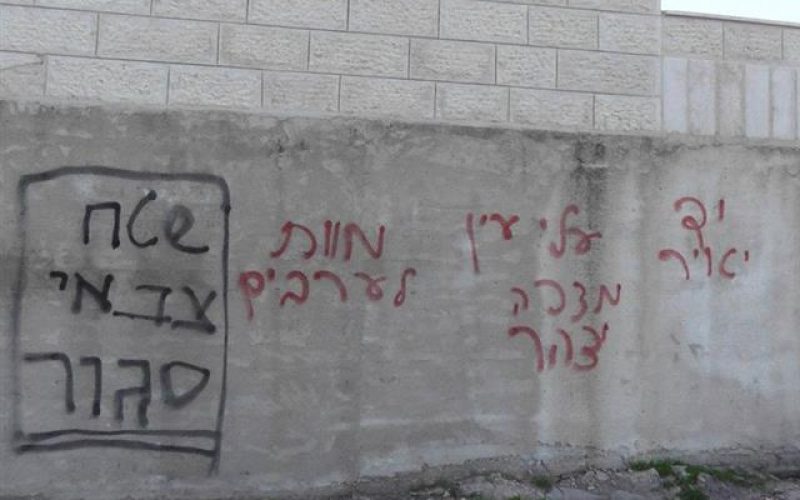 Violation: Israeli Colonists Write Offensive and Racist slogans on a Palestinian House.
Location: Al Janya Village
Date: February 5, 2012.
Victim(s): Ismael Mathloum.
Perpetrators: Talmun colonists.
Details:
As part of the brutal racist attacks held all around the West Bank and damaging Palestinian properties and even worse by uprooting trees and defiling religious sites, the colonists group with the name 'price tag' had struck again. On February 5, 2012, a group of colonists sneaked into Al Janya and headed towards Ismael al Mathloum (52) residence.
Pictures of the attack
The colonists sneaked into Ismail al Mathloum residence and wrote slogans full of hatred and calling for 'revenge'. The perpetrators signed beneath the slogans: 'price tag'. Ismael's cab, the only source of income for the 7-member-family was also targeted in the attack. When detected, the colonists fled the scene under the protection of the Israeli Army which, for some strange reason, commenced an inspection campaign in the village houses. The recent attack on Al Janya is not an isolated incident; several attacks have been committed by the colonists in a systematic manner. The colonists' attacks are covered by the Israeli Occupation Army which provides them with protection, and possibly coordination and supervision.
It must be noted that colonization and land confiscations are the biggest problems facing the Palestinian and causing them constant anxiety. The surrounding colonies of Dulub and Talmun are expanding on daily basis, devouring as much land as possible in addition to the bypass ripping the village apart. The Israeli colonies have taken over more than 70% of the village lands.
Al Janya is located 8 km to the north of Ramallah and was deprived from its main source of income, agriculture, due to continuous colonization.