"In Less Than Three Months"
New Israeli Demolition Orders for Eight Houses in Haris Village Northwest of Salfit Governorate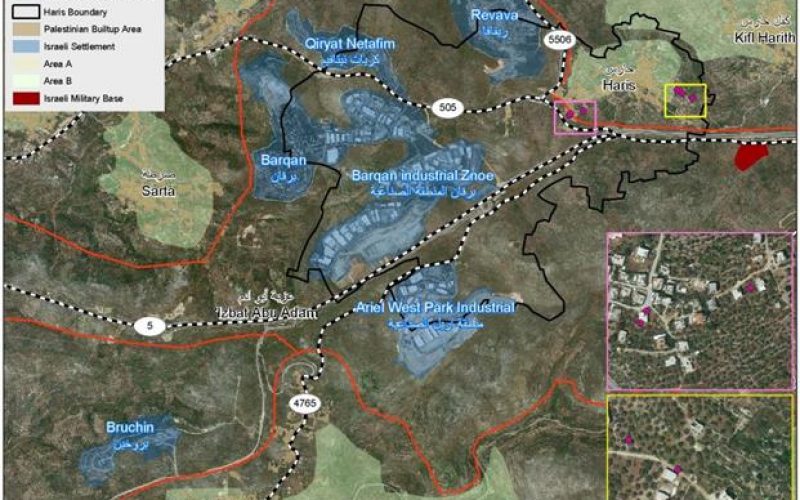 On February 6, 2012, the Israeli occupation Army handed over eight residents from Haris village northwest of Salfit Governorate, military demolition orders for their houses under the pretext of lacking building permits, due to their location in area C' which according to OSLO II Interim agreement of 1995, Israel retains full control over security and administrative issues. The owners of the targeted houses are:
5.
Yasir Hussein Saleh Suleiman
See photocopies of the military orders & a location map of the targeted houses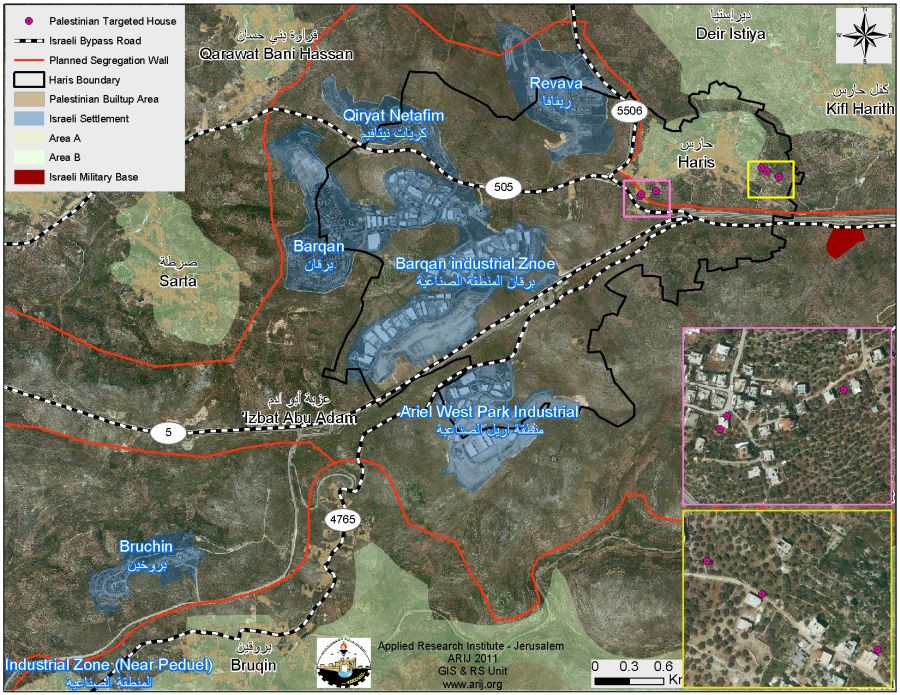 Map of the threatened houses in Haris Village
Photocopies of the military demolition orders
It is the second time in less than six months thatthe Israeli occupation army targets Haris Village, where
at the end of October 2011, The Israeli Occupation army (IOF) handed over six Palestinian residents of Haris village, northwest of Salfit Governorate, military orders notifying them that their houses weill be demolished under the pretext of lacking building permits. To read more about the previous targeting of Haris village houses, refer to the following case study:
Military orders targeting Palestinian Houses in Haris village northwest of Salfit Governorate.
It is worth pointing out that according to Oslo Agreements, redeployments from Area C and transfer of internal security responsibility to the Palestinian Police in Areas B and C, is to be carried out in three phases; each to take place after an interval of six months and to be completed 18 months after the inauguration of the Palestinian Council in 1996, except for the issues of permanent status negotiations and of Israel's overall responsibility for Israelis and borders. However, Israel did not respect its commitments with the Palestinians and refused to do so at least until it carries out its colonial agenda in the oPt, as to control as much Palestinian lands as possible before reaching an agreement with the Palestinians.
The Geopolitical Division of Haris Lands
According to the Oslo IIInterim Agreement of 1995, which was signed between Israel and the Palestinian Liberation Organization (PLO) on September 24, 1995, the Palestinian Territory lands were classified into areas A, B and C designating varying levels of control. This classification has scattered the occupied Palestinian territory and turned it into isolated cantons; physically disconnected from each other. Accordingly, 'Haris village lands were classified into areas B and C. Table 1 gives details of the land classifications in Haris village:- See table 1:
Table 1: Classification of Haris Lands According to Oslo II Interim Agreement of 1995

Land Classification

Area-Dunums

%from the total Town lands

Area A

0

0

Area B

275

3.2

Area C

8095

96.8

Total

8370

100

Source: The Geo-informatics Department – ARIJ 2012
Haris village is located some 5 kilometers to the northwest of Salfit city; it is bordered by Deir Istya village from its northern side, the villages of Kifil Harris and Qira from the east; the village of Qarawat Bani Zeid from the west, and the cluster of Israeli settlements comprising Ariel finger (Barqan, Revava, Barqan Industrial Zone, Qiryat Netafim, and Ariel West Park Industrial) from the south. Table 2 gives details of the five Israel settlements surrounding the village of Haris.
Table 2: Israeli settlements Established on Haris Village Lands

No.

Settlement Name

Date of Establishment.

Total Area (Dunums)

Area confiscates from Haris village boundary (Dunums)

Population 2009

1

Barqan

1981

1300

304

1359

2

Barqan Industrial Zone

1981

1417

1417

*****

3

Revava

1991

399

78

1113

4

Qiryat Netafim

1982

386

188

634

5

Ariel West Park Industrial

NA

1728

1110

*****

*

Total

*****

5230

3097

3106

Source: ARIJ Database 2012
The village stands on 8370 dunums of land, including 260 dunums (about 3% of the total village area) comprising the built-up area which is a home for 3454 inhabitants (PCBS, 2012).
The Israeli Colonial Projects on Haris village Lands
It is worth pointed that 'Haris village witnessed different aspects of Israeli colonial plans where 3097 dunums (37% of the total village area – 8370 dunums) of the village's lands were confiscated for the building of five illegal Israeli settlements1 on the village's lands.
Additionally, the village of Haris is facing a greater threat than that of losing considerable portion of its lands for Israeli settlements; it is threatened of extinction because of the Israeli Segregation Wall which is planned to be constructed on its lands. An Analysis conducted by the Geo-Informatics & Remote Sensing Department at the Applied Research Institute – Jerusalem (ARIJ) showed that the Israeli revised Segregation Wall route of September 2007 concluded that the village of Haris will lose 7550 dunums, more than 90% of its lands, west of the Israeli Segregation Wall, which will extend a length of 2.1 km on its lands, starting from its southern side and moves towards the western side of the village..
To Conclude
The Israeli systematic house destruction campaign carried out by the Israeli Army in all over the occupied Palestinian territory (oPt) flagrantly violates the International law rules and Human conventions and United Nations resolutions.
Article 53 & 147 of the Fourth Geneva Convention of 1949 indicated that: Extensive destruction and appropriation of property not justified by military necessity and carried out unlawfully and wantonly, is a grave breach of the Convention.
Moreover Art. 23 of the Hague Convention of 1907 also provides: In addition to the prohibitions provided by special Conventions, it is especially forbidden to destroy or seize the enemy's property, unless such destruction or seizure be imperatively demanded by the necessities of war.
Also under the Universal Declaration of Human Rights Adopted and proclaimed by General Assembly resolution 217 A (III) of, December 10, 1948, Article 17 reads: 'No one shall be arbitrarily deprived of his property.' Which means it bans Israel from destroying or confiscating the property of the Palestinians at any case.
In the year 2004 the United Nations Security Council called on Israel to stop demolition of Palestinian homes under Resolution No. 1544-(2004), the resolution states: 'The Security Council called on Israel to respect its obligations under international humanitarian law, particularly the obligation not to undertake home demolitions contrary to that law'.
Prepared by
The Applied Reserach Institute – Jerusalem