11 Stop Work Orders in the Villages of Barta'a Al Sharqiya and Arraba – Jenin Governorate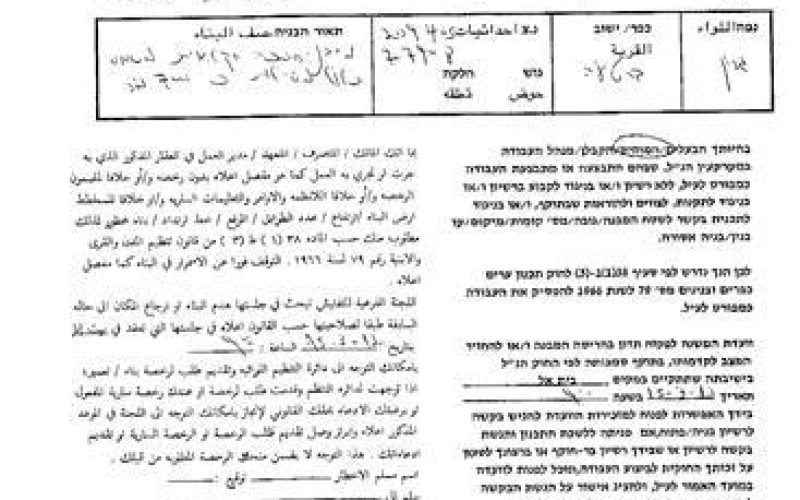 Violation: Israeli occupation forces issue Stop Work Orders against 11 agricultural structures benefitting 72 Palestinians including 45 children.
Location: The villages of Barta'a Al Sharqiya and Arraba in Jenin Governorate.
Date: February 21, 2012.
Affected: Members of the clans of Qabha and Hamed.
Preface:
The right to adequate housing is considered one of the most relevant Articles in the International Conventions and Human Rights Treaties. Yet, as is always the case, the Israeli occupation places itself above all of the international norms and conventions while claiming to be the guardian of human rights and principles. The village of Barta'a is an example of such contradiction.
Throughout the years of the occupation, the village of Barta'a has seen the wrath of its policies; in 1948 the village was divided in half (to east and west). In the year 2005, the eastern part was isolated from its Palestinian environs due to the establishment of the Racist Wall. Demolition of houses, shelters, commercial structures in addition to the threat of the demolition of most of its structures exemplifies the racist policies implemented by the occupation forces.
The Violation:
On February 21, 2012, the so-called Israeli "Civil Administration" targeted 9 Palestinians from Barta'a Al Sharqiya with military orders calling for stopping construction of agricultural structures as well as retaining walls built in the village lately. Occupation forces gave the owners until the 15th of March, 2012, to appeal against the Orders. As always, the Stop Work Orders were issued under the pretext of building in Area C "without a permit".
On another front, Israeli occupation forces issued on February 14th, 2012, an additional two Stop Work Orders against agricultural bruxes in the town of Arraba in the area of Beir Al Sabeel using the same pretext of building without a permit in Area C.
The following table lists additional information regarding the above-mentioned Stop Work Orders:
Name

Village own

Area

(in m2)

No. of Family Members

No. of Children

Type of Structure

Noor Al DinMohammad Ali Qabha

Barta'a Al Sharqiya

80

5

3

Sheep brux

Jawad Abed Hamdan Qabha

Barta'a Al Sharqiya

20

7

4

20-m retaining walls

Tayseer Abdullah Qabha

Barta'a Al Sharqiya

70

8

5

Sheep brux

Subhi Abdel Qader Qabha

Barta'a Al Sharqiya

Sheep brux

Mohammad Othman Qabha

Barta'a Al Sharqiya

120

6

4

Sheep brux

Amenah Mahmoud Qabha

Barta'a Al Sharqiya

80

9

6

80-m retaining walls

Bilal Mohammad Qabha

Barta'a Al Sharqiya

80

6

4

Sheep brux

Sabri Ibraheem Qabha

Barta'a Al Sharqiya

140

6

4

140-m retaining walls.

Ali Ahmad Qabha

Barta'a Al Sharqiya

60

5

3

Chicken brux

So'oud Khalil Hamed

Arraba

60

7

5

Sheep brux

Mo'ayyad Badran Ali Ahmad

Arraba

100

9

6

Sheep brux

TOTAL

72

45

8 agricultural bruxes and 240-m2 retaining walls
Source: Field presence – Israeli Violations Monitoring Unit – LRC
As of today, the total number of Stop Work and Demolition Orders in the village of Barta'a is more than 190 while 19 actual demolitions has taken place in the village since the year 2000. Israeli occupation forces claim that such demolitions are "legal" as the structures were built without a permit, while in reality it is part of a clear and programmed policy to drive Palestinians out of their lands.