Israeli Military Orders Extending "Placing the Hand" on Palestinian Lands in the Villages of Iskaka, Marda and the City of Salfeet Benefiting the Racist Isolation Wall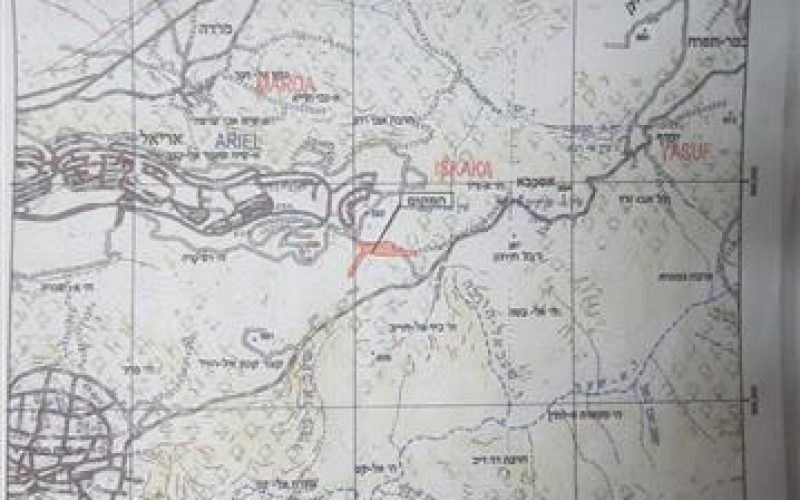 Violation: The extension of Israeli military orders calling for land grab.
Date: January 15, 2012
Location: The city of Salfeet and the villages of Iskaka and Marda.
Details:
In the framework of the continued Israeli attempts to steal, control and annex additional lands of the West Bank via the establishment of the Israeli Racist Isolation Wall, Israeli occupation forces issued military orders extending previous ones until December 31, 2014. In essence, the Orders call for the continued "placing of the hands" of the occupation forces on Palestinian lands used for the Racist Wall. The following table lists the targeted lands and other information in its regard:
Military Order

VillageTown

Parcel

Location

Area

Frequency of Extension

Pics

Iskaka

Parcel 3

Al Kafayef and Al Harayeq

49 dunums

3

Salfeet

4

Al wajh Al Shami

81

2

Parcel 8474

Pieces 7 and 8

Iskaka

Parcel 3

Al Harayeq

Marda

Parcel 1

Al Da'aouq

34

3

Iskaka

Parcel 1

Karm Al Ein

Parcel 1

Khallet Abda and Al Kafeef
It is worth pointing out that the length of Racist Wall in the village of Iskaka is about 1200 meters. It devours more than 3,000 dunums of the villages' original 15,000 dunums. The Wall is established in the western side of the village isolating, in the process, lands that used to be the main source of income for tens of families in the village.