Extension of Take Over lands in Bruqin, Sarta, and Haris villages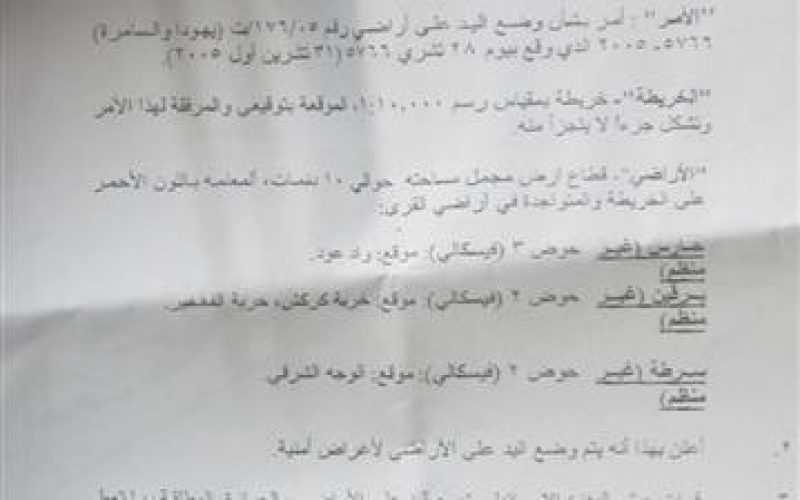 Violation: extending laying control over Palestinian lands.
Date: January 1, 2012.
Perpetrators: the Israeli Occupation Army.
Victims: various farmers.
Details:
The Israeli Occupation Army handed military orders to owners of lands that were captured in October, 2005. The orders stated that the Army intends to keep control over the lands till 2014. Table 1 gives details of the order:-
Order

Village

Parcel

Plot

Date

area

Extension of take over number (T/176/05)

Haris

3

Wad Oud

October, 2005

10 dunums

Bruqin

2

Khirbit Karkash

Sarta

2

Al Wajh ash Sharqi
Source: field work – Israeli Human Rights violations Monitoring Unit – Land Research Center
A photocopy of the order
Its worthy to mention that the Israeli Occupation Army confiscated huge areas to construct a security wall around Barqan colony; the proposed wall made capturing Palestinian lands a much easier task. Barqan expanded by adding a number of industrial plants which gained export previlige in order to attract more investments in colonies in the West Bank despite the environmental hazards they impose.