An Attempt to Set a Mosque Alight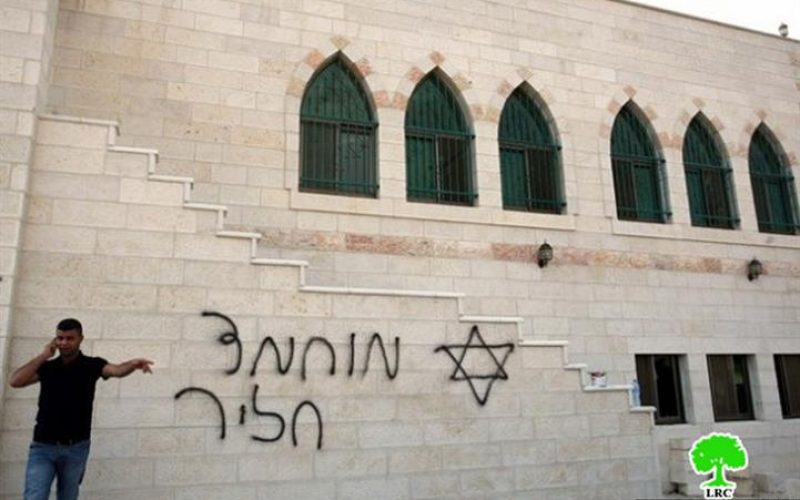 Violation: an attempt to torch Ali ibn Abi Taleb Mosque.
Date: January 11, 2012.
Location: Al Shi'b – Deir Istiya.
Perpetrators: Israeli colonists.
Victims: residents of Deir Istiya.
Preface:
The Israeli aggressions in the West Bank the Occupied City of Jerusalem, aggressions that targeted Palestinians, their property, trees, and even religious sites, reflect the ideological nature of these attacks. Such attacks indicate that the radical thinking of Jewish colonists have increased to alarming levels and foretells a future full of crimes and turmoil. The colonists' attacks are part of a greater policy that tends to reshape the land, steal it, and replace the inhabitants with Jewish colonists.
Details:
On January 11, 2012, a group of colonists sneaked into the western side of Deir Istiya village and tried to set Ali ibn Abi Taleb Mosque alight. However, the doors and windows of the mosque were sealed which rendered them unable to accomplish their mission. Instead, the colonists wrote some offensive slogans and drew David Stars all around the Mosque. They signed 'price tag', which is the name of a group spreading all around the West Bank with a mission that seems to be to destroy as much Palestinian property as possible. After failing to torch the mosque, colonists tried to set 3 cars alight, they sprayed the car with gas but had to flee before committing their crime.
Nazmi Salman, Deir Istiya Governor, said: 'a systematic and organized vicious plan is being carried out by the colonists and the Israeli Army. These colonists were placed here to serve a purpose and complete certain objectives related to land confiscations, theft of property, and defiling various religious sites. The attack on the mosque is the second in less than a year; a similar attack was carried out in September, 2011but the villagers managed to crack the attackers and make them flee.'
Deir Istiya:
It is located 6 km to the north west of Salfit. Its total area is 34870 dunum including 610 dunums of built-up area. The town is inhabited by around 5000 people who depend largely on herding and agriculture in their living knowing that fertile soil and plenty of water are available. It is considered one of the most concerned towns with education, compared to other surrounding towns and villages.