Military orders targeting Palestinian houses in Harris village northwest of Salfit Governorate
Harris village is one of many Palestinian villages and cities that has been a victim to the Israeli systemic attacks and violations in the Occupied Palestinian Territory (oPt). At the end of October 2011, The Israeli Occupation Forces (IOF) handed over 6 Palestinian residents of Haris village, northwest of Salfit Governorate, military orders notifying them that their houses well be demolished under the pretext of lacking building permits due to their location in area 'C', which is according to Oslo II Interim Agreement of 1995 fall under full Israeli control, security and Administrative. See table 1 for a list of names and a description of the threatened houses:
Table 1: Owners of the threatened Structures in Harris village

Owner

Description

of Structure

Stop Work Orders

1

Walid Said Ibrahim Souf

Under construction House

2

Mahmud Hosni Ali Shimlawi

Under construction House

3

Marwan Sami Mahmud Souf

Under construction House

4

Ahmad Hassan Hussein Jaber

Under construction House

5

Yousef Hassan Hussein Jaber

Under construction House

6

Taysir Ali Mahmud Shimlawi

Inhabited

——
Source: Haris Village Council 2011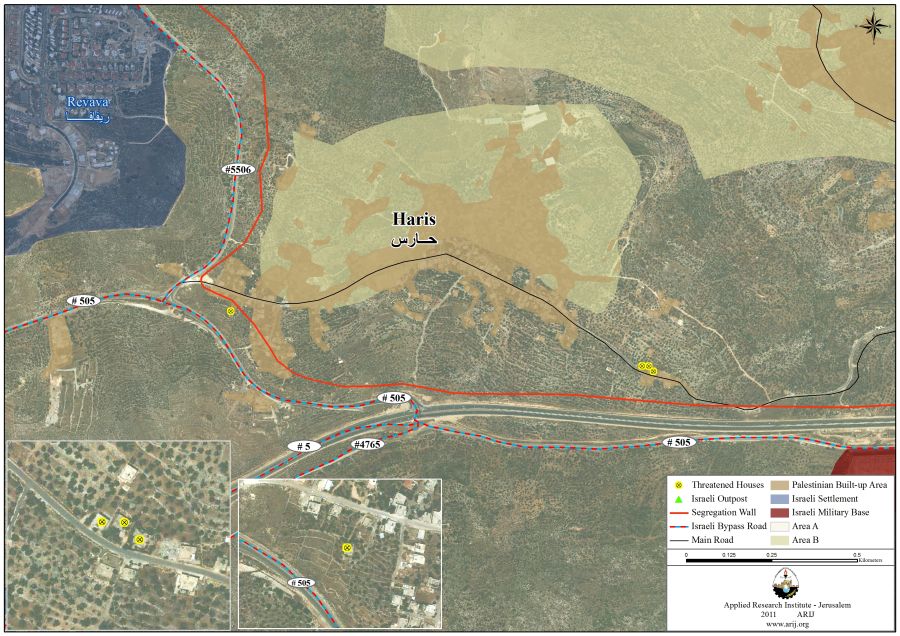 Map (01):The Location of threatened houses
Harris village Location and Population
The village of Harris village is located some 5 kilometres to the northwest of Salfit city; it is bordered by Deir Istya village from its northern site, the villages of Kifl Harris and Qira from the east, the village of Qarawat Bani Zeid from the west, and the cluster of Israeli settlements (Barqan, Revava, Barqan Industrial Zone, Qiryat Netafim, and Ariel West Park Industrial) from the south. See table 2 of the five Israel settlements surrounding the village of Haris;:
Table2:Israeli settlements established on lands of Haris village

Israeli Settlement

Date of Establishment

Population 2009

Area confiscate from Haris Village Boundary

Area
(Dunums

Barqan

1981

1359

304

1300

Barqan industrial Zone

1981

—

1417

1417

Revava

1991

1113

78

399

Qiryat Netafim

1982

634

188

386

West (Arial West Park Industrial)

—

—

1110

1728

3106

3097

5230
Source: ARIJ
GIS Database 2010
The village stands on 8370 dunums of land, of which 260 dunums (about 3% of the total village area) constitutes the built-up area and it is a home for 3427 inhabitants (Palestinian Central Bureau of Statistics – PCBS, 2007).
Previous Israeli Military Warnings in Harris Village
On the 25th of July, 2009, the Israeli occupation authorities distributed halt-of-construction orders to seven families from the village of Haris under the pretext of building in area C without acquiring licenses from the Israeli civil administration as their houses are located in Area C
The owners were given only one month to file an objection against the demolition order at Beit IL court and pursue the issuance of building licenses. The Structures are owned by;
Omer Ahmad Samara
Abdul Rahim Ahmad Samara
Sadeq Yunis Suf
Taysir Yusif Suf
Ma'zuz Farid Suf
Abdul Khaliq Daood Suf
Mahmud Daood Suf
Earlier on November 17, 2008, the Israeli Civil Administration and the Israeli Ministry of Planning and Construction handed out residents of Haris village northwest of Salfit city military warnings to halt the construction of six Palestinian structures in the village under the pretext of being built without permits. The houses are located in Area 'C', and are owned by;
Nizam Hassan Odeh.
Ma'zouz Farid Hussein Hassan Jaber.
Hassan Hussein Hassan Jaber.
Hassan Yousef Hassan Al Suf.
Omar Hussein Hassan Jaber.
Fuad Yousef Hassan Al Suf
Conclusion
The Israeli violations and aggressive actions of demolishing Palestinian houses and properties in occupied territory contradict with the International law rules and are considered grave beach to the human conventions especially:
The Fourth Geneva Convention
Article 47: 'Protected persons who are in occupied territory shall not be deprived, in any case or in any manner whatsoever, of the benefits of the present Convention by any change introduced as the result of the occupation of a territory, into the institutions or government of the said territory, nor by any agreement concluded between the authorities of the occupied territory and the Occupying power, nor by any annexation by the latter of the whole or part of the occupied territory.'
Article 147: 'Grave breaches to which the preceding Article relates shall be those involving any of the following acts … extensive destruction and appropriation of property, not justified by military necessity and carried out unlawfully and wantonly.'
Universal declaration of human rights, Article 17:
1. 'Everyone has the right to own property alone as well as in association with others.'
2. 'No one shall be arbitrarily deprived of his property.'
Article 25:
'Everyone has the right to a standard of living adequate for the health and well-being of himself and of his family, including food, clothing, housing and medical care and necessary social services, and the right to security in the event of unemployment, sickness, disability, widowhood, old age or other lack of livelihood in circumstances beyond his control.'
::::::::::::::::_
[1]
According to Oslo II Interim Agreement of 1995, area C falls under full Israeli control, security and Administrative
Prepared by: