Leveling 400 dunums in Deir abu Sam'an lands
Violation: leveling Deir abu Sam'an lands.
Location: Deir abu Sam'an lands in Kafr ad Dik – Salfit.
Date: early November, 2011.
Perpetrators: Eli Zahav colonists and the Israeli Occupation Army.
Details:
The Israeli Occupation dozers continued excavations and diggings around Abu Sam'an Shrine in Kafr ad Dik. It was reported that the leveling is being done to serve the proposed expansion of the colony.The ongoing bulldozing consumed more than 400 dunums of Palestinian lands so far. It must be pointed that the theft of antiques is an approach adopted by the Israelis in order to make forging history an easier matter.
Um Saman, located near Beit Furik town, northern West Bank, is a Roman historical site.According to Salfit Governorate, the site is, in fact, is built over the ruins of a Roman city. However, the site is located in area classified 'C' according to Oslo agreement which resulted in making it relatively unreachable; in addition, the closeness to the site to Eli Zahav colony made reaching it even harder.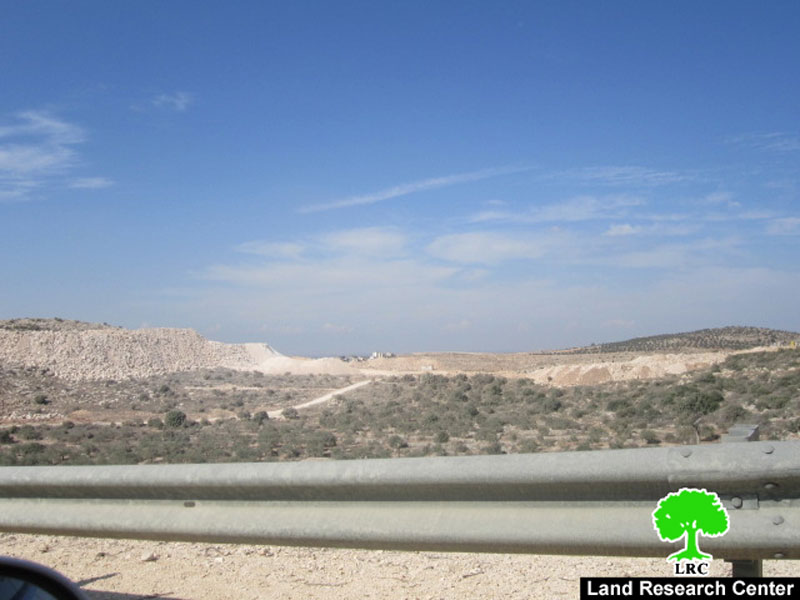 This allowed the Israelis to look for the ruins themselves and steal whatever artifacts they had found there and move them to the nearby colonies. The sole purpose of the Israeli actions is using parts of the ruins to construct house in the colony in an attempt to fool the world by showing them that such colonies have historical roots; thus proving them legal.
Um Saman, just like 22,000 other historical sites spread around Historical Palestine are facing extinction thanks to the Israeli destructive policy.Most of these sites are under Israeli control, locating them in areas classified 'C' according to Oslo Agreement and rendering them under full Israeli control.
Eli Zahav was established in 1982; its built-up area has reached 290 built over lands confiscated from Kafr ad Dik. The colony is inhabited by 424 Israeli colonists.