Aggressions against Palestinians… Threats to Ban Land Reclamation
The Israeli Occupation Authorities ordered the stoppage of any reclamation projects in Al Baq'a area, eastern Hebron. The Israeli Occupation Civil Administration issued a stop-work order for a land reclamation project in Ali and Shu'eib Jaber lands to the east of bypass '60'.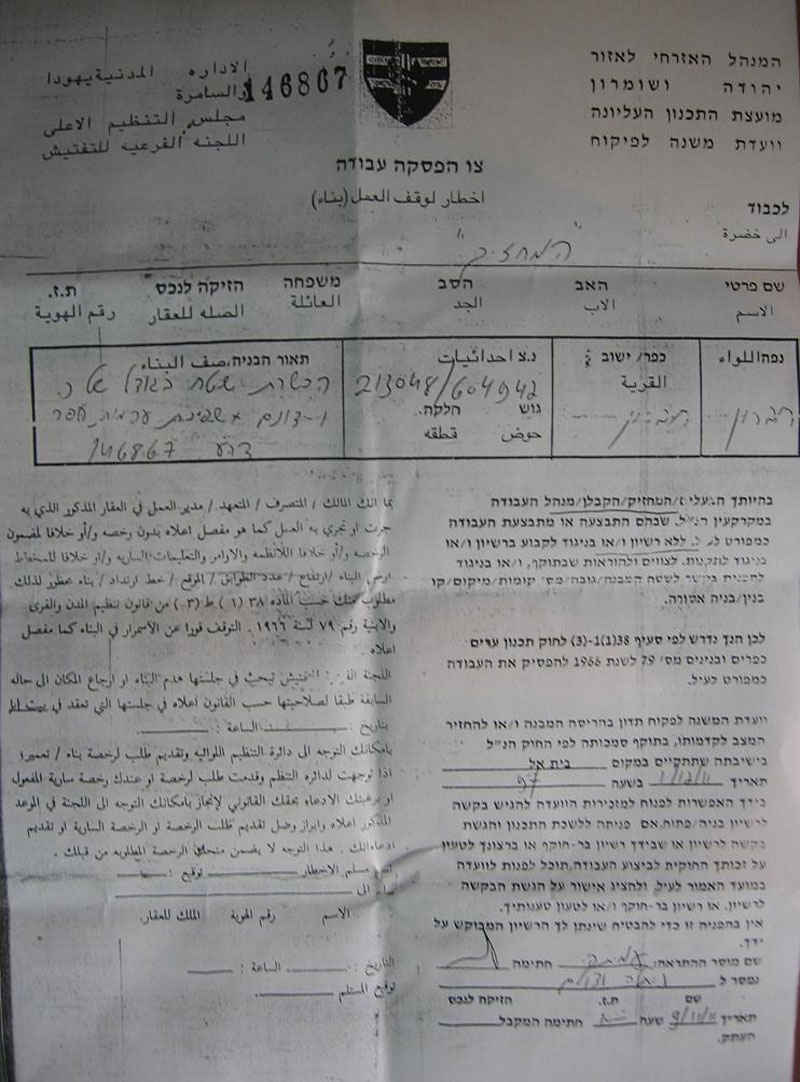 Picture A: the Israeli order
Ali Jaber stated to an LRC observer that the Israeli Occupation Army and Civil Administration broke into the area on November 9, 2011 and placed the order on a retaining wall. The order numbered, 146867, called for the immediate stoppage of any kind of construction and specified December 1, 2011 as the date for the hearing session to be held in Beit El Military Court for a final decision.
Picture 1-4: the reclamation project
The landlords started reclaiming the 4-dunum field by building retaining walls and adding soil to it. Nevertheless, they stopped as soon as they received the order and were planning to assign an attorney to defend their case.
New mobile homes:
Kharsina colonists added new 'mobile homes' on lands owned by the Jabers. The colonists added 7 mobile homes to the north east of the colony.
Attacking residents:
A group of Kiryat Arbaa colony attacked Palestinian houses in the western part of Al Baq'a. According to eyewitnesses, more than 30 colonists broke into the area on November 2, 2011. They impeded residences and cars with rocks inflicting minor damages and loss.
Picture 5-6: Kiryat Arbaa edging Palestinian homes
The colonists released their dogs into Palestinian houses, spreading fear among women and children. The locals called the Israeli Police which promised to investigate the matter. However, the locals never heard any results. Residents of Al Baq'a testified that Hijazy Jaber was assaulted by a group of colonists; he was badly injured and went into a coma. He was taken to hospital for treatment.
Eyewitnesses stated that colonist attacked Hijazi when passed nearby the colony gate. He was riding his horse towards Wadi al Ghrous when attacked. It must be noted that Al Baq'a has been a target for Israeli aggressions for a long time. The fertile lands of Al Baq'a plain are wanted by the colonists who claim it to be part of the agricultural lands of the colonies of Kiryat Arbaa and Kharsina.