Israeli Colonists Target Ein Hilwa -Tubas Governorate
Violation: Meskiot colonists attack Ein Hilwa nomadic gathering.
Date: October 24, 2011.
Location: Wadi al Maleh, Northern Jordan Valley.
Preface:
Capturing lands and taking over natural resources did not seem to satisfy the Israeli greed; the Israeli measures have also been serving an obvious ethnic cleansing policy. Residents of the Jordan Valley area are not allowed to exploit their natural resources including water and even air. The Israeli Occupation is strangling the residents of the Valley by violating every right of their internationally recognized rights rendering them strangers in their own home.
The Israeli Government has been expelling, deporting, and disposition Palestinians living in the region besides chasing them out day and night. The worst of the communities troubles is the shortage of water; the Israeli Government not only prevented the Palestinians from using the Jordan river water, around 330 million m3 annually (MoA) but also took control of other water sources and ravaged others. The Israelis gave the Israeli Water Company 'Mikrot' monopoly rights over any water source. Recently, 9 water wells were dried out or destroyed in the region.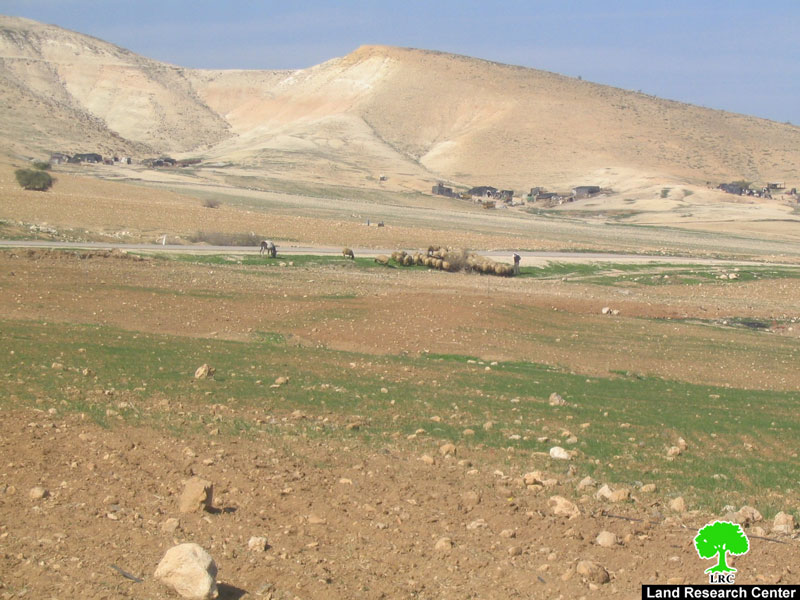 This resulted in limiting the agricultural lands to only 5000 dunums. The Israelis do not allow extracting water from wells especially in areas classified 'C' (forming 70 % of the total area of the Jordan Valley) despite the fact that more than 60 % of the operating wells in the area were built before the 1967 Israeli conquest.
Furthermore, the Israelis managed to lay their control over water springs, a total of 16 springs in the Jordan Valley lost their productivity due to the control of the ground water. 6 springs dried out and the rest were turned into seasonal springs, providing water in the winter time, spring at best.
Details:
Israeli colonists of Meskiot broke into the Palestinian community of 'Ein Hilwa, to the east of Tubas; the community is inhabited by 79 people. The colonists harassed the dwellers and emptied the water tanks they had. All the residents of Wadi al Maleh get their water by purchasing in from Tamoun village. Purchasing water is costly and effortful.