The Israeli Occupation Levels lands in Al Walaja
Violation: leveling 7 dunums of Palestinian lands.
Location: Al Walaja – Bethlehem.
Date: September 5, 2011.
Perpetrators: the Israeli Occupation Army, Police, Anti riots unit.
Victims: the families of Al Atrash and Rabah.
Details:
At 5:00 am, on September 5, 2011, Israeli dozers initiated a land-leveling campaign while setting the route for the segregation wall. The campaign targeted 6-7 dunums in lands owned by the families of Al Atrash and Rabah in the village. 59 olive trees, 18 prunes, 27 cypress, and 8 hawthorn trees were uprooted as a result.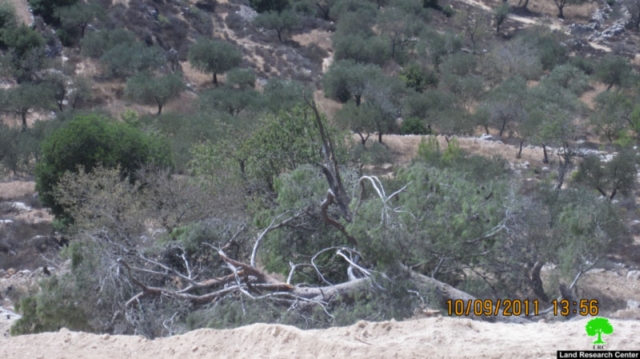 Picture 1: uprooted trees
Picture 2-3: the fence placed in preparation for the wall
People were awaken on the sound of dozers and vehicles roaming the village; they rushed to the target-area were they were obstructed by the Israeli soldiers who allowed the owners only to pass. The owners argued with the soldiers in a desperate attempt to save the rest of the trees.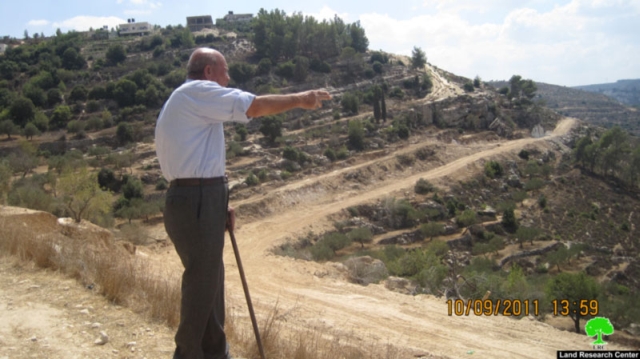 Picture 4: Mohammad al Atrash pointing at the uprooted trees with a heart full of grief
When they were done, the Israeli dozers moved the deracinated olive trees to the owners backyard knowing that olives cannot be replanted. They buried the rest of the trees.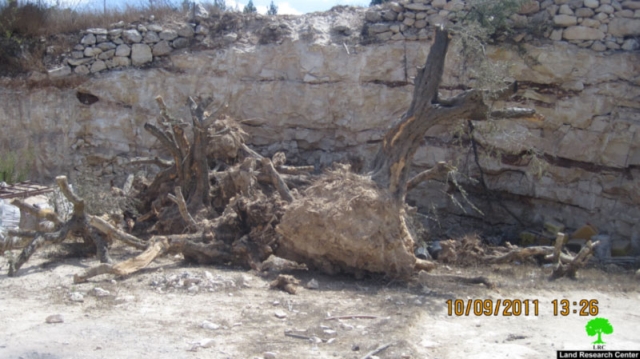 Picture 5: uprooted olive trees
Al Wlaja:
Since 1948, Al Walaja has been set as a target by the Israeli Occupation which was keen to capture the village and expel its residents.
In 1948, the village was 17793 dunums in area; the number was reduced back then to 6000 dunums only after the armistice agreement with the Jordanian side. In 1996, 400 dunums were confiscated for the milling of a by-pass road that is rarely used these days.
Moreover, around 1000 dunums were confiscated between 1969 and 1997 for the construction of Gilo colony to the north; as a consequence, the village total area nowadays is around 4800 dunums. The Israeli have acquired al Walaja as a target for placing around 13600 residential units in a new colony; the projected colony is supposed to connect 'West Jerusalem' with Ezyon colony located southern Bethlehem.