Setting 150 Olive Trees Ablaze in 'Einabus – Nablus city
Violation: setting 150 trees ablaze
Location: Al Khalayel, Tamirat Subuh, north east 'Einabus
Date: September 18, 2011
Perpetrators: Yizhar colonists
Victim(s): Fayeq abu Dyak, Fahmi abu Dyak, Saad Allan, and Fathi Hamad
Details:
On September 18, 2011, a group of Yizhar colonists raided 'Einabus and started fires in the areas known as 'Al Khalayel' and 'Tameerat Subuh', both located in the northern part of the village. The colonists took advantage of the movement restrictions imposed on the Palestinians as well as the night cover to commit their crime.Flames erupted and started spreading to consume 150 ten-year-old olive trees.
Picture 1-2: targeted lands
It must be noted that the Israeli forces in the area held the approaching fire trucks for two hours, claiming that they do not have permission to pass to the flaming area which is considered, according to the Israeli Army, a closed military zone; thus allowing the fire to spread further. 'Einabus, like many other Palestinian villages is suffering from day-to-day aggressions committed by Israeli colonists as well as the Israeli Government which provide them with protection and probably supervision.
'Einabus:
It is considered one of the oldest villages in Palestine. it is located 11 km to the south of Nablus City.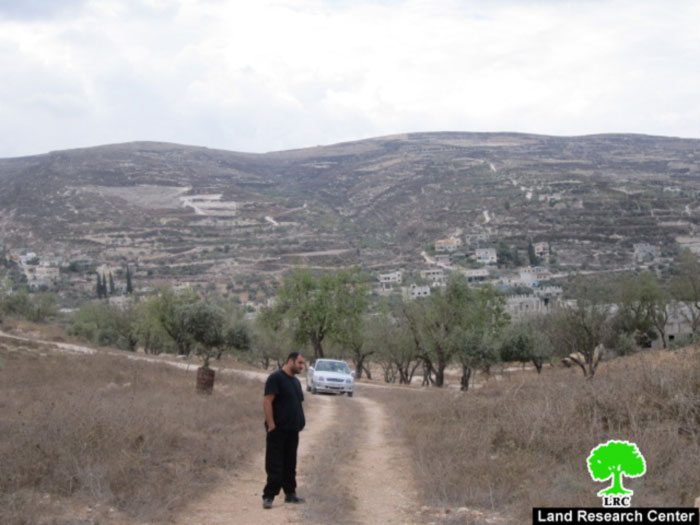 Picture 3: 'Einabus
It is surrounded by several other Palestinian villages including Burin, Madama, Yasuf and Hiwwara. The village is known for the number of mountains and hills that surround it, the most famous one are Salman the Persian Mountain and 'Utared (Jupiter) Hill. The total area of the village is 4000 dunums including 260 dunums of built-up area.The village population was 227 in 1922 which increased to reach 340.
In 1967, 550 people lived in the village the number reached 1200 in 1987.The latest statistics show that the total population reached about 3500 people and it was recorded that 2000 people immigrated from the village. The village lost more than 800 dunums of its lands to the Israeli colonization activities, represented in Yizhar colony. Yizhar has been the launching pad for hundreds of attacks against the surrounding Palestinian villages throughout the years.