5 Stop-Work Orders Khallit Hajar east Yatta – Hebron governorate
Violation: stop-work orders for 5 under-construction residences that were to receive 31 people including 8 children.
Perpetrators: the Israeli Occupation Civil Administration, the Higher Organization Council.
Victim: Abu Shkheidem and Azazma families.
Location: Khallit al Hajar, Yatta, Hebron.
Date: September 13, 2011.
Details:
The Israeli Occupation Authorities issued 5 stop-work orders against 5 residences in Khallit al Hajar, eastern Yatta. Mohammad abu Shkheidem stated that Israeli troops broke into his village and distributed the orders on September 13, 2011. The orders demanded the immediate stoppage of any construction work in the designated houses and specified September 27, 2011 as the date of the hearing session in Bet El Military Court.
The owners started building their houses in 2010 and 2011 and they are in the late construction phases. The owners complained about the Israeli measures and said that the Israelis who expelled them in 1948 are still chasing them away. They hastily appointed an attorney to object to the orders while sounding anxious about the huge cost of the unguaranteed process of issuing permits. They demanded assistance from all the concerned parties and requested financial support and consultancy.
Table 1: victims:
No.

Victim

Area (m2)

Stories

Family members

Children

Structure

Established

Picture

Order no.

1

Suleiman abu Shkeidem

400

2

8

2

House, under construction

2010

1
145776

2

Salama abu Shkeidem

120

2

5

0

House and garage, under construction

2011

2

145780

3

Odeh abu Shkeidem

60

1

7

5

House, under construction

2011

3
145779

4

Salman Azaram

240

2

8

0

House, under construction

2010

4
14577

5

Mohammad abu Shkeidem

120

2

3

1

House, under construction

2010

5
145778

Total

940

9

31

8
Khallit al Hajar:
It is located to the east of Yatta town and inhabited by 120 people living in 15 houses. Most of the residences are refugees who were expelled from their lands in 1948 and settled in the area.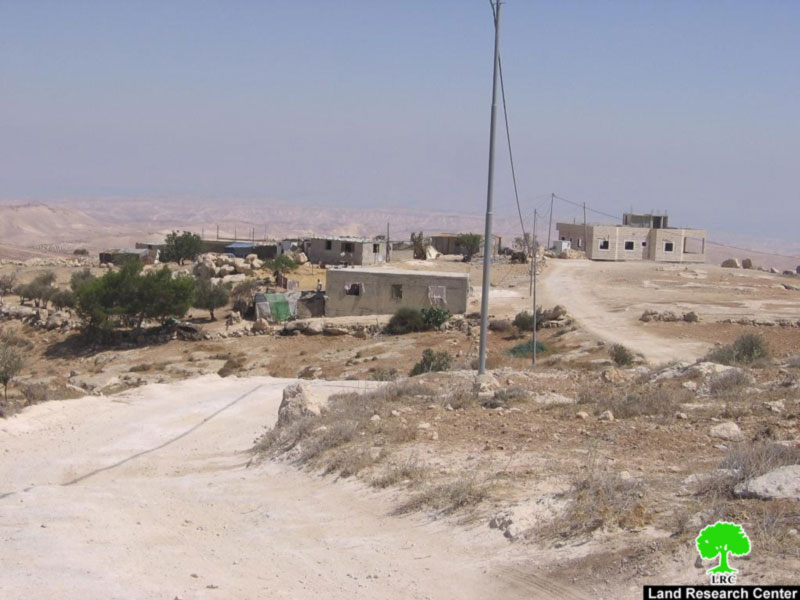 Picture 6: Khallit al Hajar
The village total area is 200 dunums; it lacks water, electricity, and phone networks as well as schools and other public services. It is connected to the nearby Al Bweb with an unpaved road.