The Israeli Occupation Milling of a Road Designated for "Military Purposes" Deir Qaddis – Ramallah Governorate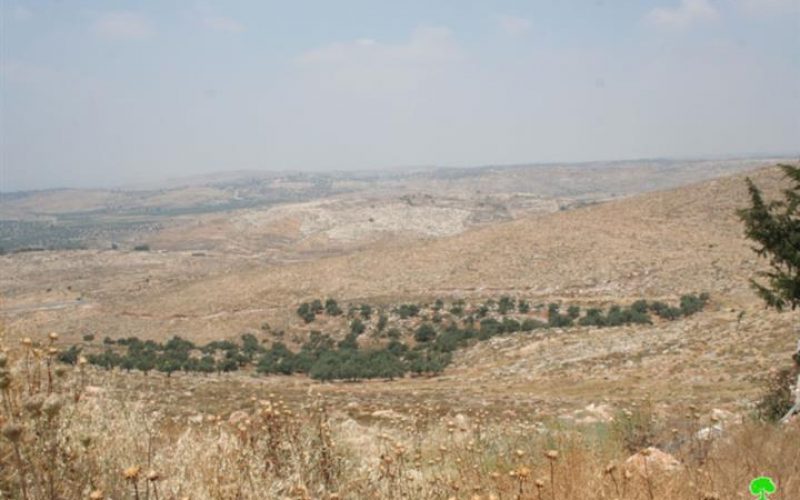 Violation: milling of a 'military road' that will result in the loss of more than 1000 dunums of land.
Location: At Turra Mountain, Deir Qaddis.
Date: June 1, 2011.
Perpetrators: the Israeli Occupation Army.
Victims: families of Deir Qaddis.
Details:
Through the Israeli Land confiscation policy; Israeli dozers started plowing a road in At Turra Mountain in Deir Qaddis. The new road ought to surround the mountain which overlooks areas occupied in 1948 besides Eli and Nili colonies. The plowings were initiated without issuing any official orders or notifications. The Israelis tend to put facts onto the ground knowing that the road will most probably be a step towards the confiscation of all the lands located between the colonies and the road. It must be noted that the colonists have tried several times to take over the lands.
Picture 1-2: dozers operating while confiscated farms lay on the back
Deir Qaddis – an Overview:
It is located 16 km to the north west of Ramallah city. Its total area is 8207 dunum and is inhabited by around 2600 people. The Israeli Occupation Governments adopted land confiscation policies to support and strengthen colonization in Palestine. The village has lost more than 2580 dunums of its lands due to the Israeli policies. The confiscated lands were used for the expansion of Nili, Naaleh, Modin Illit, and Mattityahu; inhabited by more than 33500 Israeli.
Besides, the by-pass roads network connecting these colonies has also devoured huge areas of the village lands. In 2006, the Israeli Occupation Authorities began the construction of the segregation wall which isolated more than 3102 dunums (37.8 %) of the village's lands.