Israeli Colonists Uproot Olive Trees in Burqa – Ramallah Governorate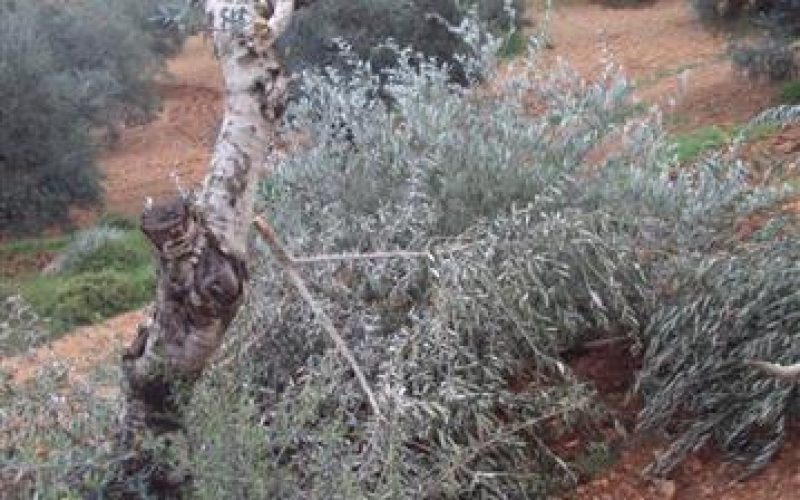 Violation: Israeli colonists uproot 87 trees.
Perpetrators: colonists of Me'ron, an extension of Beit El.
Date: May 12, 2011.
Victims: Ahmad Balqawi, Falih Ma'tan.
Details:
The recent attack rendered 13 years of Mr. balqaw's effort in vain. At dawn, on May 12, 2010, Israeli colonists uprooted 70 grape trees, 9 figs, 6 prunes, and two olive trees. They also used in the process sharp tools to add more damage to the uprooted trees expressing nothing but disdain and hatred.
Picture 1-3: views of destruction
Moreover, the colonists broke into a shack nearby the field and heisted the tools and pesticides in it before throwing them in water well located 1200 m away from the colony to the east of the village. An estimated loss of 2000 NIS was recorded. Ahmad Balqawi stated to an LRC Observer:' the Israelis are targeting the area known as 'Al Qa'ma' in parcel 6 in Barqa. The colonists have been trying to take over it and amend it to the colony; so far, the awareness of the town folks prevented them'.He added:' I wonder what did these trees do to deserve this? Do they also form a security threat as it stated in the news we hear and read?'
Me'ron:
Me'ron, an extension of Beit El colony, is located on parcel 6 of Burqa lands. It was established in 2004 over land confiscated from the village and started to rapidly expand. It must be known that Burqa village Council filed a complaint in the Israeli Supreme Court demanding the dismantling of the colonial nucleus of Me'ron.
Despite managing to do so, Israeli and Jewish societies pressured against the execution of the Court order and they succeeded!
In addition, the colony kept expanding and developing its infrastructure to cover areas in Mikhmas, Deir Dibwan, in addition to Burqa.
Burqa:
It is located 6 km to the south east of Ramallah. Its total area is 6000 dunums including 300 of built up area, inhabited, according to 2009 statistics, by 2200 people. It is surrounded by the Palestinian villages of Deir dibwan, Kafr 'Aqab, Al Ram, and Mikhmas. The village lacks all kind of public services and is largely dependant on the nearby Deir Dibwan.
It gets most of its water from the water springs of Al Adaniyya and Shiban.Two other villages in Palestine hold the same name, one in Nablus district and the other used to be in Gaza Strip before being wiped out by the Israelis. Burqa, like any other Palestinian town or village, is being haunted by colonization and land confiscations. The village lost more than 1600 dunums to Beit El colony which was established in 1977 in addition to Me'ron to the east.