Four Demolition Orders in Rafat – Salfit Governorate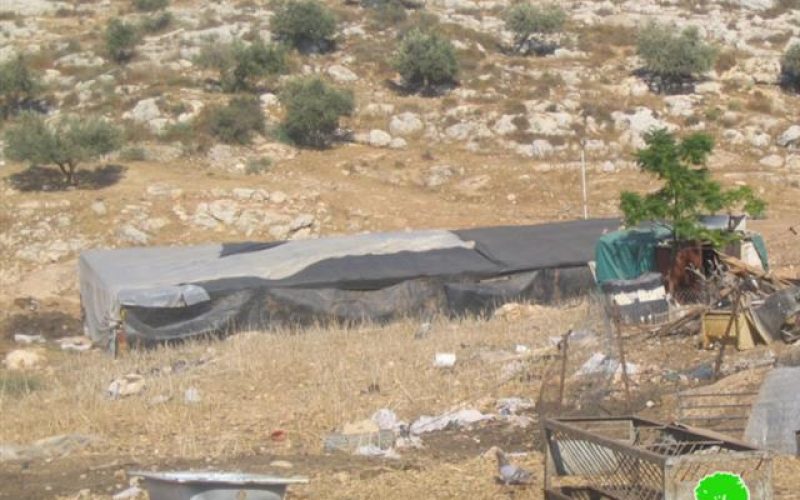 Violation: 13 stop-work orders served to thirteen structures, including 6 residences.
Location: Dahr Subuh, Rafat.
Perpetrators: the Israeli Occupation sub Inspection Committee.
Victims: four families of Ayyash clan.
Date: May 18, 2011.
Details:
On May 18, 2011, the Israeli Occupation Authorities served 'respite orders' to object to a demolition orders. The notifications were designated against 13 structures in an area known as Dahr Subuh, which is inhabited by 4 households (30 people). The notified structures were primitively built out of metal slabs and burlap. The families live away from the village in simple and primitive houses knowing that agriculture and herding are their sole source of income.
Picture 1-3: threatened structures
Table 1: threatened structures:
Victim

Family members

children

Structure

remarks

Residence

shack

'Aziz 'Ayyash

10

6

2

2

Demolition order issued in 2007

Kayed 'Ayyash

5

3

1

2

Demolition order issued in 2007

Ma'zouz 'Ayyash

9

7

2

1

Demolition order issued in 2007

Sa'oud 'Ayyash

6

4

1

2

Demolition order issued in 2007

total

30

20

13 structures
House Demolition Policy:
The Israeli Occupation brutally prevents the Palestinians from exploiting their agricultural lands; especially those located in areas classified 'C' according to Oslo Agreement. According to the Israeli policies, Palestinians are prohibited from building in areas classified 'C' which forms more than 60% of the West Bank total area. These areas are designated for colonial expansion, buffer zones, and nature reserves.
The Israeli Authorities have placed endless limitations for obtaining construction permits making it practically impossible unless it complies with their plans that cover less than 1% of the West bank total area and covers areas that are already inhabited. As a result, the Palestinians were left without a choice, forcing them to build without obtaining permits while risking possible demolitions and harassments.
In 2009, OCHA in the oPt recorded 180 houses demolitions that caused the expulsion of 319 people including 167 children.
On the other hands, farmers and herders were drastically damaged because of their inability to build barns, shacks, greenhouses besides the movement restrictions imposed by the Israelis which rendered their lands unreachable.