Agricultural Fields Eviction Orders in Salfit Governorate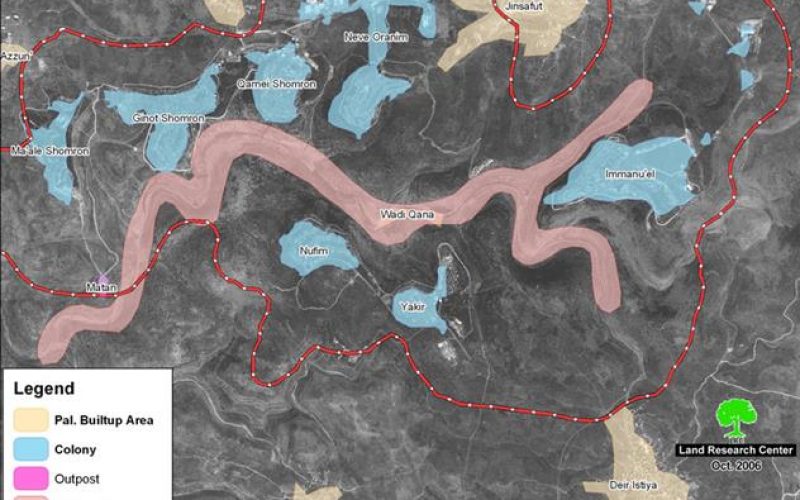 Violation: ordering the immediate eviction of 42 dunums and threatening to cut t189 trees there.
Location: Khirbit Shihada, Al Wad al Qibli, and Wadi Qana – Salfit Governorate.
Date: May 1, 2011.
Perpetrators: the Israeli Occupation EPA.
Victims: Mansour, 'Awad, and Abu Naser clans.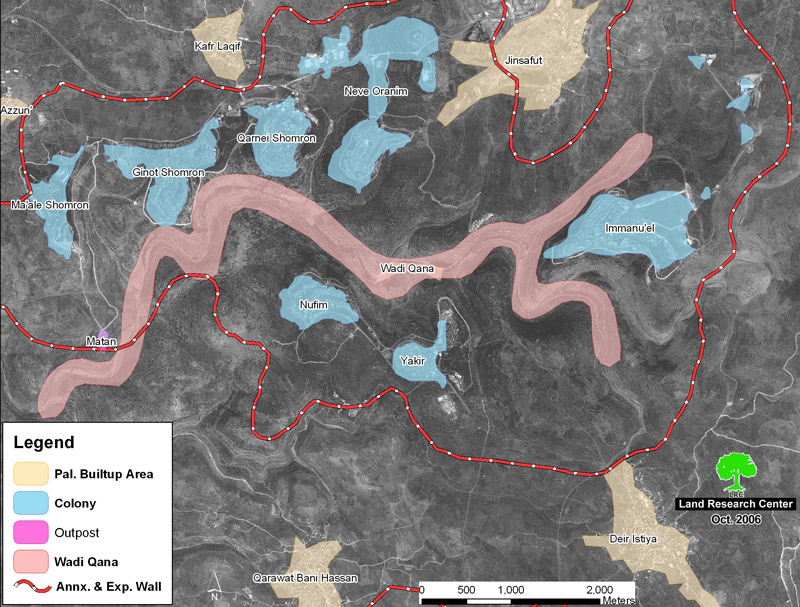 Details:
Wadi Qana was the target for anew Israeli Aggression when 5 farmers were served eviction orders for their fields in Deir Istiya on May 1, 2011.
Picture1-2
According to the orders, the landlords MUST immediately evacuate their lands and cut the trees planted there within 24 hours claiming that the area is categorized as a natural reserve were plantation is prohibited.
Table 1: victims of the Israeli Orders:
No.

Name

Family members

Location

Area (dunum)

Threatened trees

1

Yusuf Mansour

5

Khirbit Shihada

6

20

2

Shihada 'Awad

8

Al Wad al Qibli

11

56

3

Muqbel 'Awad

6

Al Wad al Qibli

7

35

4

Haitham Mansour

4

Wadi Qana

12

40

5

Rizq abu Naser

7

Wadi Qana

6

38

Total

30

42

189
Nathmi al salman, Bidya governor, stated to an LRC observer:' it is not the first time that Wadi Qana was set as a target; it seems that the Israelis are determined to capture the whole area and use it for colonial expansion.
7 Israeli colonies spread around Wadi Qana, taking over its resources and spreading fear and destruction among the Palestinian towns and villages. They have also been preventing farmers from reaching their lands which they used to plant and exploit for generations'.
Picture 3-7
He added: 'the Israelis are following a clear plan to drive the Palestinians out of their lands by imposing extra pressure on the farmers through military orders that prohibit farming in the valley (Wadi Qana) and imposing huge fines on them.
At the same time, Israeli colonies in the area are rapidly expanding in order to put facts on the ground; facts that can hardly be changed with time or with a final solution'.
Wadi Qana, northern Salfit, holds one of the largest ground water reserves in the West Bank; its lands are said to be the most fertile in the West Bank besides holding fascinating archeological sites. Its total area is around ten thousand dunums. Wadi Qana is surrounded by the following Israeli colonies: Emmanuel (east), Yakir (south), Nuvim (west), Karne Shamron, Ma'ale Shamron, and Janat Shamron (north), and Nuv Oranim colonial nucleus lying in the middle of the valley. In the past, these colonies used to pump their sewage into the valley; which forced many Palestinian families to depart.