5 Eviction Orders in Khirbit Kafa – TulKarm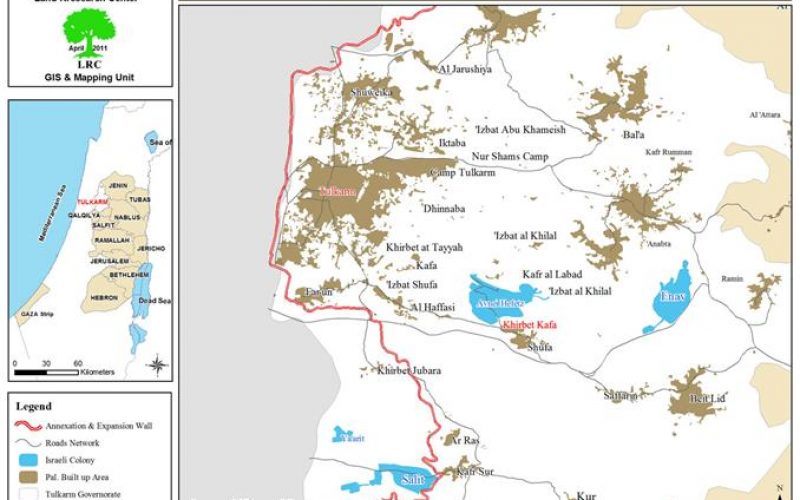 Violation: ordering the eviction of 76 dunums under claims that its 'state property'.
Perpetrators: the Central Inspection Unit – Israeli Occupation Civil Administration.
Victims: Odeh Ismael, Ghazzal, and Mousa clans.
Date: April 16, 2011.
Details:
On Saturday, April 16, 2011, Israeli troops accompanied by officers of the Central Inspection Unit broke into Kafa and served 5 eviction orders to various residents. The orders ordered the designated families to immediately evict the lands located in the eastern part of Kafa, nearby Avnei Hefetz colony, claiming that the lands are 'state properties'. The Israeli Occupation gave the victims a 45-day-respite to return the lands to its status quo or face 'legal' consequences.
Fathi Mousa, one of the victims, stated to an LRC observer: 'I own two fields with a total area of 23 dunums and located in parcel 2 in Kafa. In 1998, I rehabilitated my fields and planted them with various types of cereals. On April 16, 2011, I was surprised to see the Civil Administration officers handing me the orders claiming that my land is state property; I was more shocked of the timing of the orders; why now? I have been cultivating my land for 13 years; besides, I have title deeds proving my ownership'.
Table 1: victims of the recent orders:
No.

Victim

Family members

Parcel

Area (dunum)

1

Majed Odeh

7
2
10

2

Jamal Ismael

8
2
16

3

Khaled Ismael

5
2
17

4

Jamal Ghazzal

6
2
10

5

Ma'zouz Fathi Mousa

5
2
23

Total

31

76
A member of TulKarm Municipality board stated to an LRC observer: 'The area has been targeted several times beforeby the Israeli Occupation Civil Administration; despite returning to the Israeli Military Courts in Beit El and Kadummim to get Israeli deeds proving their ownership, the Israelis are still targeting the area for colonial expansion purposes. The lands, inherited by their ancestors, were rehabilitated in a project implemented by the PARC in 2003 and UAWC in 1998. This reflects the Israeli Occupation agenda intending to take over as much Palestinian land as possible to fulfill their colonial expansion lust; basically, the expansion of Avnei Hefetz colony built over Shufa and Kafr al Lubbad'.
Kafa was one of TulKarm Governorate villages before being amended to TulKarm city in November 29, 2010. Its total area is 2000 dunums registered as part of Shufa lands. The now-boulevard is inhabited by 700 people. (*source: LRC)
Avnei Hefetz:
It was established in 1987 over lands of Kafr al Lubbad, Al Hafassi, and Shufa. Its built-up area has reached 1397 dunums inhabited by 964 colonists. The colony has devoured more than 355 dunums of Kafr al Lubbad lands only.The colony expanded on various levels; it started with 12 caravans; 70 others were added and then 40 more.
In 2000, the Israelis intensified the expansion efforts despite the low number of colonists residing there. During the second Intifada (uprising), the colony was used as a base to launch Israeli invasions in TulKarm and surroundings. (* source: FMEP)