Under the pretext of State Property, A new Israeli evacuation order targets the lands of Deir Istiya Village in Salfit Governorate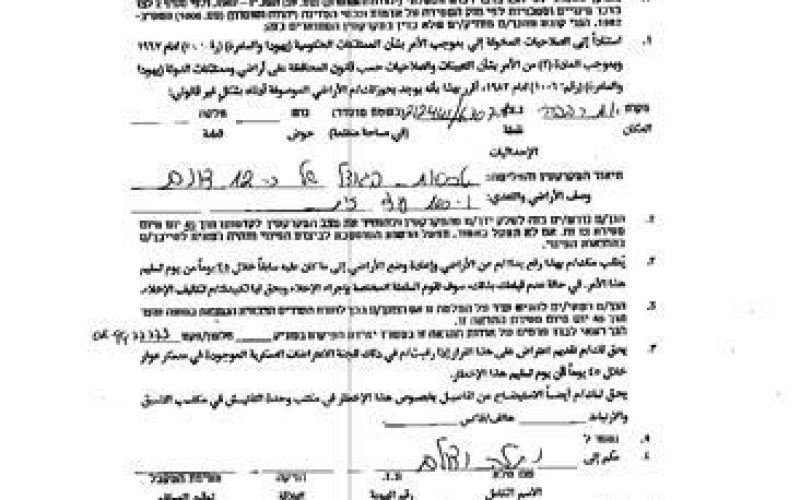 On March 23rd , 2011 and while farmer Kamal Abdel Rahman Abu Kamal from Deir Istiya village north of Salfit city was cultivating his land, he came across an Israeli military order hung on the fence surrounding his land. The order was issued on March 15, 2011 by the Israeli Custodian of State Property at the Israeli Civil Administration in the oPt and holds number 580. The order is in fact a warning notice for Mr. Abu Kamal to evacuate his 12 dunums land within 45 days and remove all what exists on it, this includes but not limited to trees, infrastructure installations, or anything else, under the pretext that the lands are classified as "State Land."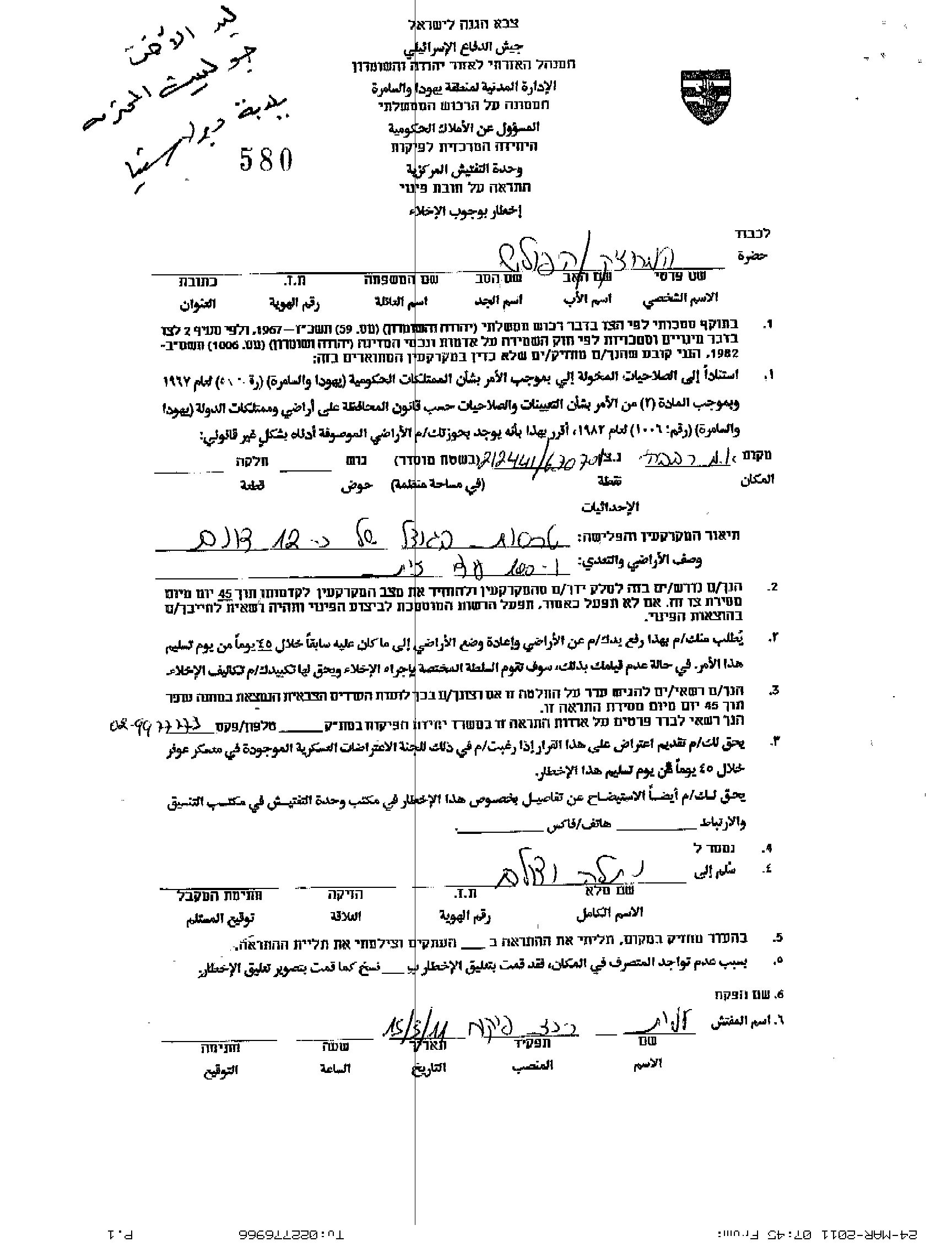 Photo 1: Israeli Evacuation Order number 580
Mr. Abu Kamal indicated that just five months ago, on January 20, 2011, he received a similar military order holding number 578, issued under the same pretext. Days after he received the military order, the Israeli Army bulldozers razed the land and destroyed dozens of Olive trees that were cultivated in the land.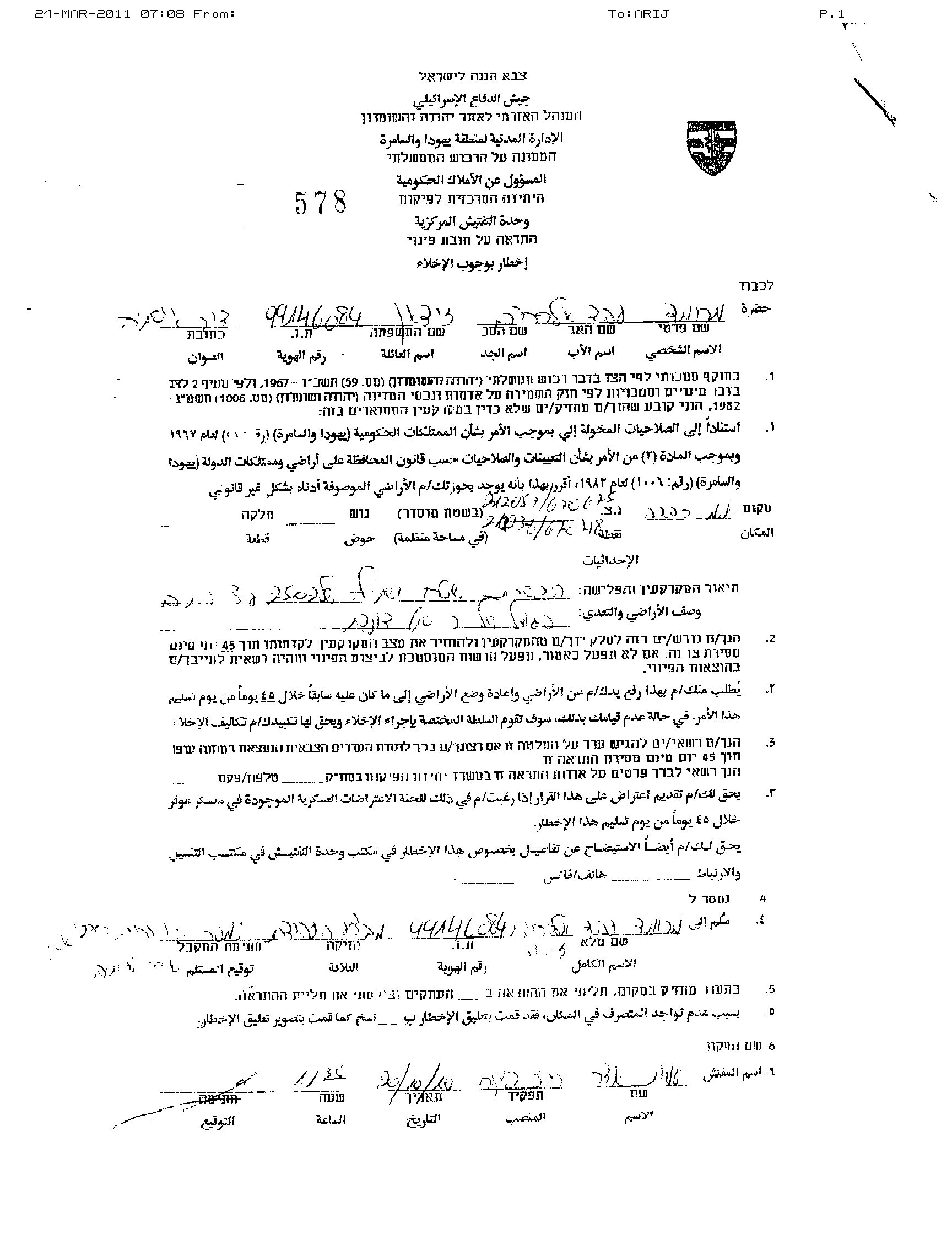 Photo 2: Israeli Evacuation Order Number 578
It is worth mentioning that the targeted lands are located in the area classified as 'C area' according to OSLO II Interim agreement of 1995 which falls under the full Israel control, security and Administrative. Table 1 gives details of land classification in Deir Istiya village lands according to Oslo II Interim Agreement of 1995:
Table 1: Deir Istiya Land Classification according to Oslo II Interim agreement of 1995

Land Classification

Area- Dunums

% from the total village's Area

Area A

0

0

Area B

5,874

17.2

Area C

28,228

82.8

Total Area

34,102

100

Source: ARIJ Database 2011
It is also worth noting that the targeted lands are located on both sides of the Israeli bypass road number 5066 and to the north of Revava settlement. See Map 1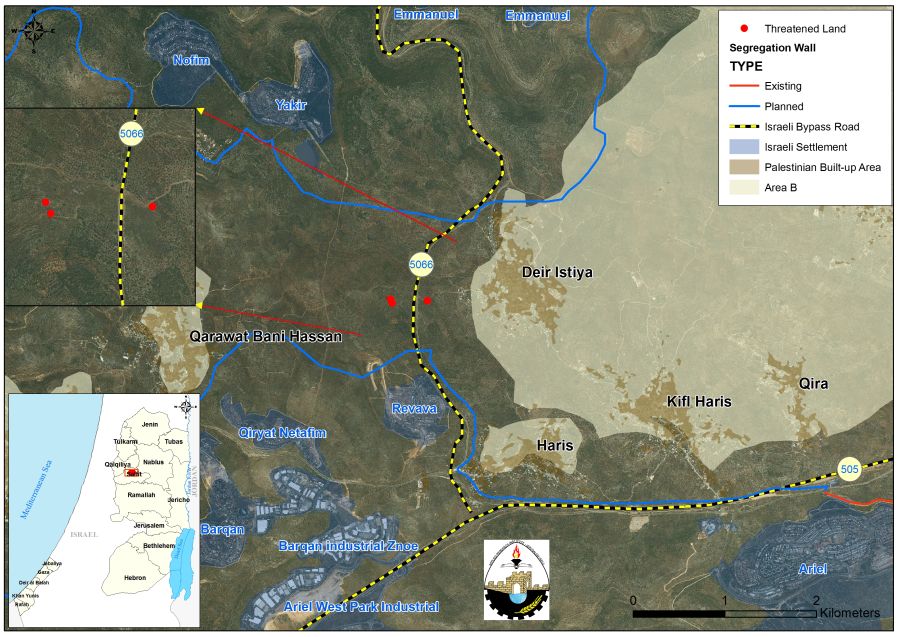 Map 1: Targeted Lands in Deir Istiya village –Salfit Governorate
Deir Istiya village, Location & Population
Deir Istiya village is located 7 km north of Salfit City, and 25 km from the city of Nablus. It is placed under Salfit Governorate jurisdiction. A side road connects the village with the main road in the area, Nablus- Jerusalem road. It is surrounded by the settlements of Emmanuel and Ykair from the north; Zeita, Qira and Jamma'in villages from the east, Hares, Kifl Hares and the settlement of Revava from the south; Qarawet Bani Hassan and Yakir settlement from the west.. See map 2: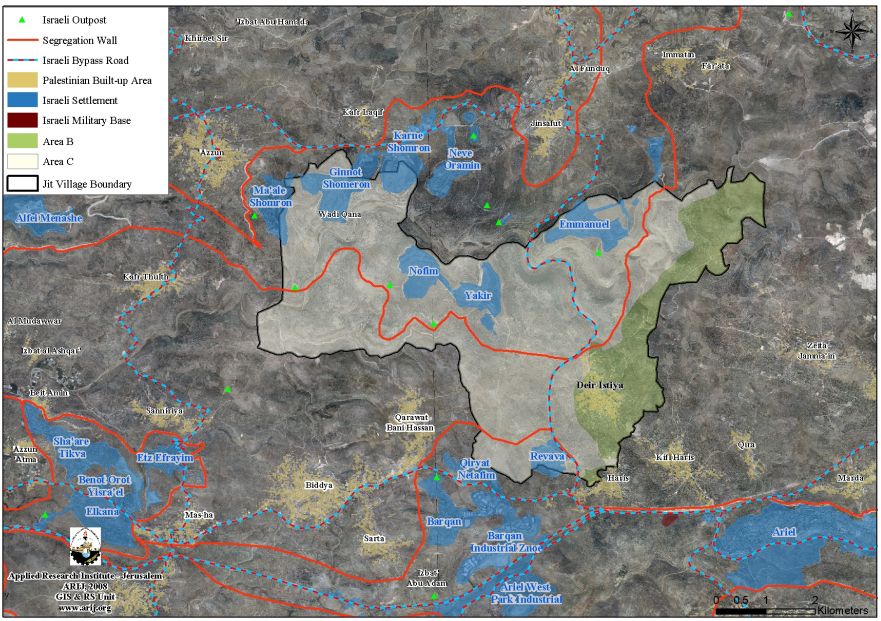 Map 2: Deir Istiya Village – Salfit Governorate
The village is inhabited by 4,860 people (PCBS 2010); most of them depend on agriculture. The total area of Deir Istiya is 34,102 dunums, 487 dunums of which constitute the village's built-up area. See table 2
Table 2: Land Classification of Deir Istiya Village – Salfit Governorate

Land Classification

Area- Dunums

% from the Total Area

Agricultural Lands

10722

31.4

Forests & Open Spaces

19193

56.3

Artificial Surfaces

4

0. 1

Palestinian built-up area

487

1.4

Israeli Settlement

3696

10.8

Total Area

34,102

100

Source : ARIJ Database 2011
The Israeli Settlement program in Deir Istiya village
Like the rest of the many Palestinian villages in the Occupied Palestinian Territory, Deir Istiya village witnessed the continuous act of confiscation of its lands at the hand of Israeli Occupation Forces throughout the years of occupation; the result was the establishment of 8 illegal Israeli settlements over almost 3700 dunums of lands of the village. Table 3 gives details of the Israeli settlements established on lands of Deir Istiya village, they are, Table 3:-
Table 3: Illegal Israeli settlement established on lands of Deir Istiya Village

Israeli Settlement

Date of Establishment

Population

Area –dunums ( Inside the Village Boundary)

Ginnot Shomron

1985

3000

790

Nofim

1986

400

641

Revava

1991

827

321

Qiryat Netafim

1982

438

2

Emmanuel

1981

2700

840

Karni Shomron

1978

6300

295

Ma'ale Shomron

1980

574

146

Yakir

1981

1000

661

Total

****

15,239

3,696

Source :ARIJ Database 2011
To Conclude
Under the Universal Declaration of Human Rights adopted and proclaimed by General Assembly resolution 217 A (III) of, December 10, 1948, Article 17 reads: 'No one shall be arbitrarily deprived of his property.' Which means it bans Israel from destroying or confiscating the property of the Palestinians at any case.However,Israel is moving forward towards imposing facts on the ground and unilaterally shaping its colonial vision in the oPt through the confiscation and seizing of Palestinian lands for the various Israeli purposes and destroying Palestinian properties to push Palestinians to voluntary leave their homeland.
Also Article 147 of the Fourth Geneva Convention indicates that: Extensive destruction and appropriation of property not justified by military necessity and carried out unlawfully and wantonly is a grave breach of the Convention; and Art. 23 of the Hague Convention of 1907 also provides: In addition to the prohibitions provided by special Conventions, it is especially forbidden to destroy or seize the enemy's property, unless such destruction or seizure be imperatively demanded by the necessities of war.
Prepared by: