The Israeli Occupation Notifies Two Houses in Bruqin Town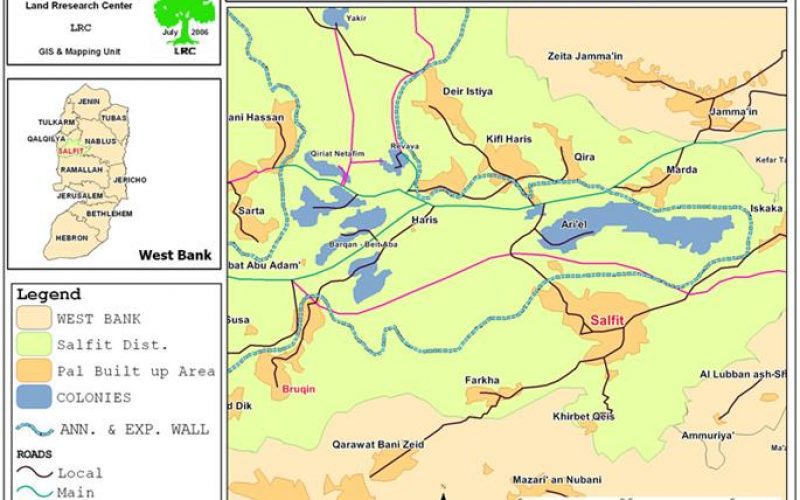 Violation: two stop-work orders in Bruqin.
Location: Al Baq'an – Northern Bruqin.
Violators: the Israeli Occupation so-called Organization and Construction Committee.
Date: March 23, 2011.
Details:
on March 23, 2011, an Israeli force accompanied by the so-called Organization and Construction Committee officers broke into Bruqin village and handed two stop-work orders backed by the claim that they were built without receiving the proper permits since they are built in area classified 'C' according to Oslo Agreement.
The Israeli Occupation Authorities specified April 26, 2011, as the date for the hearing session to be held in Beit El Military Court.
Table 1: Notified Houses:
| | | | |
| --- | --- | --- | --- |
| Victim | Family members | Structure | remarks |
| Jad Baker | 2 | Under construction houses, area 110 m2 | First notification |
| Ahmad Baker | 3 | Under construction houses, area 140 m2 | First notification |
| | 5 | | |
'Ikrima Samara, Bruqin Governor, stated: " the Israeli Occupation Objective is deporting people and turning the Palestinian villages into somehow an isolated camps. In regard to Bruqin, the village houses have already received more than 70 stop-work orders justified by the same lame no permits excuse. The residents are not allowed to build in areas classified 'C' according to Oslo despite the desperate need for expansion". "the built-up area in Bruqin is 1470 dunums which is not enough to satisfy the village's natural growth needs. We proposed various expansion plans to the Israeli side but they were all rejected!
The Israelis insist to chase the Palestinians out of their towns and villages and deprive them from their right to live in dignity. Above all, the Israelis are expanding the surrounding colonies of Baqan and Bruchen."
It must be noted that Bruqin's total area is 13273 dunums including 1470 dunums of built up area, 1200 dunums of olive fields, 3000 dunums of herding areas, and more than 8000 dunums used by the Israelis for colonial activities. Bruqin is located 8 km to the west of Salfit' it is inhabited by around 3500 people who depend largely on agriculture and some private jobs in their living.
Three Israeli colonies are built over Bruqin lands, devouring its lands and resources, especially water. These colonies are:
| | | | | | |
| --- | --- | --- | --- | --- | --- |
| No. | Colony | Establishment date | Built-up area | Colony type | Built over (Palestinian villages) |
| 1 | Barqan | 1981 | 622.5 | Industrial | Sarta, Bruqin, and Haris |
| 2 | Bruchen | 1999 | 265.5 | Residential, Industrial | Bruqin and Haris |
| 3 | Ariel Gardens | 1978 | 5226 | Industrial | Bruqin |
* LRC GIS Unit