The Israeli Occupation Notifies 18 coal-production facilities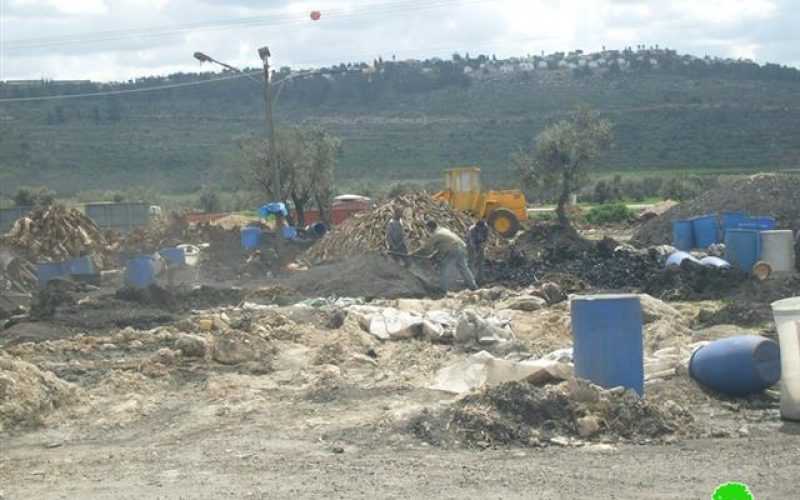 Violation: stop-work orders against 18 coal-production facilities.
Location: Ya'bad town – Jenin Governorate
Perpetrators: the Israeli Occupation Organization and Construction Committee.
Victims: several Palestinian families in Ya'bad.
Details:
In a step taken against the Palestinian economy, the Israeli so-called Organization and Construction Committee issued on March 17, 2011, 18 stop-work orders against 18 coal-production facilities in Ya'bad. The facilities are located in parcel "39" in the southern parts of the town; it also edges the by-pass road connecting Dutan colony.
Picture 1-3
The Israeli Occupation claims that the facilities are operating in area classified 'C' according to Oslo Agreement without receiving the required permits. It must be noted that the orders gave the owners till April 11, 2011 to appeal to the orders and apply for permits.
Ya'bad Governor, Mr. Yusuf Hamarsha, stated to an LRC Observer:" coal production is an old industry, it has been there for decades, long before the Israeli conquest. Ya'bad is considered the capital of coal production in Palestine.
The industry contributes to more than 30% of the town's income; it consigns the sole source of income for hundreds of families in Ya'bad and the surrounding villages knowing that there are more than 55 facilities in the village".
Picture 4-5
Mr. Hamarsha indicated to the role that these workshops used to play in providing Haifa railway station with coal in 1922 in addition to the role the industry plays in providing tens of job opportunities for the town folks. He also condemned the Israeli measures targeting the facilities saying that the lands are registered in the "Tabu" (the Ottomans property registration system) and that all the owners of the facilities are contracted with the owners of the lands and that most of these facilities are older than the Israeli Occupation. He ensured that the Israeli measures are part of a psychological war against the Palestinians, hitting our economy and depriving us from our rights while providing the Israeli colonists with whatever they need; including land confiscation.
In an interview with one of the victims, Mr. Fathi abu Bakr, an owner of one of the targeted coal-production facilities, he said:" its not the first time these facilities are targeted; Israeli soldiers occasionally storm these facilities and attack the workers". He pointed out the attack against Fathi Marouf (63) who was badly beaten and captured for hours while on his way to work. He added:" the Israelis deliberately obstruct the movement of lumber that we buy from areas inside "Israel". Israeli soldiers obstruct the movement of trucks through Bart'a crossover, the only way to get lumber into Ya'bad.
Even the facilities were not spared from the Israeli aggressions; my own facility was demolished twice during the past three years for no reason or prior warning. The Israelis objective is deporting us and taking over the whole area for colonial expansion purposes".
Table 1: targeted facilities:
No.

Victim

Notified facilities

Beneficiaries (families)

Productivity Ton/month

Remarks

1

Abdul Fattah abu Bakr

2

11

30

Notified for the first time

2

Yusuf 'Abbadi

1

8

24

Notified for the first time

3

Fadi abu Bakr

1

8

26

Notified for the first time

4

Fathi abu Bakr

1

9

25

Notified for the first time

5

'Allam abu Bakr

1

6

20

Notified for the first time

6

Mustapha abu Bakr

1

7

24

Notified for the first time

7

Naser abu Bakr

1

5

18

Notified for the first time

8

Mohammad S abu Bakr

2

9

28

Notified for the first time

9

Mohammad F abu Bakr

1

7

25

Notified for the first time

10

Mahmoud abu Bakr

1

7

25

Notified for the first time

11

Kayed abu Bakr

2

10

30

Notified for the first time

12

Mansour abu Bakr

1

6

26

Notified for the first time

13

Ahmad abu Bakr

1

8

21

Notified for the first time

14

Naser abu Bakr

1

6

21

Notified for the first time

15

Nasim abu Bakr

1

4

14

Notified for the first time

Total

18

111

357