Stop Work and Demolition Orders against Palestinian Structures and Caves in Arab Al Rashayda Village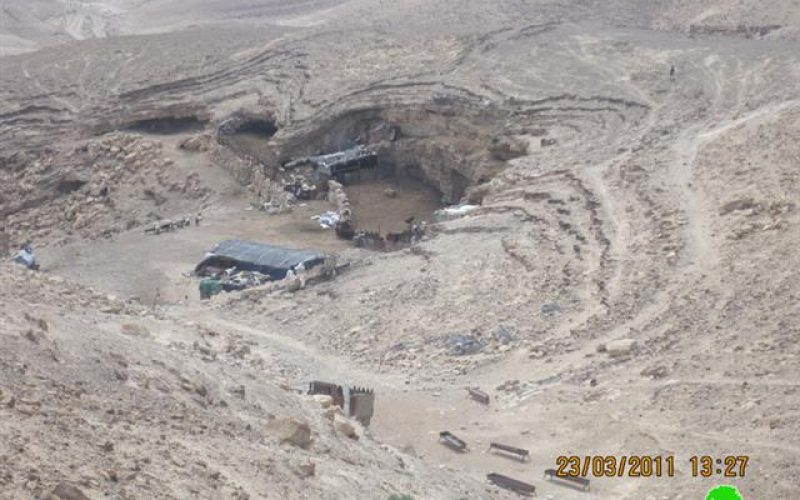 Violation: The threat to demolish 2 bruxes and 5 zinco structures, tents and a number of caves.
Location: Arab Al Rashayda community – Bethlehem Governorate.
Preface:
Arab Al Rashayda is located southeast of the City of Bethlehem. The community can be traced back to Al Rashayda clan which is spread throughout the Arab World. The community itself was established back in 1933 and has two other smaller communities including Al Rawa'ein and Al Azzazma.
Pic1
Area and Population:
The area of the community is about 47,841 dunums of which 3,533 dunums were confiscated for the purpose of establishing Israeli colonies as well as military bases. According to PCBS, the population of the community is 1,453.
The community has boundaries with the village of Kisan in the east, the village of Kisan and the colony of Ma'ale Amos in the north, the town of Sair in the south and the town of Bani Na'eim in the south.
Previous Violations:
The colony of Ma'ale Amos was established on lands confiscated from its owners from Arab Al Rashayda. Moreover, Israeli occupation forces confiscated around 90% of the lands of the community to be used for "military training purposes." The closure of these lands took place despite the fact that the owners have ownership deeds that prove that such lands are private property and, thus, cannot be confiscated. Israeli measures against Al Rashayda included house and structure demolitions, night raids as well as sheep confiscation "for entering military closed areas".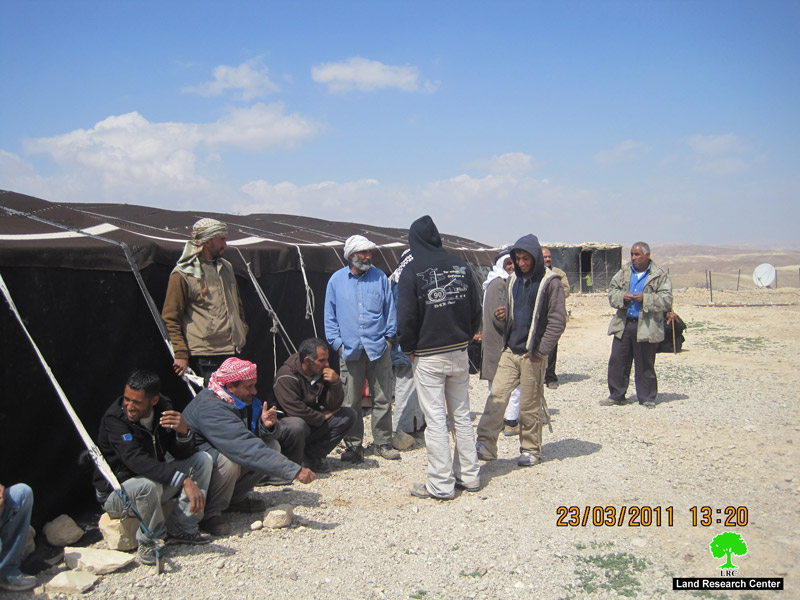 Pic2
Details:
On March 6th, 2011, Israeli occupation forces delivered a demolition order to Mr. Oudeh Mohammad Al Rashayda against all of his structures including 2 bruxes, 5 zinco structures, a number of tents as well as some caves. The pretext used in the Order is that these structures are located in a "Military Closed Area." That is despite the fact that Mr. Oudeh and his family has been living in the targeted located since 1993. The Israeli forces came back on March 16th, 2011, and told the family that they have only 4 days to move out of the place.
Pic3+4
The targeted structures are as listed below:
| | | | | | |
| --- | --- | --- | --- | --- | --- |
| Name | Age | No. of Family Members | No. of Children | Job | Notes |
| Ali Oudeh Mohammad Al Rashayda | 75 | 15 | 11 | None. | Order No. 378 |
| Mohammad Ali Oudeh Al Rashayda | 48 | 14 | 11 | None. | |
| Farhan Oudeh Oudeh Al Rashayda | 25 | 3 | 1 | None. | |
While present in the field, the Land Research center (LRC)'s field researcher found a number of Rashayda present at Ali's shelter who invited them to stay over in an attempt to prevent the planned demolition.