Stop-work Notification against Structures and Residences in Nazlat Issa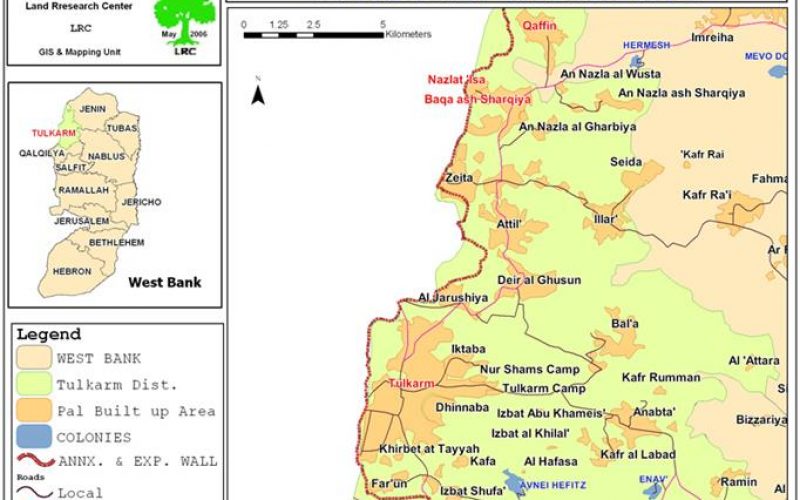 Violation: 10 stop-work orders included 16 structures.
Location: Nazlat Issa, northern Tul Karm governorate.
Victims: various locals.
Perpetrators: the Israeli Occupation Organization and Construction Committee.
Date: January 13, 2011.
Details:
On January 13, 2011, Nazlat Issa village dawned on a new Israeli crime, on in the sequence of Israeli crimes which turned the village from a village full of orchards and a commercial village into an isolated ghost town. The Israeli segregation policy turned the village into an isolated village, detached from the arab communities within "the state of Israel" and 5 families were completely isolated. Furthermore, the Israeli occupation destroyed the village market in 2002, they leveled 225 structures rendering most of the population unemployed.
The Israeli occupation is trying to chase the residents inside the village; on January 13, 2011, they issued 10 stop-work orders against 16 various structures within the village justifying that by claiming that the structures re constructed in area classified 'C' according to Oslo. The Israelis appointed a hearing session in beit E Military Court to be held on February 27, 2011 to decide on the fate of the structures.
Table 1: threatened structures:
No.

Victim

Location

Number

Area (m2)

Family members

Children (under 18)

Structure type

1

Iyad As'ad

Western parts

2
340
2
—

Carpenter and Aluminum workshop

2

Ahmad As'ad

Western parts

8
5

3

Bilal As'ad

Western parts

4
2

4

Al Batin

2
220
9
2

5

Al Batin

2
350
12
5

6

Abdul Halim Husein

Al Batin

2
250
9
5

7

Mohammad Husein

Al Batin

1
180
5
3

Under construction one storey house

8

Ahmad Husein

Al Batin

2
200
7
5

9

Mohammad 'Allousha

Al Batin

2
300
9
4

Inhabited two-storey-house

10

Mohammad 'Allousha

Al Batin

1
40
0
0

Chicken farm

11

Fadel 'Allousha

Al Batin

1
150
5
1

12

Fadel 'Allousha

Al Batin

1
135
0
0

Total

16
2165
70
32
Nazlat Issa:
The village is located 18 km to the north of Tul Karm city. It is inhabited by 2500 people. It is a border village which lost most of its lands in 1948; it lost more than 10000 dunums out of a total of 14000. 800 dunums form the built up area although the organizational plan consists of 390 dunums only, the rest is classified as area 'C' according to Oslo Agreement. The village is more than 350 years old and has already lost more than 10000 dunums during the conquest of Palestine in 1948.
In 2002, during the construction of the segregation wall, the Israeli Occupation destroyed 225 commercial shops and 4 residences in addition to completely isolating 5 houses while another was used as a military barracks. Furthermore, 824 dunums were confiscated for the construction of the wall and a 200-400 meters were classified as buffer zone were the locals are disallowed to build.
The are family relations that connects the people of the village with people living behind the so-called Green Line, 36 ladies are married to men living inside Israel and 45 from the other side. This might have disastrous effects on the families since most of the girls or husbands lack permits to live in "Israel" and might be deported any second, leaving them away from their families.