Israeli Occupation Forces Issue 13 Immediate Eviction Orders Against Khirbet Tana Residents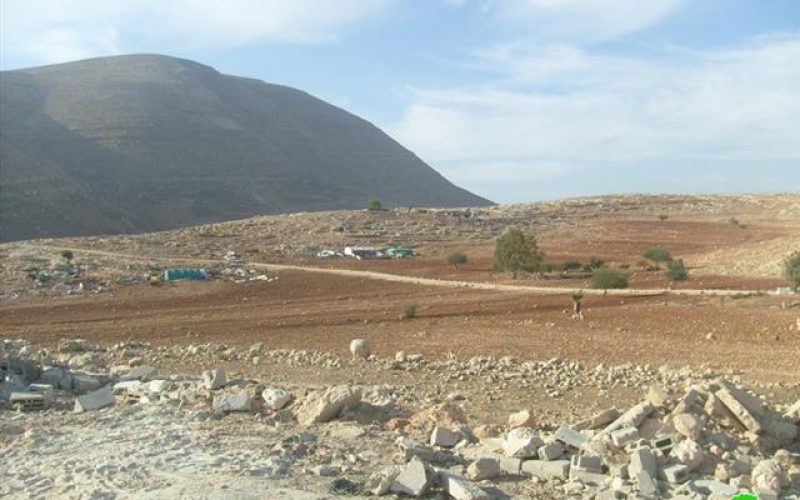 Violation: The threat to evict 13 families of Tana within 24 hours.
Date: December 19th, 2010.
Details:
In a new escalation by the Israeli occupation forces, its soldiers distributed on the 19th of December, 2010, thirteen" Immediate Eviction" orders in the khirbet of Tana located 6 kilometers east of the town of Beit Furik. The Orders were issued under the pretext that the families are present in "Closed Military Areas" and gave the residents only 24 hours to move out. Otherwise, the Orders stipulated, the occupation forces will confiscate all of the items owned by the residents including the sheep while making the residents pay for the confiscation "effort". The current orders came on the heel of an over-reaching demolition campaign in the khirbet which was carried out by occupation forces on the 10th of December, 2010. The said demolition led to the destruction of the shelters and bruxes belonging to 16 families in addition to the khirbet's only school. The families that were targeted with the most recent eviction orders were NOT part of the families affected by the latest demolitions. The Khirbet has also faced previous demolitions in the years 2005 and 2007. In response, the International Red Cross (along with other national and international organizations) has distributed then tents and bruxes for the affected families only to be threatened with further demolition.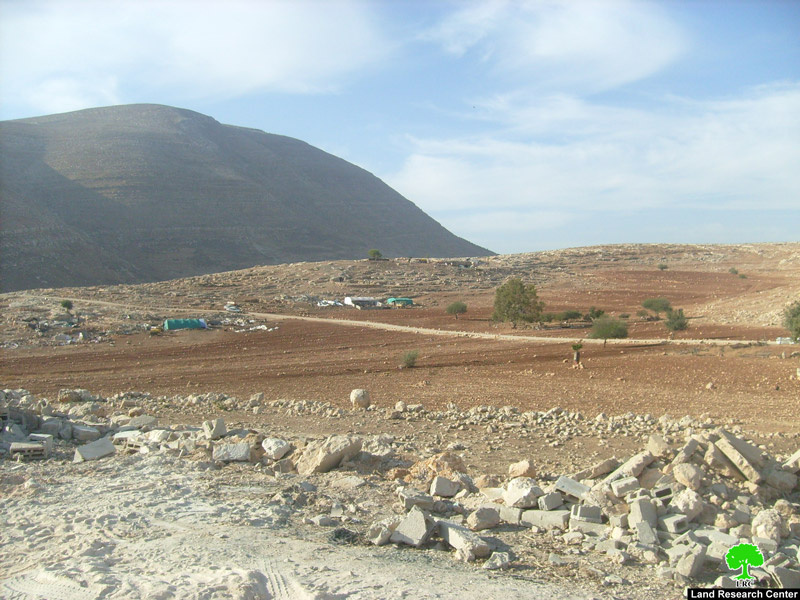 The targeted 13 families have moved into the caves surrounding the Khirbet in fear of what the Israeli occupation forces might do as their demolition machines do not differentiate between humans, trees, tents or bruxes as its only goal is to destroy. The Khirbet is facing the threat of extinction while the nearby colonies (such as Makhora) are witnessing a massive expansion effort by the colonist under the protection of the occupation forces. The head of the Beit Furik Municipality, Mr. A'atef Hanani, expressed the following to the Land Research Center (LRC)'s field researcher: ' The Khirbet of Tana is still inhabited by Palestinians who are originally from Beit Furik. They've been there tens of years before the occupation of the West Bank in 1967. They have official papers proving their ownership of the land. We refuse the occupation forces' declaration of the area as a "Closed Military Area" as such claims are baseless. Neither the people nor the geographical nature of the area presents any type of danger for the security of the occupation forces or the colonies in any shape or form. '
He added: ' The main motive behind the action of the occupation forces is to grab more lands and to steal it away from the hands of its original and lawful owners. The eviction of the Palestinian of Khirbet Tana is a prelude step to control the area and to annex hundreds of dunums to the colonies spread throughout the Jordan Valley '.
It is worth pointing out that Khirbet Tana is located 6 kilometers east of the town of Beit Furik in parcels (36, 35, 34, and 33). Beit Furik's lands are 36,360 dunums that reaches as far as Al Jiftlik village. There are 35 Palestinian families living in Tana. They depend on agriculture and herding as the main sources of income for these families. The following table lists the names of the Palestinians of Tana facing immediate eviction:
No.

Name

No. of Family members

Notes

1

Fuad Fawzan Ahmad Hanani

7

Affected by 2005 demolition

2

Abdel Hameed Taher Khattatiya

4

Affected by 2005 and 2010 demolitions

3

Mohammad Mahmoud Mohammad Hanani

8

Affected by 2005 demolition

4

Mohamamd Tawfeeq A'adel Nasasreh

5

Affected by 2005 and 2010 demolition

5

Wasef Abu Sa'oud Hanani

5

Affected by 2005 demolition

6

Arafat Mahmoud Nasasreh

8

Affected by 2005 and 2010 demolition.

7

Dawood Qasem Khattatiya

7

Affected by 2005 demolition

8

Fawzan Musa Issa Nasasreh

9

Affected by demolition in 2005 and 2010.

9

Mansour Mohammad Salman Nasasreh

4

Affected by 2005 demolition.

10

Fayez Yousef Mohammad Hanani

6

Affected by 2005 and 2010 demolitions.

11

Hamada Mahmoud Ahmad Nasasreh

11

Affected by 2005 and 2010 demolitions

12

Rasem Hussein Ahmad Hanani

7

Affected by the 2005 and 2010 demolitions

13

A'aref Mansour Ali Hanani

8

Affected by the 2005 demolitions.

TOTAL

89
For additional information about the systematic campaign waged against Khirbet Tana and the village of Beit Furik in 2010, please refer to the following studies:
Prepared by
The Land Research Center
LRC