Israeli Occupation Threatens to Evict Four Families in Khirbat Al Farisiyya
Violation: Threatening to evict four Palestinian families within 24 hours.
Location: Khirbat Al Farisiyya in the Governorate of Tubas.
Date: August 15th, 2010.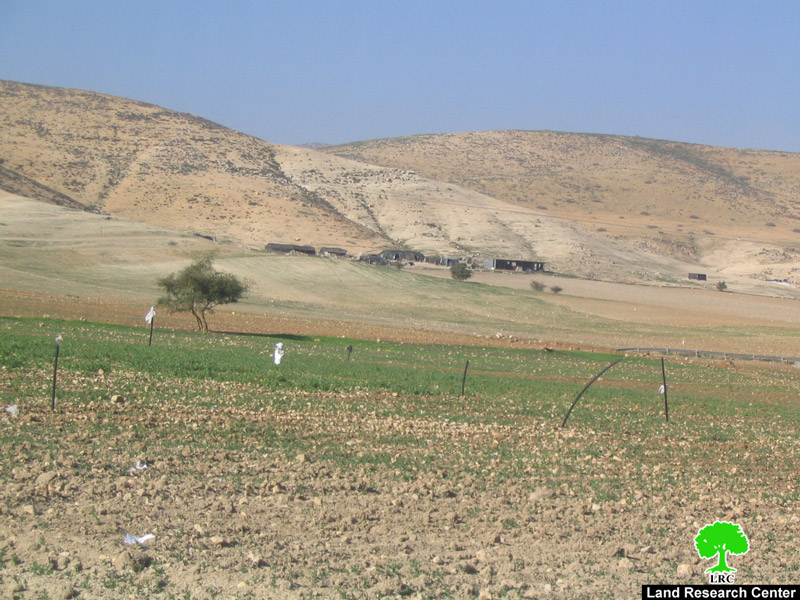 Details:
Khirbet Al Farisiyya is located north of the Jordan Valley in which Palestinian farmers have been living even before the inception of the Israeli occupation in 1967. Residents of the Khirbet and the Jordan Valley in general have been subjected to an intense and systematic campaign of ethnic cleansing by the occupation authorities using a number of pretexts. In the case of Al Farisiyya, these pretext include declaring the khirbet as a "Closed Military Area" despite the fact that the residents have land ownership documents. Another pretext is the claim that the residents of the Khirbet form a source of nuisance for the colonists living in the nearby colonies of Shadamot Makhoura and Miskiot which were built on Al Farisiyya lands in Wadi Al Maleh.
"I will continue to live here. I was born here. My sons live here and I don't know any other area. It is my only source of income and I won't leave here even if they destroy my house a thousand times"
With these simple words Mr. Allan Lafi Daraghma started his conversation with the Land Research center (LRC)'s field researcher upon receiving a military order obliging him to leave the khirbet within a period of 24 hours. The Order compelled him to take down the tent donated to him by ICRC to be used as a shelter after Israelis occupation forces demolished his previous shelter. The previous demolition took place in the early days of August, 2010, under the pretext of being built in a Closed Military Area. Mr. Daraghma was one of four families in Khirbet Al Farisiyya who received evection orders within 24 hours from shelters donated to them by the ICRC and the Palestinian Council of Ministers in aftermath of the August 5th, 2010 demolition. The following table lists the targeted Palestinians and their relevant information:
No.

Name

No. of Family Members

No. of Children

Affected Structures

Houses

Bruxes

1

Salah Jameel Yousef Dababat

12

6

3

2

2

Shamekh Mustafa Yousef Daraghma

6

4

1

1

3

Yehya Mustafa Yousef Daraghma

2

—

1

—-

4

Allan Lafi Daraghma

9

7

2

1

TOTAL

29

17

7

4
These eviction orders are the latest in a campaign of Israeli measures in the northern Jordan Valley east of the Governorate of Tubas where Palestinian residents receive such orders almost on daily basis. That is in addition to a series of daily attacks by both the occupation soldiers and colonists on the Palestinians and their property. These efforts by both the occupation forces and the colonists aim at forcing the Palestinians off of their lands in which they were living for tens of years in order to use the evicted lands for further colonial expansion.
Any visitor to the Jordan Valley would notice that a number of Palestinian villages and khirbets in the area have been turned into mine fields some of which exploded and caused Palestinian fatalities. These locations include Yarza, Ein Al Maleh and Al Farisiyya. It has to be mentioned that Khirbet Al Farisiyya has been subjected in the past two month to an intense demolition campaign that is characterized by being the largest and most violent in the Jordan Valley; Israeli occupation forces demolished more than 125 houses, shelters, animal pens and fodder bruxes which led to the homelessness of more than 300 Palestinians. Those who chose to stay in the Khirbet faced a number of problems including lack of water as Israeli occupation forces use water as a method to force Palestinians out of the Valley. For example, Israeli colonists in the Jordan Valley receive 6 times the share provided for the Palestinians in the same area while Israeli occupation forces prevent Palestinians from digging wells. In turn, Palestinians find themselves obliged to buy water from nearby villages at high prices.