Israeli Occupation Forces Demolish Khirbet Al Farisiyya in Its Entirety
Violation: The demolition of at least 75 Palestinian structures including 24 residential units, 21 agricultural structures in addition to 30 other structures.
Date: July 19th, 2010.
Victims: 22 Palestinian families living in Khirbet Al Farisiyya
Details of Violation:
In the early hours of Monday July 19th, 2010 Israeli occupation forces raised havoc in Khirbet Al Farisiyya east of Tubas Governorate. The said forces violated the right of the Palestinian Bedouins of the northern Jordan Valley to live in dignity when its bulldozers wrecked and demolished all structures in Al Hamier, Jubiyya, Khallet Khader and Ein Ghazala locations of the Khirbet.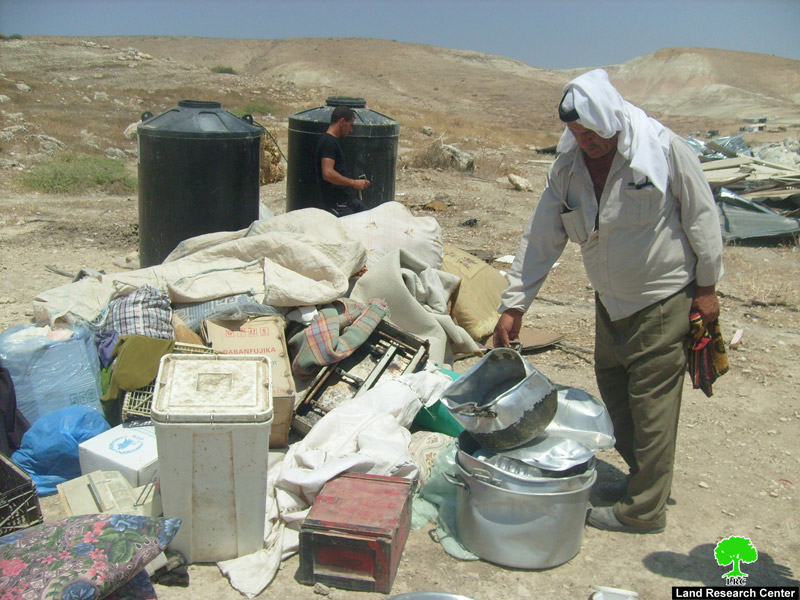 Photo 1: One of the victims inspecting his ruined belongings
Photo 2: A victim standing over her house rubble
The demolition campaign led to the destruction of at least 75 structures including 24 zinc shelters and tents inhabited by 103 Palestinians of which 49 are children. The forces also destroyed 21 agricultural bruxes that hosted 1090 sheep. An additional 30 structures of various uses were also demolished including water irrigation networks and land fences. All furniture and kitchen items were destroyed and became not fit for further usage. It is worth pointing out that the psychological effect of the demolition was devastating to the residents of Al Farisiyya who found themselves homeless without any shelter or any food for themselves or their children.
Photos 3+4: The destruction left by the Israeli Army
Photos 5+6: An uprooted tree and antler tank destroyed while demolishing various structures
The following table demonstrates the size of the damage done to Khirbet Al Farisiyya:
Name

Source of Income

No. of Shelter Units

No. of Family Members

No. of Children

No. of Ag. Bruxes

No. of Sheep

Bathroom Units

Tabouns

Other Structures

Adel Sa'ad Abu A'amer

Herding

1

4

1

5

150

1

1

Ton of wheat + ½ tons of barley.

Mo'atesem Sa'ad Abu A'amer

Worker

1

6

4

Ziad Adnan Abu A'amer

Herding

1

4

2

20

Yaseen Jamil Dababiyyat

Herding

1

2

2

80

1

1

Water tank capacity of 50 m

Naser Yaseen Jamil Dababiyyat

Sheppard

1

4

2

Jamal Yaseen Dababiyyat

Sheppard

1

4

2

Salah Jameel Dababiyyat

Herding and farming

1

12

6

20

1

1

Plastic coverings + pesticides valued at NIS 500 + irrigation pipes.

Raed Mohammad Subh

Worker

1

6

4

1

1

Fayeq Mustafa Daraghma

Herding

1

2

3

60

1

1

Kitchen items + furniture + 600 kg of fodder + 7 water tanks.

Adel Mohammad Ilyaan Awad

Herding and farming

1

6

4

1

100

1

1

House furniture + animal feeding stations + ½ ton of fodder.

Kareema Mahmoud Ilyaan

farmer

1

3

2

1

150

1

Water tank + kitchen items + 50 m of plastic coverings.

Mariam Issa Ali Ilyaan

Farmer

1

6

4

1

150

1

1

Plastic coverings.

Mohammad Hamad Ilyaan Awad

Worker

1

3

1

1

1

Mohammad Mustafa Abu A'amer

Herding

1

7

5

1

50

1

2

Mansour Mohammad Abu A'amer

Herding

1

7

5

1

50

1

Fodder + storage unit + a tree.

Saleh Asa'ad Abu A'amer

Herding

2

5

2

4

100

1

2

Fodder

Tamer Saleh Abu A'amer

Herding

1

6

4

20

1

Hani Saleh Abu A'amer

Herding

1

2

30

1

Tha'er Saleh Abu A'amer

Worker

1

4

2

1

Hasan Yousef Abu Aydah

Herding

3

9

4

2

60

1

2

Fodder storage room

Allan Lafi Daraghma and brothers

Farming

4

Irrigation network + plastic covering for the plants.

Ziad Mahmoud Sawafta

Farming

1

Irrigation pipes + Green House materials.

24

103

49

21

1090

15

15
Photos 7+8: Tons of wheat scatter red all around
Racist Motives Behind the Demolition:
While the colony of Maskiot is witnessing a major expansion, Israeli occupation forces issue demolition and eviction orders against tens of Palestinian zinc shelters and bruxes. These forces claim that the demolition campaigns are carried out due to the fact that the targeted Palestinian live in a "Military Closed Area." The residents of Al Farisiyya have received eviction order in the past last of which took place in June 2010.
From their part, the residents of Al Farisiyya emphasized that the goal behind the eviction is to provide additional services and lands for the Israeli colonies located in the area. They have also indicated that their presence in the area dates as far back as before the 1967 Israeli occupation of the West Bank. This means that the lands are Tabu lands that cannot be expropriated or confiscated by the Israeli occupation authorities.
The demolitions that took place in Al Farisiyya was done on a large scale without giving any chance for the farmers to collect any of their belonging, food items or farming tools. As such, not only did they lose their shelters and residence, they have also lost the ability to offer food for themselves and their children.
Mr. Ziad Sawaftah (57 years old) owns a farm in Al Farisiyya which was largely demolished during the demolition campaign in the Khirbet. That is despite the fact that the farm was given a license from the occupation forces in 1987. Mr. Sawaftah expressed the following to LRC field researcher: A short while ago an Israeli commander accompanied with soldiers came to my farm and threatened to destroy it .When I showed him the official licensing documents of the farm, he confiscated the papers so I won't have any means to stop the upcoming demolition. I have invested tens of thousands of shekels in the farm over a 20-year period. It was the main and only source of income for my family.
Despite the repeated demolitions and the on-going harassment by the Israeli occupation forces, the residents of Al Farisiyya have reiterated their determination to stay in their land; The 62-year-old Mr. Fa'eq Mustafa Daraghma expressed the following to LRC's field researcher: ' I've been living in the area for tens of years in peace and prosperity. This era ended upon the Israeli occupation of the West Bank in 1967 as Israeli forces have done their utmost to divert the water, land and plant to support the illegal colonies they've placed here. This effort was coupled with a deliberate policy of harassment aimed at forcing us out of our land. What type of law allows the illegal colonists to open a road through the Khirbet to be used by them? What law makes it legal for the colonists to place water pipes to steal water from our springs and to connect them directly to the colonies while we, the original owners of the land, are not allowed to get even a drop of water??? Even water pumps that I used to get whatever leftover water from the nearby springs were confiscated in March 2010. To top it all, occupation forces demolished today my shelter and made my family homeless. Yet, despite all that I will keep on staying in my land no matter what. '
Mr. Mohammad Faris Subaih (41 years old) lives to the north of Khirbet Al Farisiyya. The continuously on-going shootings from the nearby training field have left him physically paralyzed. Yet, his physical condition did not stop the Israeli bulldozers that were determined to destroy his shelter and to leave him and his family without a place they can call home. Yet, like Mr. Daraghma, he is still determined to stay put in the land in which he was born and raised in along with his children.
Khirbet Al Farisiyya: True Agony.
Khirbet Al Farisiyya is located in Wadi Al Maleh in Tubas Governorate at a distance of 20 kilometers east of the city of Tubas. The lands of the Khirbet stretch between Al Tayaseer checkpoint and the Jordan River. Its current population is 400 Palestinians while the number exceeded 1,000 before the Israeli occupation of 1967. The residents of the Khirbet depend largely on farming and herding as the main source of income. The main clans in the area are Bisharat, Dababiyyat and Dharaghma from the city of Tubas and the town of Tammoun. A number of the residents have their roots in the area of Yatta in Hebron Governorate. The residents live in tents and zinco structures all of which have received demolition orders due to its presence in a "Military Closed Area."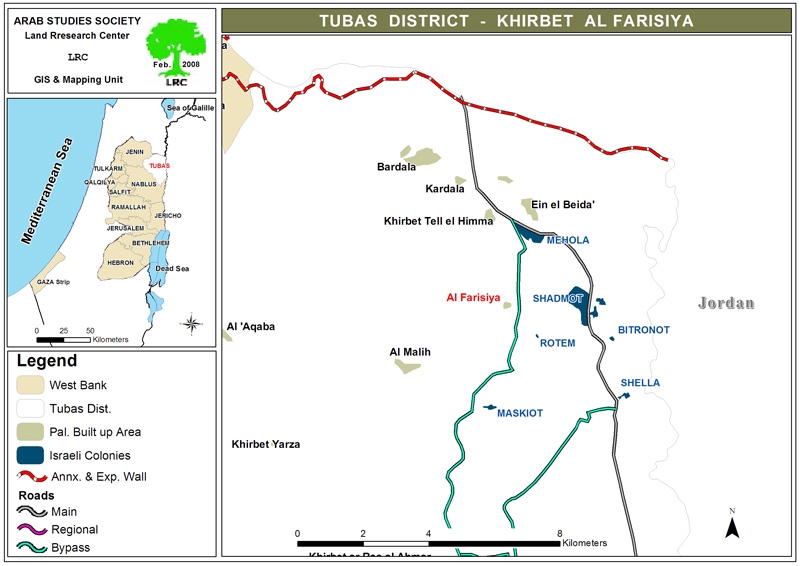 Ever since the Israeli occupation befell the region in 1967, it started a tireless campaign to annex the Jordan Valley under the pretext that it forms "the eastern defense line" and due to the fact that it has massive amounts of water in the eastern aquifer. The campaign included the confiscation of most of the agricultural lands and water springs in Wadi Al Maleh while declaring large parts of the Jordan Valley as closed areas to which Palestinian access is strictly forbidden. The campaign also included the establishment of a number of scattered colonies in the region, In case of Khirbet Al Farisiyya, two large colonies (Rotem and Makhola) surround it as they have devoured 700 dunums of the lands of the Khirbet. Moreover, Israeli occupation forces have transformed the eastern lands of Khirbet Al Farisiyya into mine fields while establishing military bases and training camps on its eastern ridges.
This continuous campaign was reflected negatively on the lives of Palestinians living in the Khirbet; economically speaking, the campaign has reduced the area that can be accessed by Palestinians to less than 1% of the total area of Wadi Al Maleh. That is in addition to destroying farming and herding as herders are not allowed to graze their sheep in the mountainous areas under the pretext that they are "Closed Military Areas". The campaign bore fruit over the years as only 5 families (out of 75) stayed in the Khirbet !!!!!
LRC states that the recent demolitions are a flagrant violation of all international conventions, human rights as well as international legitimacy. More specifically, it is a blatant violation to Article 53 of the Geneva Convention which states that "The Occupation Power is not permitted to destroy any private property of individuals andor groups, the State, public authorities, social organizations and cooperatives unless military necessities dictate so."