Evacuation and Demolition orders in Fasayel village in the Northern Jordan Valley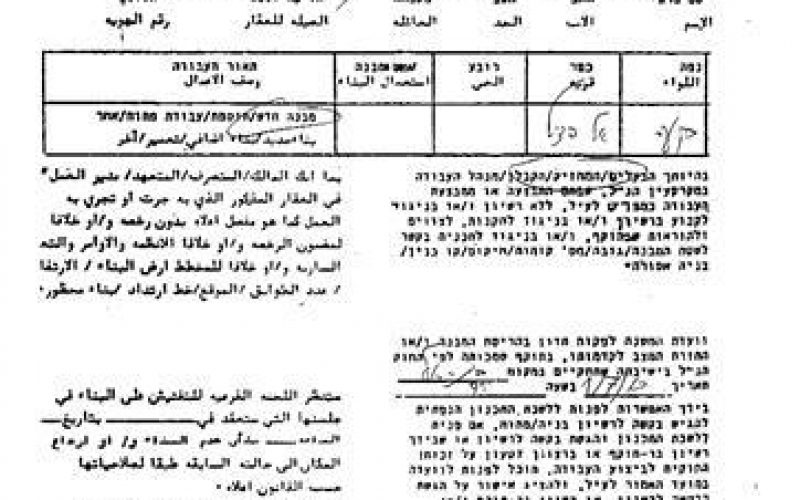 On the 9
th
of June 2010, the Israeli Occupation Authorities delivered residents of
Fasayel village
,
one of the northern
Jordan Valley
villages, a number of military orders stating the evacuation and demolition of their homes and sheep barns and fodder stores allegedly for being built without proper building authorization from the Israeli Civil Administration due to their location in area C
, which falls under the full Israeli control, according to Oslo II Interim Agreement of 1995.
Table 1 gives details of the threatened structures:-
Table 1: Threatened Palestinian structures in Fasayel village in the northern Valleys
Area of threatened Property
No. of People living in the property
Property Owner
Type of Property
No.
80 square meters
6
Ibrahim Salem Ibbayat
Home
1
40 square meters
2
As'ad Rashayda
Home
2
70 square meters
8
Issam Ibrahim Salem Ibbayat
Home
3
30 square meters
—-
Muhammad Jdei' Rashayda
Sheep Barn
4
Source: Fasayel Village Council, 2010
The ICA set the first of July, 2010 as the date to implement the removal and demolition of the structures in the village. This in turn, brings the number of threatened structures in the village of Fasayel to more than 30. Map 1
It is worth mentioning that this is the third time in less than a year that the Israeli Occupation Authorities target Fasayel village with evacuation and demolition orders. During the month of October 2009, the Israeli Occupation authorities delivered 11 demolition orders to residents of Fasayel village north of Jericho city under the pretext of unlicensed building. Owners of properties are listed in table 2:-
Table 2: Threatened Properties and structures in Fasayel village during the month of November 2009

Property Owner

Type of Threatened Property

Hasan Mahmoud Hussein Rashayda

Home and a sheep barn

Suleiman Muhammad Hussein Rashayda

Home and a sheep barn

Omar Ibrahim Suleiman Abu Karbeish

Home and a sheep barn

Mahmoud Ibrahim Suleiman Abu Karbeish

Home and a sheep barn

Muhammad Ibrahim Suleiman Abu Karbeish

Home and a sheep barn

Khaled Joudeh Jaddou'

Home and a sheep barn

Ahmad Joudeh Jaddou'

Two rooms and sheep barn

As'ad Muhammad Joudeh Jaddou'

Two rooms and sheep barn

Daifallah Muhammad Joudeh Jaddou'

Two rooms and sheep barn

Jihad Naser Mousa Joudeh

Two rooms and sheep barn

Naser Musa Joudeh Jaddou'

Two rooms and sheep barn

Source

:

Fasayel Village Council

2009
Later on March 8, 2010, residents of Fasayel village were notified with evacuation orders to remove their sheep barns and barracks in two weeks time under the same pretext. Among owners, the following were known: 'Ali Hussein 'Ibbayyat, Taleb Musa Al Ghazal, Sami Musa Al Ghazal, Ahmad Abdullah Al Ghazal, Khaled Abdullah Al Ghazal and Kayed Rashayda.
Fasayel Village in glance
Fasayel village is located north of Jericho city and 23 kilometers away from it. It is inhabited by 105 people according to the Palestinian central Bureau of statistics of 2007. The village is surrounded by a set of Israeli settlements which limited the urban expansion of the village over the years and prevented villagers from exercising their normal lives. From the north, the settlements of Pezael and Yafit are located; from the south, the settlements of Tomer, Gilgal and Netiv Hegdud are located; and from the east lies the Israeli bypass road number 90 which links Israeli settlements in the north and in the south with each other. Table 3 gives details of the Israeli settlements which surround the village of Fasayel.
Table 3: Israeli settlements located north and south of Fasayel Village.

No.

Settlement Name

Date of Establishment

Population
(2008-2009)

1

Petzael

1972
272

2

Yafit

1980
158

3

Tomel

1978
303

4

Gilgal

1970
171

5

Netive Hagdud

1975
177

Total

1081

The Geographical Information system and Remote sensing unit, ARIJ 2010
For more information about the Israeli Violations in Fasayel village, check out the following link:-
::::::::::::::
[1]
According to the Oslo agreements signed between Israel and the Palestinian Liberation Organization (PLO) in 1995, Israeli forces redeployments were scheduled to take place so that by the end of year 1999, the Palestinians would gain control over 95% of the West Bank area; however, Israel did not comply with the signed agreements and proceeded to make delays on the transfer of powers and responsibilities relating to territory to the Palestinian National Authority (PNA), which led to only partial withdrawal from the Palestinian land. By March 2000, the areas under effective Palestinian control (area A) amounted to no more than 18.2 %; area B amounted to 21.8% of the total West Bank total area while the remaining area which constituted 60% of the total West Bank area remained under the full Israeli control and weren't handed over to the Palestinians.
Israel is illegally targeting Palestinian homes in areas under their control, which, according to the signed agreements, were supposed to be delivered back to the Palestinians.
Prepared by
The Applied Research Institute – Jerusalem