Eight Stop-Work Orders in Jinsafut village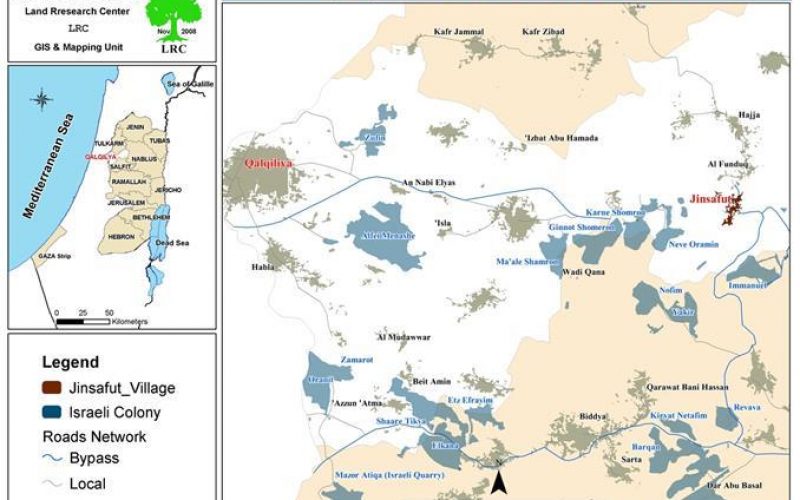 Violation: stop-work orders against 6 Palestinian structures.
Date: June 21, 2010.
Violators: the Israeli Occupation Organization and Construction Committee.
Victims: number of Palestinian families.
Introduction: Jinsafut is located to the east of Qalqiliya and has been set as a target for the Israeli colonial expansion for many years.
Large area of the village land had been confiscated for the expansion of Emanuel and Karne Shamron nearby colonies.
In addition, the Israelis tend to destroy the infrastructure of the village and deprive the villagers from any development plans by issuing more than 23 stop-work or demolition orders in recent months only. People of Jinsafut are living in constant fear and anxiety since the Israeli dozers might appear any second and start demolishing houses in the village.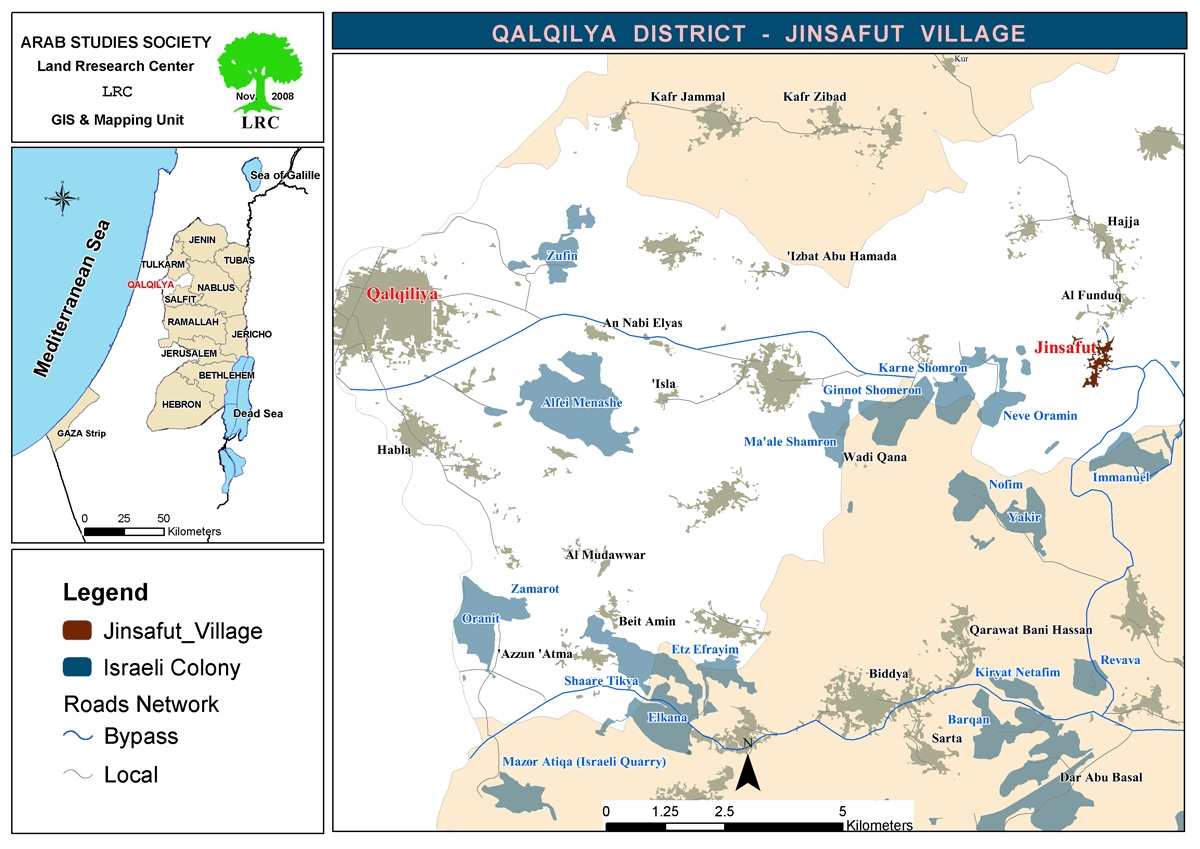 On June 21, 2010, the Israeli Occupation handed the villagers 6 stop-work orders designated against 8 structures in the village under the pretext of 'no permits'.
Table 1: information about the threatened structures:
No.

Landlord

Number of structures

Area (m2)

Family members

Children

Structure type

status

Picture #

1

Yahya Nabhan

2

280

8

5

Two-storey house

residential

2

Basil Sabra

1

40

7

4

Lumber camp

Commercial

3

'Atiya Ryan

1

210

10

6

Marble processing facility

Industrial

4

Hammad 'Eid

1

N.A

3

1

Under-construction house

Residential

5

Mohammad Sabra

1

60

7

4

Under-construction chicken farm

Agricultural

6

'Abdul Fattah Bashir

1

120

25

8

Under- construction house

Residential

7

'Abdul Fattah Bashir

1

60

0

0

Chicken farm

Agricultural

Total

8

770

60

28
The Military Court in Beit El have specified certain dates for hearing sessions in order to give the owners a chance to object to the orders. Abdul Fattah Bashir's house was demolished back in July, 2007. it was a disaster for the family who suffered financially and psychologically as a consequence. Despite that, Mr. Bashir decided to build another house which happened months earlier, three years after the first demolition incident. However, the Israelis, who do not believe in the Palestinian right to even live, ordered the demolition of his new house.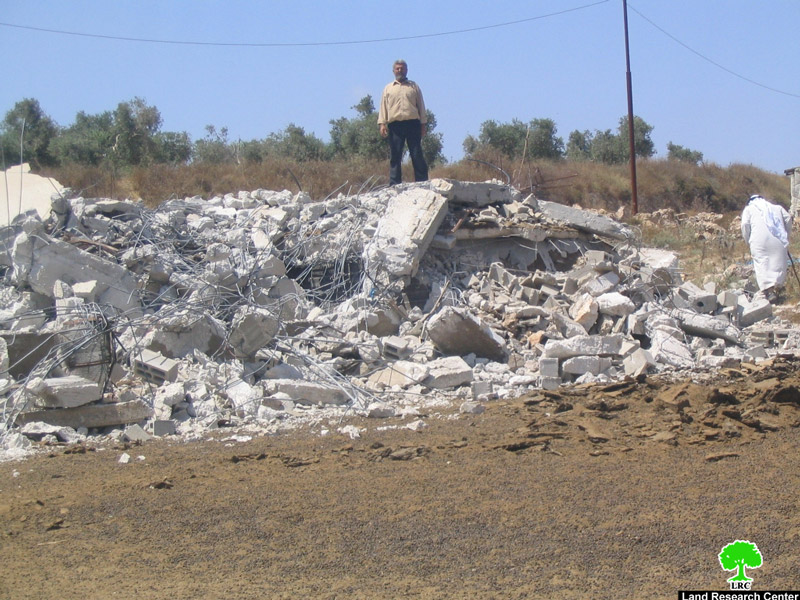 Photo 7: Abdula Fattah Bashir house ruins – demolished July 21,2007
Mr. Bashir stated to an LRC observer:' when I received the first demolition order, I assigned a lawyer to follow up my case. I was eager to obtain a construction permit. Nevertheless, despite the fact that I fulfilled all the Israeli civil administration conditions, my permit application was rejected. The Israeli kept stalling and putting obstacles, I tried to be as persistent as possible but all my efforts were futile and the house was demolished. I tried to find a spot which is near the village organizational plan to build my second house; however, it is also endangered now. Facing expulsion from my house has become a nightmare haunting me; whenever I see a bulldozer or a jackhammer, I have a feeling that it is coming towards our house, it is coming to level our house to the ground. The Israelis are stalking us day and night, the Civil Administration vehicles roaming the village at all time. Whenever a villager starts constructing any type of structure, the stop-work or demolition order is issued right away'.
Mr. Bashir wondered: 'what future awaits our children since every inch of our beloved village is a target for the Israeli Occupation greed?'
Jinsafut village… a real danger threatening its residents:
All of Jinsafut Village Council appeals for the enlargement of the Organizational plan in order to adapt it to the village's growth needs, all their efforts were in vein.
Thabit Bashir, Jinsafut Village Council President, stated to an LRC observer:' the organizational plan of the village consists of 502 dunums out of proposed 1700. The designated area is not enough for the village's growth needs which urges the 2500 people inhabiting the village to expand outside the organizational plan, placing their structures under demolition threats'.
The Israeli demolition policy has negatively influenced all the life aspects in the village.
Many newly-married couples are seeking refuge in nearby villages to ensure a stress-free life for them and their children; the same goes for the handicraftsmen who are looking forward to move their business outside Jinsafut to be able to expand and operate their business freely.
The Israeli extreme measures, presented in land grab and day-to-day aggressions put the village in the glimpse of a humanitarian and environmental catastrophe.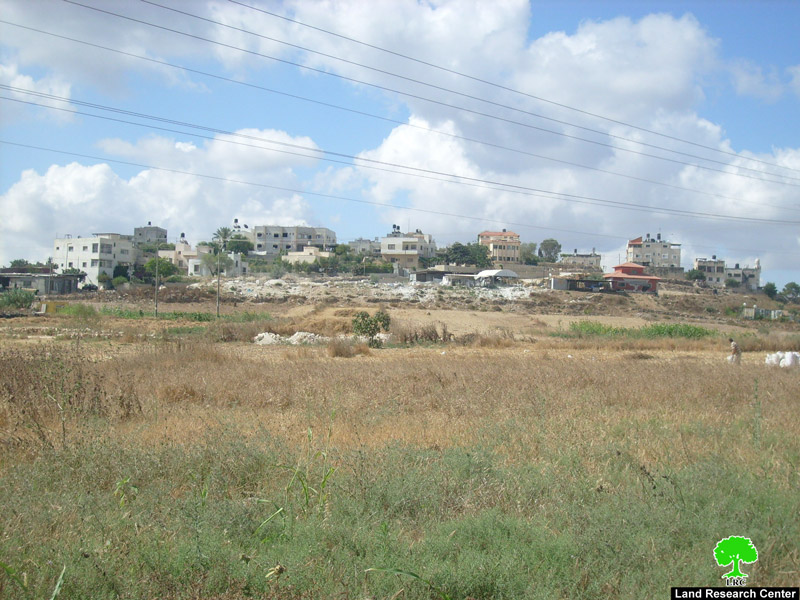 Photo 8: Jinsafut overview