Demolition Orders for Two Houses in Haris village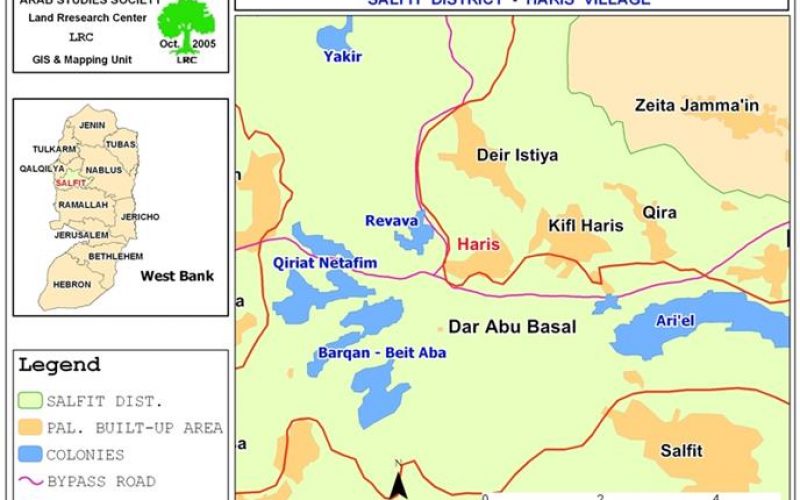 Violation: issuing two demolition orders against two Palestinian houses.
Location: Haris village – Salfit governorate.
Date: June 9, 2010.
Violators: the Israeli Occupation Construction and Organization Committee.
Details:
On June 9, 2010, a force of the Israeli Army broke into Haris and handed two demolition orders entitled 'final chance to object to a demolition order'. The threatened house had previously received demolition orders on June 20, 2003 under the pretext of building without permit in area classified 'C' according to Oslo Agreement.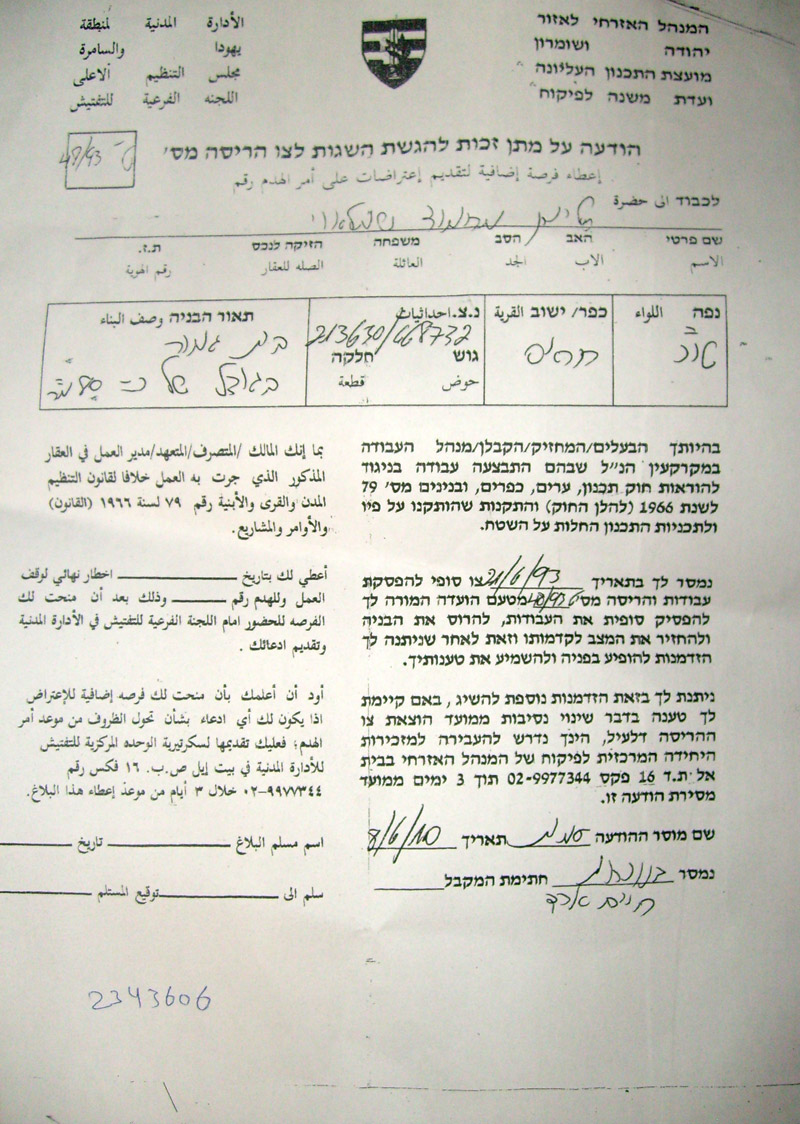 According to the recent order, the owners have three days to object to the first order. The endangered houses have been standing for more than ten years.
Table 1: the threatened structures:
Victim

Family members

Children

Structure type

Area (m2)

Solomon Shimlawi

8

5

Two-storey (one storey is still under construction), residential

120 (each storey)

Nayif Souf

5

1

One storey and basement, residential

Basement: 40

Ground floor: 135

Total

13

6

415
Solomon Shimlawi was quoted saying:' I received the first notification in 2003; I have been trying to obtain a construction permit.
However, obstacles have been put in my way although having all the needed documents, maps and blueprints ready. Sometimes, the hearing session was delayed for no apparent reasons, others I was not even allowed to Beit El Military Court. In the end, they asked me to get the signs of all the heirs of the land where the house stands. I say it is impossible since some of them are dead, others left the country long time ago, and some of them are unreachable. The stressful process exhausted me financially; although I am unemployed, I paid a lot of money for the sake of the permit which obviously I will never receive. The case was still open, on June 9, of the current year, the Israelis showed up with this new order which might be viewed as a second chance for receiving a permit. However, all what the Israelis care about is driving us out of our houses, they want us to keep living in anxiety and fear; they want us to be unstable. Like my neighbors and all the people who own structures in areas classified 'C' we are hopeless for getting a permit. The Israelis want to humiliate us and prevent us from building on our lands; our ancestors' lands while their colonies expanding rapidly on it, just like a cancer, consuming whatever possible'.
Haris:
The village of Haris is located 6 kilometers west of the city of Salfit. The total area of the village is 8,450 dunums while its buildup area is about 320 dunums. The population of the village is 3,112 according to the Palestinian Central Bureau of Statistics.